Recommended Reading: Autonomy, Mastery and Purpose in the Avalanche Patch
Recommended Reading: Autonomy, Mastery and Purpose in the Avalanche Patch
Recently I finished reading this book for the second time and realized it definitely deserves more public awareness. Autonomy, Mastery and Purpose in the Avalanche Patch isn't your everyday avalanche safety or snow science book. It's more an exploration of the mind of a backcountry skier and our decision making processes. If you're an experienced backcountry traveler interested in making better decisions, this is a must read.
About the Author
Author Bruce Kay has over 35 years of experience as a mountaineer, skier, and climber and has worked in avalanche forecasting for the Ski Patrol at Blackcomb Mountain in Whistler. He has also worked in the avalanche industry as an educator and providing avalanche safety services to a variety of industries (mining, logging, construction, film productions, etc.). In his book, he draws from his own experiences in the field as well as from his peers' and includes some very memorable real life stories.
About the Book
I'll warn you right away that this book is pretty heavy and not the easiest read, but it's so worth it to stick with it. Although from the title it sounds like a book about avalanche awareness or avalanche safety, it's almost better described as a book about psychology. You may have heard the term 'the human factor' thrown about over the last few years – that's essentially what this book is all about.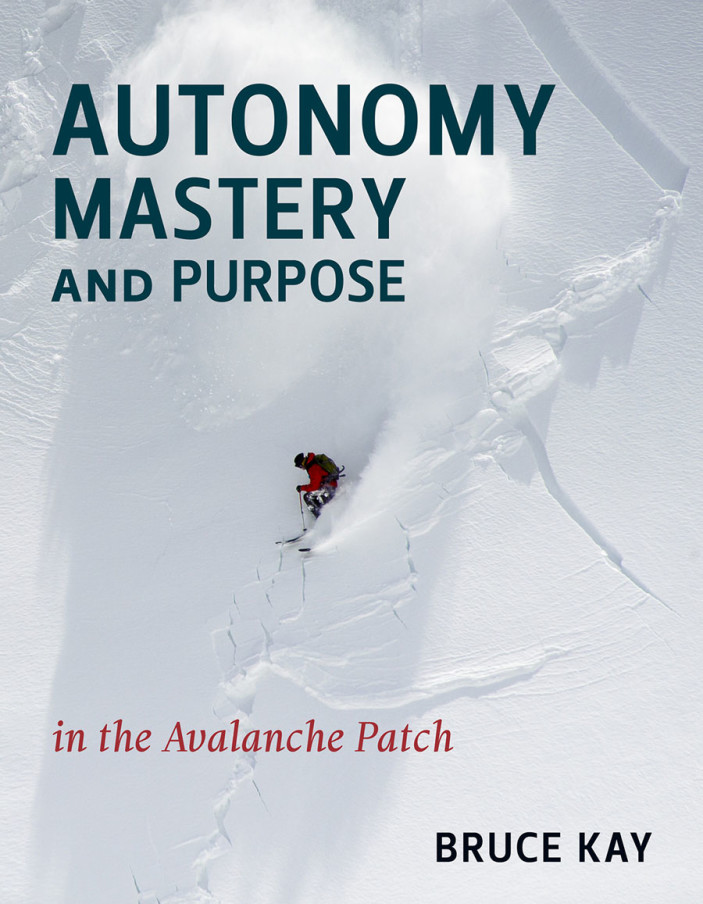 What cemented the term The Human Factor in my mind was the Tunnel Creek tragedy at Stevens Pass in 2012 that claimed the lives of 3 skiers. Powder magazine did an excellent writeup after the fact, aptly titled The Human Factor that is well worth checking out if you haven't already. It was this series that started shifting my thinking to not just snow stability but also to my own decision making process. Autonomy, Mastery and Purpose briefly touches on this event (as well as others) and the decisions that led up to it with an analytical view. No spoilers here – you'll have to read the book.
The book touches on so many interrelated subjects that it would be tough to list them all here, so I'll just highlight a few things that jumped out at me.
If you haven't heard of the Dunning-Kruger effect, you'll read about it here. Particularly in the aptly named 'Level 1 Disease', which, as you may have guessed, is the over-confidence of new graduates from their first avalanche course.
"Chance is on their side . . . much like in Russian roulette."
Here's a great quote from the book that I think captures it perfectly: "This book is intended primarily for skilled and experienced recreational backcountry users who find themselves, like so many of us, still struggling to make sense of all the variables and unknowns after so much experience and effort."
This captures the nature of the problem we face – there are so many variables and so many unknowns in avalanche terrain. How do we make sense of them all? The author explains that this is what is known as a 'wicked problem'. That is, a problem that is uniquely variable, seldom fully understood and ever-evolving. Sound like a snowpack throughout a season to you?
The author goes on to look at how people make decisions, pulling from knowledge of experts such as Nobel laureate Daniel Kahneman. He describes our intuitions and biases in terms of how they can both help and hinder our decision making processes. He compares this with our much slower, but more logical 'system 2' decision making system which is our conscious decision making process.
He touches on the importance of terrain management, luck, snow stability, teamwork, risk framing and so much more. How is useful experience acquired? What are some tools to get around my personal biases? Are there rules of thumb I can use in the field? All of this is answered along with many other questions you may not have known existed.
Conclusion
There is a ton of relevant content packed into Autonomy, Mastery and Purpose and it's presented in such a unique way that it's tough to describe. As a fairly experienced backcountry traveler, I learned many things (or relearned things I'd forgotten) both times I've read it and plan to read it again next season. And likely many times after that. Grab this book, read it and keep it on your shelf.