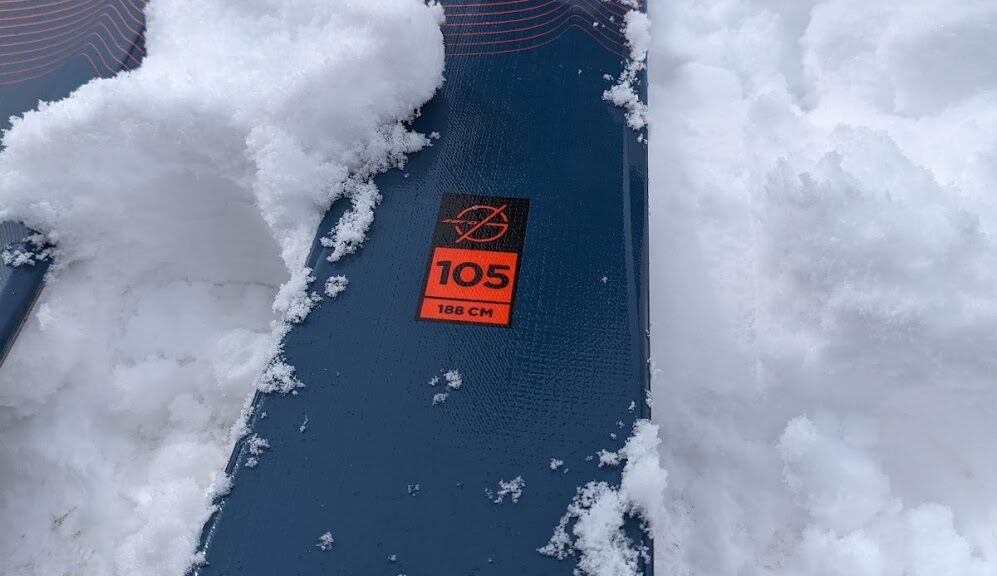 Review: Blizzard Zero G 105 Touring Skis
Review: Blizzard Zero G 105 Touring Skis
I posted a quick first look at the Zero G 105 skis early last season and had some good adventures on them throughout the winter. Some deep, some not so deep. Overall I'm really pleased with these skis – they're strong in most areas and are a pretty darn good ski if you're looking for one pair of touring skis that can handle most anything. For the record I'm testing the 188 cm version for this review.
Specs
Lengths: 164, 172, 180, 188cm
Weight (per ski): 1650g
Measured weight: 1652g (188 cm)
Dimensions (188 cm): 134/105/120
Sidecut radius (188 cm): 24m
Rocker style: Rocker/camber/rocker
MSRP: $799.95
Buy now: evo.com, Backcountry.com, REI.com
Skier Background
First, a little about me and how I ski so you'll know where I'm coming from in this review. I'm 6 ft (183 cm) tall, weigh around 175 lbs (80 kg) in my undies, and like to ski fast. I generally don't get along well with floppy/soft skis. I like a ski that I can drive hard from a forward stance, especially on hard snow, but also really enjoy skiing centered and surfing around in pow when conditions allow for it. I raced as a kid/teen and was never a superstar by any stretch but developed good technique after years of being coached.
My favorite ski of all time is the original Rossi Squad 7. Those bad boys charged pretty hard but were nice and loose just where I liked it – throwing them sideways going mach chicken was always a blast. These days I'm on an older pair of Candide 3.0 186 or Nordica Enforcer Pro 191 (also tons of fun) when riding the resort, and these Zero G 105s when touring, although I'll be out on some Black Diamond Helio 115 Carbons more this season.
Disclaimer
It should be said that I'm not a professional ski reviewer. I've skied a fair number of different skis over the years (my quiver was up to 7 or 8 pairs at one point), but there are far more skis on the market that I haven't tried. These are just my observations as a dude who loves to ski pow after touring on the Zero G 105 for a season…take that for what it's worth. I really like reading others' thoughts on how skis feel before I buy them (because new skis are flipping $$$ these days!), and that's my main motivation for sharing this info. Also, I bought these with my own hard earned money so there's no bias in that regard.
General Observations
Hand flexing shows the Zero G 105 is pretty stout, especially underfoot. Not the stiffest skis ever but they're definitely on the stiffer side. Pretty minimal rocker, especially in the tail – it's basically flat – but there's a handy little notch to keep your skins in place. There's a fair bit of early rise in the tip, but it's subtle and there is a bit of camber underfoot. Rumor has it these skis perform well on groomers, but I didn't test that out. I don't enjoy riding light skis with pin bindings at the resort.
One thing that's apparent as soon as you pick them up is that they're quite light for a ski of this size. Each ski is 1652 grams according to my super high tech kitchen scale. I might have only weighed one of them (I can't recall) but I bet the other ski is pretty close. Skinning on these light skis is great. Kick turns are a breeze – I mounted at the recommended point (marked on the ski) and they seem perfectly weighted. The camber underfoot and minimal rocker makes icy skin tracks less painful than they could be on a ski with more rocker.
Skiing Impressions
I mounted these with Salomon MTN tech bindings so the setup is pretty light. I used these bindings on my last touring setup as well so I'm familiar with them (and really like them – review here). I'm currently running them with brakes (100 mm brakes stretched a tiny bit).
My first adventure on these was late last spring after a surprise dump of snow. I skinned up to a popular local spot and found a bit of fairly mellow untracked pow for my first run and I have to say I was pleasantly surprised. Initiating turns in boot to knee-deep powder was easier than I expected and they floated well for a ski that's 105mm underfoot.
This past season I had them in everything from the hardest wind crust you can imagine to steep mixed conditions where jump turns were necessary to thigh deep powder. On the hard stuff the Zero G 105 excels. The edge grip is super predictable and the stiffness helps keep them hooked up. In tight steep spots, the lightness makes jump turns as easy as can be. Again, the stiffness of the tips and tails helps keep things predictable in steep and narrow situations.
The only place I would say I didn't love them was super deep pow. But I would wager that I wouldn't love any 105 mm ski in those conditions. That said, they were far from terrible. Initiating turns was a bit more work since the skis were deep down under, but not too bad. A little more body english (up and down movement) helped turn initiation but it wasn't absolutely necessary. As long as you have a bit of speed, these things actually float reasonably well.
The one time the tips dove on me was on a fairly mellow slope with boot to knee deep pow, and the snow was a bit 'grabby' in that particular spot. I got my weight a little too far forward and did a bit of a somersault, but no big deal. It was at least partially user error – with my weight more centered they were just fine.
Speaking of having your weight centered, these skis generally don't perform at their best from a centered stance. They like to be driven from the tips with lots of forward drive. This was especially noticeable in grabby spring snow. If I wasn't driving the tips, the heels tended to stay hooked up and initiating turns was difficult. I wouldn't call these surfy skis, but in the right type of powder you can definitely smear turns a bit.
In mixed conditions I had no real complaints. They performed like a 1650 gram ski should, which is not bad, not great. They deflect pretty easily in chop, but that's not surprising. The stiffness helps a bit in cut up snow, but these don't charge through everything like a heavier ski would. The one thing I would say is they're predictable. If you get back on your heels they'll bite you, but with good technique they're rewarding.
Durability
Thumbs up in this department. I've felt and heard a few scrapes along my bases, but don't have anything near a core shot. Just minor scrapes that buff right out. I do have a chip or two in the topsheets (likely from jostling around in ski boxes), but there really isn't any unexpected wear. On some skis the edges of the topsheets are half gone after a season, but my Zero G 105s are holding up well.
Conclusion
As I said in the intro I'm pretty pleased overall with these skis. For a one-ski touring quiver they deserve serious consideration, especially if you like a directional ski that likes to be skied hard but is still nice and light.
As for me, I'm hoping to get more time on powder touring skis this season (the Helio Carbon 115s I picked up late last year). Stay tuned for more on those fatties.