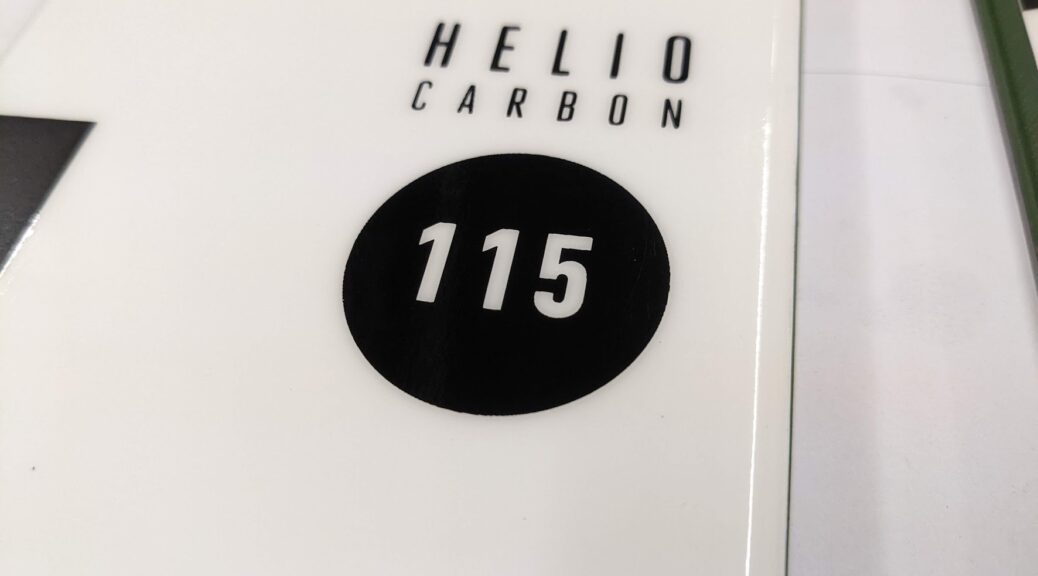 First Look: Black Diamond Helio Carbon 115 Touring Skis
First Look: Black Diamond Helio Carbon 115 Touring Skis
Well Christmas came really early (or maybe a bit late?) for me. New skis arrived on my doorstep this afternoon and I couldn't wait to unwrap them. This is a true first look – I haven't even mounted bindings on these yet. What I have in my hands is an ultralight powder touring ski: the Black Diamond Helio Carbon 115, which is the successor to the Helio 116 Carbon. BD is really getting crazy with the name change…'Carbon' has moved from after the width number (116 Carbon) to before (Carbon 115). I'll be skiing these on deeper snow days this season and will stick to my Blizzard Zero G 105s when conditions aren't so fresh.
Here's the description from Black Diamond: A powder ski with the chops for serious technical lines, the Black Diamond Helio Carbon 115 eats up deep snow far from the trailhead. Thanks to its pre-preg carbon fiber layup, engineered paulownia wood core and ABS sidewalls, the Helio 115's dampness offers a smooth ride. The Helio 115 is light enough for remote expeditions and 10,000-foot days, with the torsional stiffness and smooth flex needed to charge through deep powder or variable crud. Early rise in the tip and tail improves flotation and trail-breaking efficiency, and an ABS tail protector also has an integrated skin-clip tab to keep your skins secure."
Interestingly, as of now the 115 and 116 descriptions on the Black Diamond website are almost exactly the same. It makes sense, as the intended use for them is exactly the same, but it looks like there are a few updates to the ski worth mentioning. But first some specs.
Helio Carbon 115 Specs
MSRP: $999.95
Available Lengths: 177, 185 cm
Measured Length (185 cm): 185.2 cm
Stated Weight: (177) 1575 g / ski; (185) 1660 g / ski
Measured Weight (185 cm): 1637 and 1666 grams
Dimensions: (177) 143-115-125; (185) 144-115-126
Turn Radius: (177) 24 m, (185) 25 m
Construction: Performance pre-preg carbon / paulownia wood core / full ABS sidewall / titanal
Buy Now: Backcountry.com, Black Diamond, CrippleCreekBC
---
What's New?
In terms of updates to the ski, it looks like Black Diamond has narrowed it very slightly (~1 mm) in the tip and underfoot, but added a millimetre to the tail. Minor tweaks. The core of the Carbon 115 is a combination of pre-preg carbon and paulownia wood core. A combination of pre-preg carbon and balsa flax wood was used for the core in the 116 Carbon. And it's around a centimetre shorter at 185 vs 186 for the 116 Carbon. I don't expect these to ski too short judging by the minimal rocker in the tail.
Flex and Shape
A hand flex reveals a fairly soft shovel but the ski stiffens up before the toe of the binding. It flexes fairly stiff underfoot and behind the heel. For a big ski weighing so little, it's stiffer than I expected. Excellent. There is a titanal mounting plate, so that's likely what's stiffening up the ski underfoot. The flex softens up a bit in the tails but they're a step or two stiffer than the tips.
In terms of the shape of the Carbon 115 it hasn't changed much from the 116. Nice beefy shovels to a 115 mm waist with moderately wide tails. There is a fair amount of early rise in the tips, especially when the ski is decambered. I'm hoping that means I'll be able to surf and smear them around a little bit, but there isn't a ton of early rise in the tails. The wide, soft shovels combined with the early rise should really help them float. We'll see once I get them in some soft snow. Underfoot there are a few mm of traditional camber which should help keep the ski hooked up in harder snow.
Oh, the tails have a flat spot for a skin clip. Nice one. Apparently there are precut Glidelight Mohair Mix skins pre-cut for the Carbon 115, but I can't find them in stock anywhere at the moment.
What's Next?
Next up is to mount some light tech bindings on these powder sticks and go make some turns. I'll report back later this season when I have more info. Maybe I'll get some more teaser pics up after mounting bindings…I have some ATK C-Raider 12 bindings in the mail to go on these Helios. Excited is an understatement.
---
Unrelated digression: when I was hunting for info on balsa/flax ski cores, I stumbled on this custom ski maker in BC, Canada: http://thoroughbredskis.ca/. (Note: I'm not affiliated with them in any way, but I thought some of their skis look rad. Check these bad boys out.)
Here's the interesting part: in their ultra light core they use balsa wood with flax shear webs. These cores are supplied by a company named bComp. In the video on that page around 30 seconds in there are some skis in the background. One of them is a Black Diamond ski with a bComp sticker on it…do Black Diamond skis use bComp cores too? Was the balsa flax wood core in the 116 Carbon supplied by bComp? Maybe.
Here is a press release from bComp in 2015 stating that Black Diamond was one company of nearly 20 using bComp's technologies. However, it's unclear from the press release whether BD uses bCores or ampliTex fabrics so I can't say for sure. If you know, leave a comment below! Anyway, I thought that was interesting because I wasn't aware that there were many ski manufacturers sourcing core material from the same supplier.