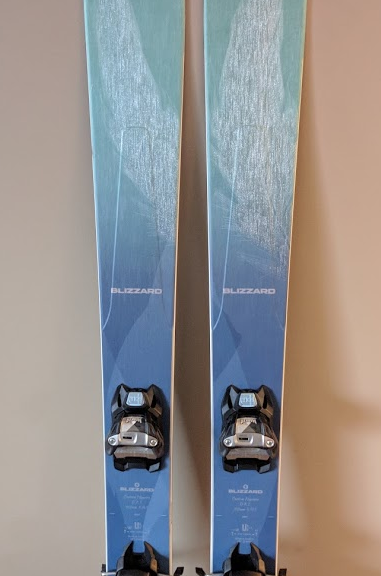 2018 Blizzard Sheeva 10 Review
2018 Blizzard Sheeva 10 Review
This is the first guest post on HikeForPow.com from Mrs. HikeForPow (okay, not truly a guest post – I wrote it but it's her review). She has a new set of skis and loves them, so we thought a Blizzard Sheeva 10 review would be appropriate. This article will help you decide if the Sheeva 10 is the right ski for you.
Technical Specs
Available Lengths: 156 cm, 164 cm, 172 cm
Turn Radius: 13 m, 14.5 m, 16 m
Sidecut (Dimensions): 121.5, 102, 131.5
Category: Women's Freeride
Weight: 1620 grams (@ 164 cm)
Core: ISO – Paulownia – Balsa – Poplar – Beech Woodcore, Titanal Layer
Comfort Zone: Crud – Packed powder – Powder
Current Price: Amazon.com
Intro
Blizzard has almost completely revamped their women's skis for 2017/18 with fresh versions of the Sheeva 10 and Sheeva 11 (the big sister). While the Sheeva 10 is 102 mm underfoot, the Sheeva 11 is 112 underfoot, and available in 164, 172, and 180 cm lengths.
The Blizzard women's freeride line of skis also includes the Black Pearl, which is a bit less playful than the Sheeva and is a more directional ski, but is also getting solid reviews. The Black Pearl is technically part of Blizzard's All-Mountain Freeride lineup, and is slightly less powder oriented. The three models available are the Black Pearl 78, 88, and 98, with the 98 being the most similar to the Sheeva 10.
Blizzard's Description of the Sheeva 10
As I mentioned, the Sheeva 10 is part of Blizzard's women specific Freeride lineup and is the little sister to the Sheeva 11. That doesn't mean the Sheeva 10 is a small ski – it's 102 mm underfoot, so is still a decent sized powder ski.
Fun and Forgiving are the key words that Blizzard uses to describe the Sheeva 10. It is also described as Stable and Versatile, so it sounds like a good all around powder ski. They state that the targeted conditions are pow to packed pow (and everything in between) but also say that the ski can create turns of any shape (versatile!) at any speed in any terrain.
The target skier ability is an Intermediate skier according to Blizzard, but more advanced skiers will feel right at home too thanks to the titanal layer.
Blizzard Tech in the Sheeva
The Sheeva 10 uses Blizzard's Carbon Flipcore D.R.T, which is a titanal layer that "reduces torsional power in the tip and tail and adds control and stability underfoot." In normal human words, this means that the ski is less demanding but still aggressive in softer snow. Flipcore has been around since the Cochise ski arrived years ago, and has been a huge hit. Blizzard kind of revolutionized their skis with this technology, so it's a plus for the Sheeva 10.
Lite Core is another technology used in the Sheeva, and it is definitely a light ski. Blizzard claims that they have reduced the core weight using new materials, but they have managed to maintain performance. Blizzard uses naturally strong and lightweight materials like balsa and Paulownia to accomplish this.
The Sheeva boasts Blizzard's W.S.D (women's specific design), which is a women's specific core design. The result is a ski that is lightweight but still rigid where it matters. It "offers the perfect blend of lightweight and performance" – that has to be good!
This ski is effective on both hard packed and soft snow due to the rocker-camber-rocker design. Rocker allows you to float in powder, while camber underfoot helps the ski maintain an edge on hardpack.
Sheeva 10 Review – Real World Experience
The Ski
The rocker profile looks appealing, with a bit of camber underfoot and a fair amount of early rise in the tips. Tail rocker is present, but isn't as pronounced as the tip rocker. Check out the pictures below for reference. Although Blizzard says the Sheeva 10 is for pow/packed pow, the rocker/camber profile indicates that it will be at least an above average performer on hardpack snow. The flex is softer in the tips and tails, but is moderately stiff underfoot. It feels like a high performing ski.
I can't believe I haven't mentioned the graphics yet. This is one of the best looking skis out there in my opinion. They aren't overly flashy, but when you take a close look, you can the topsheets are very high quality. The silvery feather is actually textured, and the whole top sheet has kind of a matte look and feel to it. Very attractive ski in person (and Mrs. HFP agrees wholeheartedly – they're 'very pretty' according to her).
The Verdict
Mrs. HikeForPow only has a few days on these skis, but she's in love. To give you some perspective, she's around 5′ 4″, 130 lbs, is a strong skier in pretty much any conditions (aside from steep and icy, which she definitely doesn't enjoy). She rides the 164 cm length Sheeva 10 with Marker Squire SOLE.ID bindings to accommodate her Tecnica touring boots. The bindings are mounted on the factory line. Disclaimer: this is a backcountry oriented site – the reason I'm reviewing these skis is that they are definitely light enough to be a touring ski. Mrs. HFP is seriously considering getting another pair for backcountry duty, that's how much she likes them.
She tours on a pair of Rossignol S7w's, and loves them in soft conditions, but finds their performance on hard pack to be mediocre at best. To be fair, hardpack performance was never intended to be the S7w's strength. The Sheeva 10, however, has filled that requirement nicely. In choppy, cruddy conditions they were easy to handle and in a bit of boot deep fresh they really excel. They were a bit 'hooky' at first, but de-tuning the tip and tail rocker edges took care of this. Quick to turn and confidence-inspiring is how she described them, and there was a huge smile on her face after the first few powder turns.
On firmer snow (she hasn't yet skied them on true, icy hardpack yet, unfortunately), they didn't show any weakness. The Sheeva had no trouble holding an edge and carving turns of varying sizes, although they seem to prefer turns on the shorter side of the spectrum. Makes sense, as the turning radius is 14.5 m @ 164 cm.
Similar Skis to Consider
As I mentioned above, Blizzard also has the Black Pearl 98, which is a women's specific ski as well. It's not quite as powder oriented as the Sheeva 10, but is still getting great reviews as an all mountain ski. The Rossignol Soul 7 HD W is the women's version of the S7, which is a time tested classic. If you're looking for a more powder oriented ski, that would be your best choice. Also, it's pretty damn sexy. The Elan Ripstick 94 W is easy to ski and competent in moderate powder despite its modest dimensions. If you're looking for a more carving-oriented all mountain ski, something like the Head Great Joy would be a ski to consider. It is a great carver, but doesn't particularly shine in crud or deep stuff.
Closing Thoughts
The bottom line is that the Sheeva 10 is a great soft-snow ski with very decent performance in all conditions. If you're a strong skier that sees a mix of conditions (including powder), the Sheeva would be a great choice for you. It's a light ski, so would be a great choice for a touring specific ski or for a one ski quiver.
I'd love to hear some thoughts on the Sheeva 10 compared to its big sister, the Sheeva 11, but that will have to wait until next season for Mrs. HikeForPow to get her hands on a pair. Leave your comments below if you've tried either of these skis!