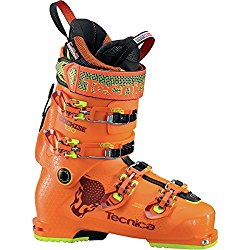 2017/2018 Tecnica Cochise Pro 130 Review
2017/2018 Tecnica Cochise Pro 130 Review
Since the first generation of the Tecnica Cochise caused a stir in the skiing community in 2011, the boot has improved with every iteration. The 2018 version is no different in this regard, and is the best yet. This in-depth review takes a close look at the Cochise Pro 130 after around 40 days of testing.
Technical Specs

Tested Boot Size: 28.5
Last: 99mm
Stated Flex: 130
Stated Weight (26.5): 1950 grams ( 4 lbs, 4.8 oz)
Shell Weight (28.5): 1706 grams (3 lbs, 12 oz)
Liner Weight (28.5): 534 grams (1 lbs, 3 oz)
Total Weight (28.5): 2240 grams (4 lbs, 15 oz)
BSL (28.5): 325
Binding Compatibility: Tech / DIN or Grip Walk (with DIN soles) / SOLE.ID
Tester foot type: 11.5-12 street shoe size, low arches, medium volume heel/ankle and low volume lower calf
Tester weight: 175 lbs/79 kg
Buy Now: Backcountry.com, Amazon
Background Info
In 2011, Tecnica released the original Cochise boot, with a stated flex of 120 and compatibility with both tech and din soles using replaceable sole blocks. This was a huge deal in the freeride community. It was the first true downhill oriented touring boot, and changed freeride boot design for the better.
Since then, there have been a number of varieties, spin-offs, and improvements. There are now multiple flex variations of the Cochise and the Zero G Guide Pro is closer to a true touring boot. The Cochise 130 Pro is the stiffest of the group, and will appeal to more aggressive and/or heavier skiers.
Tecnica's Description of the Cochise 130
According to Tecnica, the Cochise Pro 130 is "designed to conquer any mountain, any snow, and any challenge." Bold claims. They also say that it feels progressive and is well suited for long days on the hill, so it sounds like it should be a comfortable boot…if it fits your foot.
The stated flex is 130 and in Tecnica's books it's a Medium Volume boot. They actually say that it's a Medium Volume Freeride, which appears to be one small step closer to a high volume boot. It's hard to say what that means, exactly.
The new C.A.S. (Custom Adaptive Shape) shell is anatomically shaped and apparently the shell material is easy for bootfitters to work with, so that's good news for those of us that will need to get punches.
The Cochise 130 also has a sturdy and well manufactured C.A.S heat-moldable liner that is also anatomically shaped. When you get the fit right, the heel hold is unbeatable (these are my words, not Tecnica's).
In terms of touring, the range of motion is 42°, and the Self Adjusting System (the walk/ski lock mechanism) eliminates any play that may develop. In my experience, this has been accurate, but more on that later.
New Features of the Cochise 130 Pro
Integrated Tech Fittings
In the beginning, the Cochise used swappable sole blocks to accommodate both DIN and Tech bindings. While this was a great feature, swapping the sole blocks eventually got tiresome (trust me, I swapped between resort and touring mode many times). It seemed like eventually one of the 7 bolts would strip out, but this never happened in my experience with 2 versions of the boot. Good job Tecnica.
Now the Cochise 130 has the tech fittings integrated into the boot shell itself rather than the sole blocks. Genius. You can still get DIN soles (this comes with the boot) or Tech soles (for an extra $85 or so), but they are just a thin plate that attaches to the bottom of the boot. Not a full sole block. The Tech soles are a softer rubber and have excellent grips for boot packing, but are not compatible with alpine, Walk-To-Ride or Grip Walk bindings.
Ski/Hike Mechanism
In past iterations of the Cochise and Cochise Pro, it was almost an inevitability that the ski/hike mechanism developed some play. Depending on how observant you are, you may not even have
noticed, but in my first pair the play was getting quite significant by the end. Not ideal.
However in the new Cochise (and Zero G Guide), Tecnica has a new Self Adjusting System. SAS will remove play in the mechanism as it develops using a clever heavy duty spring. So far I can say that this works quite well! I've also had next to no issues with the mechanism icing up or becoming impossible to flip from ski to hike, so that's a plus.
The Liner and Fit
The stock liner that came with the original Cochise was, in a word, junk. The liner in the 2018 Cochise Pro is infinitely better. While hefty at 534 grams (1 lb 3 oz), it is an excellent liner for inbounds skiing or shorter tours. If you're going to be mostly touring in this boot, I would recommend upgrading to something like an Intuition Pro Tour liner. You'll save around 230 grams (8 oz) per foot depending on your size, and the range of motion is actually better!
Tecnica describes this boot as Medium Volume, and I would say that's fairly accurate. The heel pocket is much smaller than the original Cochise. I have a fairly narrow heel, and in the old Cochise I had to add all kinds of padding to reduce slop. In the 2018 Cochise 130 Pro, I added a small heel lift and the heel hold is amazing. I also added a thin shim under each sole, as I have fairly low arches, and that did the trick.
In the forefoot, although it's a 99mm last, the shape is, as Tecnica claims, anatomical. That said, I still needed 6th toe punches and mid-outer foot punches on both feet. I have nasty bone spurs, so regular footed folk likely won't need those punches.
My right foot is slightly smaller than my left, but my left is far too big to size down to a 27.5. In a shell fit, I'm about 0.5 cm for my left foot and closer to 1 cm for my right. After a few days of skiing, I found that there was a bit of slop in my right foot, so I added a bit of padding on the tongue and was happy again.
I don't think this boot would suit people with really high insteps or really big heels, but you would have to try it on to be sure. The heel pocket is definitely tight – more so near the bottom of the foot than near the ankle bones. Thankfully, this area is easy to access for punching if it is needed.
Other Features
The one thing I miss from the older Cochise models is the cam powerstrap. The new boot has 4 buckles and a traditional power strap, while the original had 3 buckles and a powerstrap with a cam lock. While you can definitely modify this one to incorporate a cam-strap, I feel like this should have been included from the factory. That said, it's a minor gripe.
One new feature Tecnica introduced is the Lift Lock mechanisms on the buckles. They're basically small tabs that keep your buckles lifted to keep them out of the way when they are unbuckled. Quite convenient.
Touring Performance
This isn't the lightest boot on the market, nor is it intended to be. It's a burly, stiff freeride boot that's capable of clicking into tech bindings. It also isn't the heaviest, and performs really well on the skin track for such a burly boot. The claimed range of motion of 42° seems to be about right with the stock liner and the buckles fairly loose. I found the best setup for me is to have the instep buckle somewhat tight to minimize foot movement, and leave the ankle/shin buckles quite loose. This gave me access to the full range of motion.
Switching from hike to ski mode is an easy flick of the lever, but doing up all of the buckles can get slightly tiresome. Not a huge deal though, and this is the case with many boots.
I did experience a bit of 'toe-bang', where my toes would hit the end of the liner when touring. It seems, for my foot shape at least, that there is a bit too much space in front of the ankle to truly keep your foot in place when touring. Reports on this vary, but be aware that this can crop up…and destroy some toenails in the process.
After adding an Intuition Pro Tour Liner, the Cochise 130 Pro improved immensely! The weight savings are significant, the range of motion improves, and the boa system on the liner keeps your foot nice and snug to prevent blisters. The padded area at the end of your toes is great too. I would highly recommend this upgrade if you have the cash. In my right boot, I think one of the thicker Intuition tongues would be a good substitution for the padding on the tongue, but I haven't been able to try this yet.
Downhill Performance
These boots are designed to satisfy aggressive freeride skiers on the way down, and boy do they deliver. The flex is right on par with other 130 flex boots. It isn't the most progressive flexing boot, but it's on par with other 2 piece shells. On warmer days they can get a bit soft, and the shell can deform when flexing hard. This is the nature of the light plastics used in the boot. If you live in a relatively warm area, you may want to consider this.
With the stock liner at the resort, the Cochise Pro is plenty capable of driving big skis at speed. Riding my old school Squad 7's (before they got a bit noodly) I never had any control issues in powder or nasty crud. With my Atomic Automatics I felt like I was getting tossed around a bit more in heavy crud, but this is more due to the ski. They're a little soft for my tastes, and deflect fairly easily.
These are by far my favorite version of the Cochise in terms of downhill performance yet, and it feels very close (and I mean very close) to a full alpine boot.
Durability
After 40 (ish) days of mixed resort and touring I'm happy to say that my Cochise Pros are still in great shape. There is no play in the ski/hike mechanism (unlike my old Cochise 120s and Cochise Pros) which is pretty impressive.
One minor thing to complain about is that the paint on some of the buckles is flaking off. This is purely cosmetic, but it's a bit weird to have some black buckles and some silver buckles. The bootboard in the shell is also quite fragile. One of mine broke when it fell out of the shell, and I've read the same report from others.
I have seen reports of the boot sole beginning to separate at the toe, but mine seems to be hanging on just fine. I would imagine if you do a LOT of boot packing (I do an average amount) this would be more of an issue. This can be remedied with some epoxy, so not a huge deal. I would still much rather these sole blocks than the old pain-in-the-ass replaceable units.
Closing Comments
With every generation, the Cochise Pro 130 keeps getting better and better and this version is the best yet. A much-improved ski/hike locking mechanism, excellent liners, and some weight savings make this boot a great choice for the aggressive skier that does a bit of touring. They aren't the lightest boot out there, but that isn't what they are trying to be. It's a beefy freeride boot that is capable of touring. They aren't the heaviest boot either – they're an excellent blend of both the touring and freeride worlds.