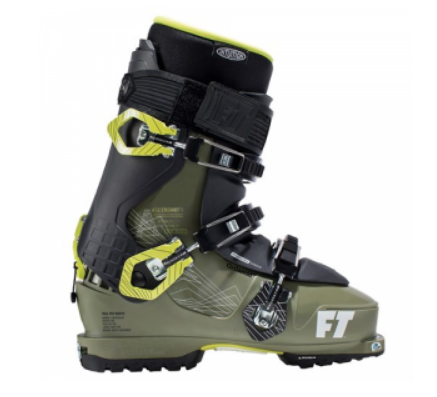 Best Freeride Touring Boots 2018/2019
Best Freeride Touring Boots 2018/2019
A growing segment of the touring boot market, 'freeride' touring boots are light enough that you don't kill yourself on the way up but are still stiff enough to ski hard on the way down. Tech fittings are becoming pretty much standard. These aren't ultra-light touring boots, but rather boots that are more suited for a 50/50 touring/resort season or for people that tour and like to ski hard. That's not to say you couldn't use these exclusively for touring. You definitely could, but they're heavier than your "traditional" touring boots…take that for what it's worth, since most of us don't need the lightest gear known to man.
If you're planning to ski a bit of resort with your touring boots, check out this article that explains which bindings work with which types of soles. Also check out our touring binding article if you're looking for new bindings this season.
Keep in mind that the boot you should get is largely determined by your foot. A great boot that doesn't fit well isn't going to benefit anyone, so keep that in mind and try on a few before committing. Read on to find out which of the best freeride touring boots might be right for you.
---
Full Tilt Ascendant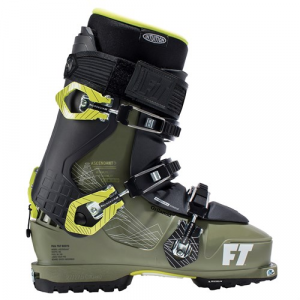 Flex: 120
Weight: 1860 g (ski mode), 1700 g (tour mode) (size 26.5)
Last width: 102 mm
MSRP: $900.00
Binding compatibility: Alpine (ISO 5355), Tech (swappable soles)
Range of motion: 60 degrees
The long-promised Full Tilt touring boot has arrived! With tech compatibility and a swappable rockered sole, this is the boot that Full Tilt fans have been waiting for. This boot was featured in our 2019 gear preview, so head over there for more details (and read about a couple of other hot boots for 2019).
This isn't an ultra-light touring boot – none of the boots in this list are, but it's lighter than the Cochise and has a huge range of motion. The Ascendant has tech fittings and a swappable sole. The rockered sole is compatible with any touring binding, or Marker I.D. and Salomon Warden bindings. The alpine sole works with any alpine binding.
The liner is an impressive looking Pro Tour Wrap liner from Intuition, who makes some of the best liners on the market. The only minor downside is the removable tongue to get into tour mode. If the tongue is left in the boot, the range of motion is decreased (from 60 to 40 degrees), so removing it and stowing it in your pack will be necessary for some tours.The tongue is what Full Tilt refers to as a 10-flex, which is the stiffest in their lineup, so it should be plenty beefy for hard-chargers.
---
Tecnica Cochise 130 DYN Flex: 130
Weight: 2080 g (size 27.5)
Last width: 99 mm
MSRP: $699.95
Binding compatibility: Alpine (ISO 5355), Tech
Range of motion: 42 degrees
Buy now: Backcountry.com, evo.com, Amazon
The latest version of the stiffest model in the Cochise line is back and better than ever. No longer branded with the Pro moniker, it's now simply the Cochise 130 DYN, but is basically the same well-reviewed boot as the last couple of years with some minor improvements. Check out our full review of the previous boot here. It still skis very close to a full alpine boot, but is quite a respectable weight for touring.
The moldable stock liner is great for the downhill but is a bit heavy. Replacing it with a lighter, touring oriented liner (like the Intuition Pro Tour) can save a couple hundred grams per boot and make them tour even better. This is the heaviest boot in this lineup (not that it's truly heavy) and has the smallest range of motion. It's probably the least suited for full-time touring out of any of these boots.
One of the best features of the original Cochise is back in a slightly different form. Tecnica has added a camming power strap buckle to this year's Cochise and Zero G Tour line of boots. This makes the transition from tour to ski even easier.
---
Salomon S/Lab MTN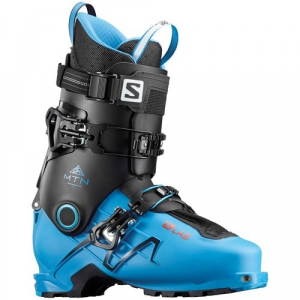 Flex: 120
Weight: 1568 g (size 26.5)
Last width: 98 mm
MSRP: $950.00
Binding compatibility: Touring (ISO 9523), Tech
Range of motion: 63 degrees
Buy now: Backcountry.com, evo.com, Amazon
Significantly lighter than the first 2 boots in this article, the Salomon S/Lab MTN (slight name change this year) is an excellent all purpose boot. If they fit my feet better, I would definitely have a pair (my narrow heel doesn't like these boots). The S/Lab MTN touring boot is closer to the 100% touring end of the spectrum, but is stiff and comfortable enough that it can easily be used as an everyday resort boot.
Simplicity is the name of the game here: 2 buckles plus a power strap makes transitions a snap, and the instep buckle provides great heel hold. The 63 degree range of motion is outstanding, the ski/walk lever is easy to use, and the fully heat moldable liner helps to give a perfect fit.
There is also the fact that many pros ride these boots…if you want to ski like Cody Townsend, this boot would be a good start (disclaimer: these boots probably won't make you ski like Cody, but they won't hurt your chances).
---
Scarpa Maestrale RS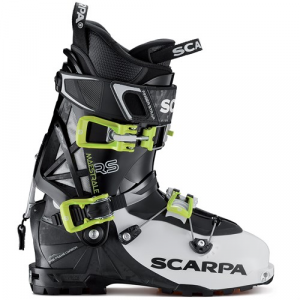 Flex: 125
Weight: 1410 g (size 26.5)
Last width: 101 mm
MSRP: $794.95
Binding compatibility: Touring (ISO 9523), Tech
Range of motion: 60 degrees
Buy now: Backcountry.com , evo.com, Amazon
If there is one thing that Scarpa knows, it's how to build a good touring boot. They've been doing it for years and have made many best selling touring boots. Building on that experience, Scarpa has redesigned the Maestrale RS and it's lighter, stiffer, and more functional than its predecessors.
One particularly interesting feature of the Maestrale RS is the 'wave closure system' over the forefoot. When you close the toe buckle, it tightens a cable that evenly distributes pressure over the entire forefoot of the boot. Neat!
Aside from that innovation, this is a fully featured and relatively light touring boot. At just over 1400 grams, it's light enough for longer tours, but the plastics used have allowed Scarpa to make the Maestrale RS stiff enough for the hardest chargers. The addition of a moldable Intuition liner is a nice touch too.
---
Atomic Hawx Ultra XTD 130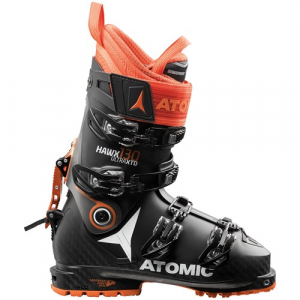 Flex: 130
Weight: 1420 g (size 26.5)
Last width: 98 mm
MSRP: $950.00
Binding compatibility: Touring (ISO 9523), Tech, WTR
Range of motion: 54 degrees
Buy now: Backcountry.com , evo.com
Atomic created some buzz when they released the Hawx Ultra XTD 130 last fall and let the other boot manufacturers know they're serious about making touring boots. Weighing in at a svelte 1420 grams, they're on par with the lightest boots in this segment and are plenty stiff for hard charging.
This boot is better suited for a narrower foot: the forefoot last is 98 mm (but apparently a roomy 98 mm) and the heel/lower ankle is reported to be nice and snug. The heat moldable 'memory fit 3D' liner will help get the fit dialed in and the walk mode lever looks super durable.
THe Hawx Ultra XTD is a traditional 4 buckle + powestrap boot and has a lean angle that's adjustable from 15 to 17 degrees. A 13 degree 'chip' is sold separately if you prefer a really upright stance. WTR binding compatibility is a plus too – if you plan to do any resort skiing, that gives you many more binding options.
---
Dalbello Lupo Factory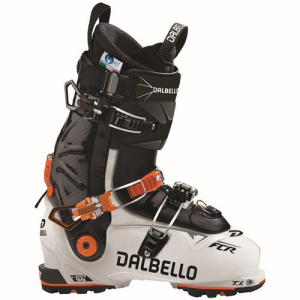 Flex: 130
Weight: 1860 g (ski mode), 1625 g (tongue removed) (size 26.5)
Last width: 98 mm
MSRP: $1100.00
Binding compatibility: Touring (ISO 9523), Tech, WTR
Range of motion: 67 degrees
Buy now: Backcountry.com , evo.com
The stiffest of the Dalbello Lupo line of freeride boots, the Lupo Factory will make you feel like you're skiing an alpine boot on the way down. With a 130 flex, tech fittings, and a weighing a couple hundred grams less than the Cochise 130 in tour mode, this is a versatile freeride boot. The ID Max liner is fully heat moldable, and with the tongue removed the range of motion is outstanding. That said, if you don't like fiddling with removable tongues, this boot isn't for you.
The ski/walk lever is a beefy unit and the 3 buckle system with an instep buckle will keep your heel locked in place. The buckles use screw rivets instead of pressed rivets which is great for maintenance (replacing buckles) and boot fitter access. There are interchangeable alpine soles available as well, which makes the Lupo Factory even more appealing as a multi-purpose boot.
---
Closing Thoughts
We haven't covered all of the burly touring boots available, but these are the highlights. The upcoming Dynafit Hoji and the Tecnica Zero G Tour Pro would likely fit in this group too – they're a bit lighter, but apparently they ski like much burlier boots. I can't wait to get my hands on them. Check out our 2019 gear preview for more details.