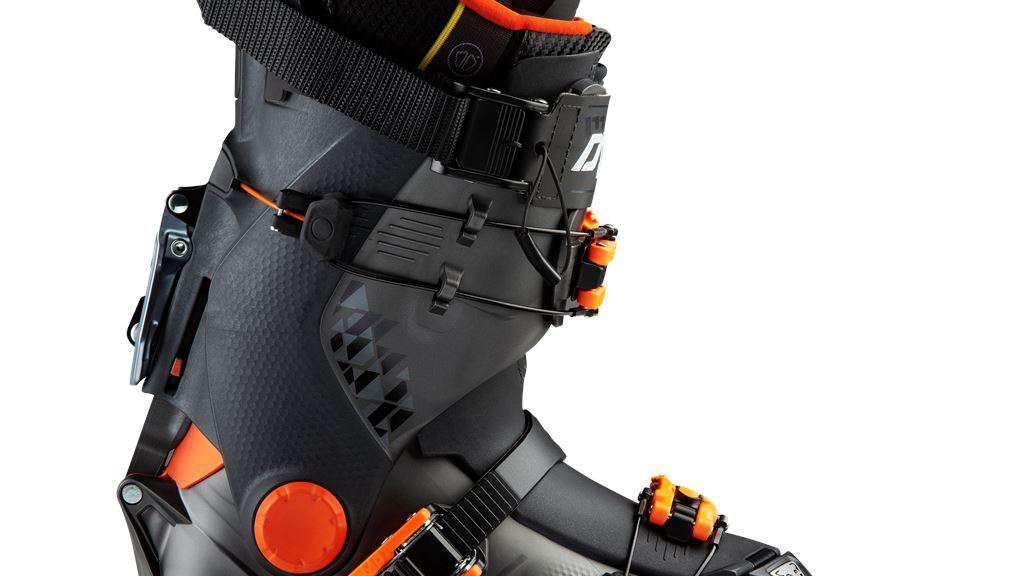 Hot New Backcountry Gear for 2019/2020
Hot New Backcountry Gear for 2019/2020
Every season the ski gods bless us with more new goodies than you can shake a stick at and this year is no exception. Touring boots are better than ever, more lightweight tech bindings keep hitting the market, and as always there are new skis to test drive. Here are some of the highlights of new backcountry gear for the 2019/2020 season.
---
Dynafit Hoji Free
MSRP: $899.95
Weight: 1550 grams (sz 27)
Last width: 102 mm
Buy Now: Backcountry.com, evo.com, REI.com, Dynafit.com
Last year's Dynafit Hoji Pro Tour boots turned heads with the revolutionary 'Hoji Lock', which is a clever cable system that switches the boot from touring mode to downhill mode with the flip of a lever. No more fiddling with buckles during a change over. But with a Speed Nose, they weren't as widely adopted as they could have been. Enter the Hoji Free. Dynafit's tag line for these boots is 'Ski hard – walk easy.' That tells us that this boot is geared toward downhill performance but still tours with the best of them.
Now with a toe welt (the little ledge that keeps the boot toe in an alpine binding), the Hoji Free will work in most touring bindings and some MNC alpine bindings. The Hoji Pro Tour only works in tech bindings. The Free is slightly heavier than its predecessor at 1550 grams in a size 27 vs 1450 for the Pro Tour. This is another indication that the Hoji Free is geared a little more toward downhill performance. It's right in the middle of the 'beefy touring boot' segment, but the Hoji Lock gives it a real ease of use advantage.
Check out this video of the Hoji Lock if you haven't seen it already (note that this is the Pro Tour, not the Free, but the lock is the same). The cable system is genius!
---
Fritschi Xenic 10
The Swiss binding maker Fritschi has decided to enter the ~300 gram tech binding arena with this years Fritschi Xenic 10. They've had great success with the Tecton and Vipec touring bindings, so I have high hopes for this binding as another good option in this class. I go into more details in my Xenic 10 First Look, but here are the highlights:
MSRP: $429.95
Weight: 280 g / 9.88 oz (no brakes)
Brake sizes: 85, 95, 105 mm
Brake weight: ~40 g
Release Range: 4-10
Riser Levels: 2°, 11°
Buy Now: Backcountry.com, BlackDiamond.com, CrippleCreekBC.com
There is a fair amount of plastic in the Xenic, but I trust that Fritschi's engineers know what they're doing. You can ski this with leashes using the loop under the toe or brakes, which work pretty well and are pretty light. Interestingly, the toe pins move only in the horizontal plane. Most other tech bindings pins move down and horizontally away from the boot at the same time – these only move horizontally, which may reduce pre-releases.
I've skied these a couple of times so far, and haven't had any pre-releases running at a release setting of 9, but I haven't thoroughly tested them yet. Less aggressive and/or lighter weight skiers that typically use a lower release setting likely wouldn't have any trouble. The Xenic has independent vertical and horizontal release settings in the heel and 10 mm of length compensation. They're also fairly adjustable for different size boots with 25 mm of travel in the heel piece.
---
Blizzard Zero G 105 MSRP: $799.95
Available Lengths: 164, 172, 180, 188 cm
Dimensions: 134-105-120 mm
Weight (180 cm): 1530 grams (+/- 50 grams)
Buy Now: Backcountry.com, evo.com, Blizzard.com
Replacing the Blizzard Zero G 108, the Zero G 105 looks like a hard changing touring ski for its weight. Coming it at around 100 grams per ski lighter than the Zero G 108, it has a fairly stiff flex profile through the middle of the ski but is softer at the tip and tail to help it float in powder. This is one area where the Zero G 105 hopes to improve on its predecessor – the 108 wasn't amazing in deep snow.
Even if it isn't light years better in the deep stuff, it should still be an excellent touring ski. It's lighter and is said to have the same powerful characteristics of the 108, so you'll save energy on the skin track but still have fun blasting downhill. Whereas the Zero G 108 was based on the Blizzard Cochise mold, the Zero G 105 was purpose built from the ground up to be a solid touring ski.
---
BCA Tracker S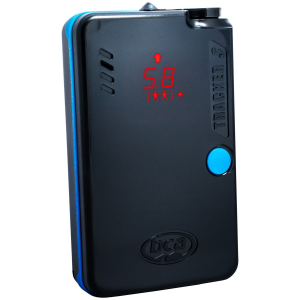 MSRP: $319.99
Range: 55 meters
Battery life: 250 hours (transmit only); 50 hours (search only)
Unit Weight (with batteries): 165 g / 5.8 oz
Harness weight: 120 g / 4.2 oz
Harness included: Yes
Buy Now: Backcountry.com, evo.com, REI.com, Backcountryaccess.com, Amazon
New for 2020, the Backcountry Access Tracker S follows BCA's mantra that 'Simplicity is Speed.' What they mean by this is that a transceiver that is easy to use will result in finding burials faster. Based on the Tracker 3 but cutting a couple of features, the Tracker S is sure to be well-received as the Tracker 3 is a great transceiver. It doesn't quite have the range of a Barryvox or Ortovox S1+, but it's definitely very user-friendly.
The features BCA has removed are the motion sensing auto-revert and the ability to upgrade the software on the device. Motion sensing auto-revert might be critical for some people. If you ever expect to perform an avalanche search in an area where another slide could occur, this is a great feature to have. What happens is the device reverts to transmit mode after it doesn't detect motion for a certain period of time. If you get buried while in search mode, it will switch to transmit mode pretty quickly so you can be found. The Tracker S does have a time based auto-revert, which is almost as good. This is also a fairly unlikely scenario, but if you ski in serious terrain or do some guiding, you may want that feature.
That said, the BCA Tracker S will appeal to many people, as it has everything else great about the Tracker 3. Ease of use and a great display in a compact package. We're currently testing a Tracker S and will have a full review up later in the season.
---
Atomic Backland 107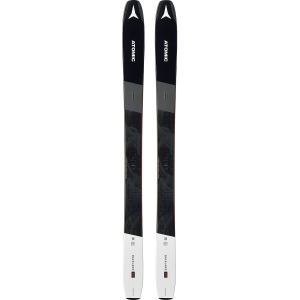 MSRP: $699.99
Available Lengths: 175, 182, 189 cm
Dimensions: 137-107-124 mm
Weight (182 cm): 1550 grams
Buy Now: Backcountry.com, evo.com, Atomic.com
Atomic's very popular Backland FR 109 has been replaced with an all new ski this season – the Atomic Backland 107. Atomic touts it as a 'powder-charging backcountry ski'. At 107 mm underfoot and HRZN tech, it should live up to that claim. The shape is fairly similar to the FR 109 (why change a good thing?), but the tip rocker is more abrupt.
It's a reasonably lightweight ski at 1550 grams for the 182, so you'll save some energy on the skin track vs the heavier FR 109. It isn't the stiffest ski out there, but it's no slouch. The tips and tails are quite soft, so this should lead to better flotation than its predecessor in the deep stuff. According to reviews, it performs really well in powder for a 107 mm waist ski.
---
Atomic Hawx Ultra XTD 130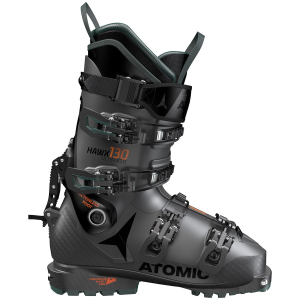 MSRP: $799.99
Weight (sz 26.5): 1430 grams
Stated Flex: 130
Stated Last: 98 mm (expandable by 6 mm through heat-molding)
Range of Motion: 54°
Binding compatibility: Tech, GripWalk, MNC
Buy Now: Backcountry.com, evo.com, REI.com
When Atomic released the Hawx Ultra XTD line a couple seasons ago, they were met with rave reviews. I've been skiing the last generation of these boots, and I can see why – they're super light for a beefy boot and ski really well for a touring boot. For this year's version, Atomic has made quite a few updates. The major components remain the same (like the giant walk/ski switch), but they've made some minor improvements.
The soles are now GripWalk compatible instead of WTR like the previous ones. This makes a lot of sense, as the industry as a whole is moving away from WTR. It's really nice to have a touring boot that's GW certified, as there are more binding options vs. a non-GW touring sole. The buckles have also been updated with 'slides'. Now when you open the buckles you get waaaay more range of motion than before. Ideally you won't have to move them when switching from ski to tour and vice versa.
One minor gripe with the last Hawx boot was the liner. For me personally I couldn't use it as the hard ridge along the tongue digs into my navicular bone, but other skiers have reported that the durability and fit are pretty average. The new liner is quite an upgrade. It uses much denser foam around the ankle and cuff and is a bit more sculpted around the ankle and toe box. Your heel should move less and your toes should be more comfortable. Jackpot.
One more upgrade – the power strap now has a cam-style buckle, which I've liked on other boots in the past. Atomic also claims that it conforms better to the boot (and hence your leg) for better performance.