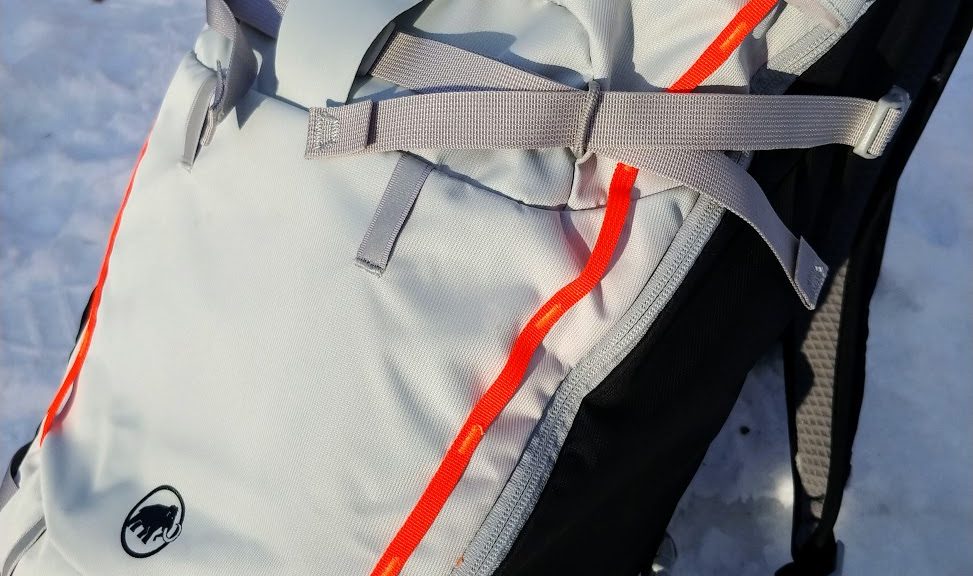 Mammut Spindrift 32 Ski Touring Pack Review
Mammut Spindrift 32 Ski Touring Pack Review
I needed a new go-to touring pack this year for day trips and ended up going with the 32 liter version of the Mammut Spindrift. I have a smaller pack for quick trips (the Ortovox Trace 25 – review upcoming), but on colder days with lots of extra layers to pack or on longer journeys 32 liters provides more space. The Spindrift 32 is quite light, but it is not a minimalist pack. If you're looking for a race pack you're in the wrong place. The Mammut Spindrift 14 (with a built-in wind breaker and speed ski carry system) looks like it would work for rando-types.
But I wasn't looking for a minimalist pack…the things I want in this type of pack are enough space for a day trip, separate avy gear pocket, a way to carry skis (either a-frame or diagonal) and a helmet carry system. The Spindrift 32 ticks all those boxes. I've had five or six days with this pack so far this season, taken a close look at all the features, and am ready to share my thoughts on it so read on for the review.
---
Stats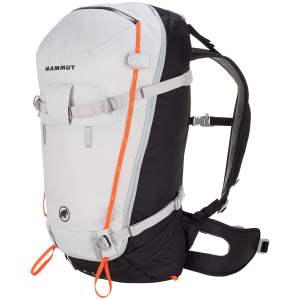 MSRP: $179.95
Capacity: 32 liters
Weight: 1190 grams
Helmet Carry: Yes
Diagonal Ski Carry: Yes
Snowboard Carry: Yes
Hydration Compatible: Yes
Colors: Highway-Black (tested), Phantom
Other Features: Hip-belt pocket, separate avalanche gear pocket, weatherproof external pocket, lateral compression straps, attachments for ice axe, aluminum frame, water-bottle holder, chest strap whistle
Buy Now: Backcountry.com, evo.com, Amazon, Mammut.com
---
The Mammut Spindrift 32 Review
Overview and Features
As I mentioned above, the Spindrift 32 meets my requirements of ample space, helmet and ski carry, and a separate avy gear pocket. But that isn't all this pack offers in terms of features. It's hydration compatible (either shoulder) and has a built-in water bottle holder in one shoulder strap (big enough for a 'bike' sized water bottle). I really like the hip belt pocket for compass storage too.
It only comes in one size with a back length of 46 cm (~ 18 inches), so it's on the larger side of average. I'm 6 feet tall, and it fits me pretty bang on, but the shoulder and hip straps are quite adjustable for smaller/larger people.
The Spindrift 32 is generally pretty well designed, but I have one minor gripe with the avy gear pocket. More on that below. Getting the helmet carry hooked in can also be challenging with gloves on, but that's at worst a minor inconvenience.
Materials
The main material in the Spindrift 32 is fairly thick, and should stand up to abuse. Although the pack is pretty light for its class, the material doesn't feel like they tried to save much weight. The 'highway' color (kind of an off-white) has gotten a bit marked up from dirt but not as bad as I expected. There's one little mark on the top you can see in the pic below. The A-frame ski carry loops are burly, and I have zero concerns about them holding up to many boot packing excursions.
I haven't noticed any fraying seams yet and all of the zippers function as they should. Only the top/front pouch zipper is water sealed, but it's the most exposed to the elements so this kind of makes sense. All of the straps are appropriately beefy too – Mammut hasn't tried to cut weight with thin straps, which is a good thing.
Comfort
A pack fits everyone a bit differently, but for me the Spindrift is great. I'm 6 feet tall with an average torso-leg ratio, and the back length is perfect. I think there it would be just fine for someone a couple inches shorter or taller too. The shoulder straps are adjustable at the top and bottom, so that helps keep the pack sitting where it should.
The shoulder straps and hip belt have a bit of padding, so that adds to the comfort. I haven't had the pack out on warm days yet (it's almost -30°C here as I'm writing this!), but Mammut rates it as 'medium' breathability. Makes sense – the padding looks like it would be a bit warm and the back isn't suuuuper breathable but has some perforations to keep air moving a bit.
Another pro is that the pack is fairly compact in terms of depth, so the weight is kept nice and close to your body. This helps the Spindrift become less noticeable when skiing. One minor gripe I have is that the hip belt pocket is a bit far back for my tastes. I find myself straining a bit to get in there sometimes. That said, I'm fairly inflexible in general, so a normal person might not even notice. Pretty sure this is a "me" problem.
Durability
Long term durability can't be commented on at this point, but I haven't noticed any deterioration or issues in the 5 or 6 days I've used the Spindrift 32. I'll report back here later in the season or if I hear any feedback from other people.
---
Storage
Avy Gear Pocket
There is a separate avy gear pocket in the Spindrift 32. This separate pocket has some slots to hold your probe, shovel handle, or saw and there is ample space for a shovel that's on the large side.
What's a bit odd is that its inside the main pouch, so you have to open the main pocket and then open another zipper to get at your avy tools. The second zipper has an eye-catching red pull tab on it, so it does stand out. I have mixed feelings about this, and to be clear it isn't really a flaw, but it's a curious design decision (to be fair, there are other packs with a similar avy gear pocket setup).
In an avalanche situation, you want to get at your shovel and probe ASAP. A pack like the Osprey Kresta, for example, has a separate pocket that is accessible from the outside. It also has a zipper with a red pull tab, so you know exactly what to reach for. With the Spindrift 32, you'll spend an extra 2-10 seconds (very unscientific rough estimate) opening the main pocket before opening the avy tools pocket.
In an emergency, every second counts. If it's a group situation and you're the guy assembling a probe or shovel, you will very likely still have your sh*t together before the searchers have located the best spot to dig, so no time is effectively lost. In a partner skiing situation the separate pocket may cost you an extra few seconds. Take that for what it's worth. And PRACTICE opening your bag. It's a good habit generally to always keep your zippers in the same spot when you close your bag, so start doing that. Realistically, it'll cost you 1-2 seconds…very unlikely to have a real world impact.
Main Pocket
For a 32 liter pack, the main pocket doesn't seem huge but it does have a fair bit of space. What's great about it is that it zips wiiiiide open. This isn't super useful in deep snow in the field but it makes packing a breeze. The amount of usable space depends on how much you stuff into the avy gear pocket. With a shovel, probe, and saw, there is still quite a bit of room in the main pouch for other stuff. But if you stuffed the avy gear pocket full, the main pocket would be more limited in space. Not a great idea to overfill your avy gear pocket though…keep that shovel and probe accessible!
Inside the main pocket you'll find separate pouches with an elastic rim for a hydration pack and a phone (or whatever – I've been keeping a couple tools and an emergency blanket in my 'phone' pouch). Depending on where you leave your zippers, the compression straps can get in the way when you're trying to get in the main pocket. Not a big deal – just leave the compression straps unbuckled if this bothers you.
Other Pockets
Still looking for somewhere to stash those last few pieces of gear? Don't fret – there are more pockets. Two more on the top of the pack and a hip belt pocket to be exact. The one on the very top of the pack is fairly small and felt-lined. Big enough for a few goodies.
There is another pocket a bit further down the pack with a water-sealed zipper than is a bit larger. It's big enough for a pair of goggles and not much else or it can be used for spare gloves/first aid supplies/etc.
On the hip belt you'll find a small pocket on the left side suitable for snacks or something else small. I sometimes keep a compass in here for quick access. As I mentioned above, this pocket can be challenging to get into for me because I'm super inflexible. People with normal range of motion in their shoulders shouldn't have any trouble.
I should also note that there is a water bottle sleeve on one of the shoulders. It's sized for a bike-size water bottle (as in one that will fit in a bike bottle holder). I haven't used this and probably won't, but it seems to hold a bottle just fine and would be sweet if you like to have a bottle handy.
---
Attachments & Ski Carry
Diagonal Ski Carry
Good news for some of us, there are loops for diagonal carry. The top loop is tucked in the small top pocket until you need it. This loop has a buckle and is adjustable so tightening up your skis is a cinch. At the bottom of the pack you pull one of the tension straps through a grommet to form the bottom loop. It's adjustable and works just fine, but definitely not with a helmet attached in the helmet carry system. You could maybe use the other tension strap to put the skis fully on one side of the pack to avoid the helmet but the weight distribution would be a bit awkward.
A-Frame Ski Carry
The upside is that carrying your skis in an A-frame works great with the Spindrift 32. There are fairly burly loops on either side of the pack and the upper tension straps hold the skis in place as well as can be expected. You'll still want to use a ski strap to hold your tips together.
Helmet Carry
The Spindrift 32 has a built in mesh helmet carrier and it fits my not-so-minimalist Smith Vantage without issues. It also does a really good job of keeping snow out of your helmet which can't be said about some helmet carry systems. Underrated feature in my opinion. Putting on a snowy helmet sucks. If you aren't using the helmet carry, you get another 2 liters of storage in the bottom of the pack.
In the picture above you can see that there is a pocket in the mesh helmet holder. I guess the idea is that you could stuff something in there but I really wouldn't trust it to stay in. I wouldn't put anything critical in here unless you literally have someone watching your back.
Other Attachments
In addition to all of the goodies listed above, there are two sets of loops and velcro straps for ice axes/climbing poles. The Spindrift 32 also has daisy chain gear loops on the face of the pack for all of your mountaineering gear. Mammut has a compatible crampon pocket that straps to this pack as well.
But wait, there's more! The compression straps can be also used to hold a snowboard on the face of the pack. Cannot confirm how well it works until the next time I tour with one of my splitboarder friends.
---
Closing Thoughts
I'll continue using the Mammut Spindrift 32 for many of my touring days this season as it's treated me well so far. My only small gripe is the avy tools pocket being inside the main pocket, but with practice I've gotten very comfortable accessing it quickly. Something to keep in mind though.
The rest of the features on this pack are well thought out. I'm the kind of guy that gets annoyed by little design flaws or imperfections (like sticky zippers, difficult buckles, etc.) but the Spindrift 32 hasn't managed to annoy me. In fact I quite like it.