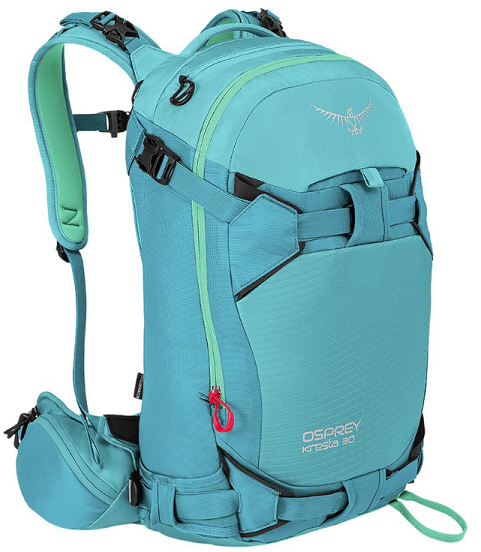 Osprey Kresta 30 Women's Pack Review
Osprey Kresta 30 Women's Pack Review
Last season Mrs. HikeForPow got a new pack for Christmas to replace her aging Arc'teryx Silo 30. The Silo 30 was a good pack, but it was a bit too long in the torso for her. It also had a bit of an odd shape. It narrowed at the bottom, so fully packing it was an interesting challenge. Anyway, enough about the old pack and on to the new. She's been pretty thrilled with her new pack, so read on for the Osprey Kresta 30 Review to find out why.
Osprey Kresta 30 Stats

MSRP: $220
Buy now: Backcountry.com, Amazon.com
Available Sizes: XS/S, S/M
Available Colors: Twilight Grey, Powder Blue
Volume (XS/S): 28 liters/1709 in³
Volume (S/M): 30 liters/1831 in³
Weight: 1.36 kg/3 lbs
Main Fabric: 420HD Nylon Packcloth
Accent Fabric: 420D Nylon Mini Check Dobby
Bottom Fabric: 420HD Nylon Packcloth
Osprey Kresta 30 Review
General Info and Sizing
One of the issues smaller people like Mrs. HikeForPow face is finding a pack that fits properly. Most packs are designed for men, and having a shorter torso means that most of these packs just don't work very well. A women specific pack is the answer, and thankfully they are becoming widely available.
Osprey's Kresta 30 is the middle sister in their backcountry riding line of packs. There are also 20 liter and 40 liter versions (which cost around $20 less and $20 more respectively) for shorter days and multi-day trips. They all come in 2 color schemes that aren't overly 'girly' but are somewhat feminine. The 'twilight grey' has purple accents, and the 'powder blue' is a soft blue color. It isn't super feminine or anything, but probably wouldn't be many guys' first choice of color.
There is a handy sizing chart on Osprey's website that shows you how to measure your torso. Depending on the measurement, the chart shows whether the XS/S or S/M pack will fit you better. Mrs. HFP is around 5'4″, and was kind of in-between sizes. She went with the S/M and is more than happy. The S/M also has the benefit of 2 extra liters of storage space (for snacks, obviously) over the XS/S. Two (2) liters doesn't sound like much, but that's space for an extra puffy jacket and another liter-o'-cola (or water).
Key Features
In terms of features, the Kresta 30 has pretty much everything you would want in a backcountry pack. One thing it doesn't have is an avalanche airbag, but if you're looking for one of those, check out our article about Avalanche Airbag Packs. Airbag packs are pricier than regular backcountry packs, but they definitely have their benefits.
The Kresta 30 has attachments to carry skis or a snowboard. You can carry skis diagonally or in an A-frame, and snowboards can be attached either horizontally or vertically. There is a separate front pouch for all of your avalanche safety gear. The large front pocket has adequate space for your shovel, shovel handle, snow saw and probe and is really easy to access. There are separate little sleeves inside this front panel to keep things organized, and they work well. Inside this pocket is a small mesh pouch for some smaller things.
The Kresta also has access through the back panel if you need to grab something quickly (e.g. a snack) and there is a smaller zipped pouch on top of the pack too. This one has a nice soft liner in it, and is meant for goggle storage, but there is room for other stuff too. The stowable helmet carry is pretty easy to use and plenty big. I often find these a bit finicky, but this one isn't too bad. One downside – if you have a helmet strapped in, you can't get to the goggle pocket. In most cases, you'll be grabbing your helmet and goggles at the same time (for the descent), so this doesn't seem like a deal-breaker to me.
The main compartment is plenty large for a day trip, and you can even get into it with your skis or board strapped to the pack. Osprey calls the main compartment the 'dry pocket'. The idea is to keep wet skins and avy gear in the front pouch so the everything else stays dry, and this seems to work well. Mrs. HPF tells me she loves having separate pockets for wet/dry.
Additional Features
Other features are an insulated hydration sleeve, ice tool attachments, a padded waist belt and padded shoulder straps, and glove-friendly zippers and buckles. There are compression straps to shrink the pack if your load is light and the hip, shoulder, and sternum straps (with built in whistle) are all adjustable. The hip-belt has 2 little zippered pockets in it too – I usually keep a compass in my hip pocket in my pack. Comfort-wise, the Kresta 30 has been great. Osprey has what they call a 'Lightwire' suspension in this pack. In the real world it does a great job of distributing weight between the hip and shoulder straps.
The back panel is also 'snow-shedding', which seemed to be mostly true this past winter. Mrs. HFP never mentioned snow building up on the back panel. I do notice snow getting into crevices in my BCA pack, so this might be more than just clever marketing. Last but not least, there is an ice axe loop that can be tucked away when not in use.
Final Thoughts
This pack is a serious upgrade from Mrs. HFP's old pack, and was well worth the investment. It has been comfortable and has held up well throughout the season. While the Kresta 30 has many features and quite a few pockets and straps, they are all pretty intuitive. There was never a moment where Mrs. HFP had to stop and think about which pocket she had stashed something in. The 30 liter version is a perfect size for longish day trips. It has ample room for enough gear for the day plus some emergency supplies (and emergency snacks).
Osprey also has an excellent warranty should anything go wrong, so that's some good peace of mind too. If you're a smaller framed woman (or man, we won't judge), you should really try a Kresta on for size.