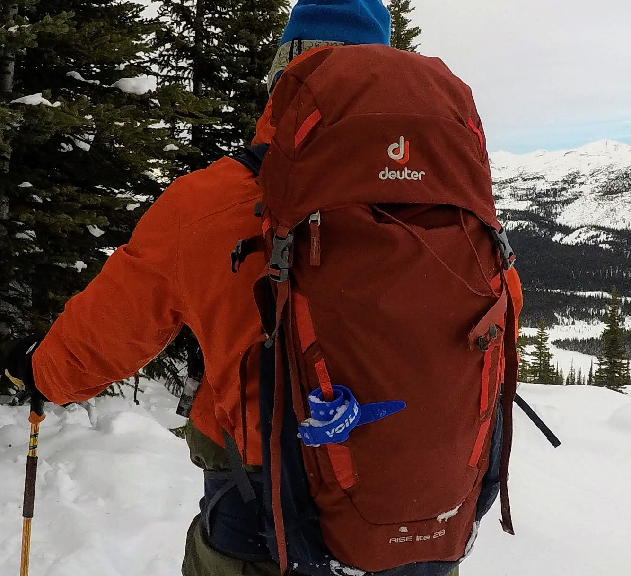 Deuter Rise Lite 28 Pack Review
Deuter Rise Lite 28 Pack Review
The Deuter Rise Lite 28 is a lightweight ski touring pack that is meant for day-long ski touring trips. With 28 liters of volume, it's big enough to stash all of the necessities for backcountry skiing and has plenty of attachment points for additional gear. At 1180 grams it's one of the lighter ski-touring oriented day packs available and it still has most if not all of the features you could want in a day pack.
I've used this pack a few times this season and am ready to share my thoughts on it. For the most part I really like it, but it has a few quirks. Read on to find out if this pack would be a good fit for your backcountry skiing or split-boarding.
---
Specs
Volume: 28 liters (1708 cubic inches)
Weight: 1180 grams (2 lbs 9.6 oz)
Colors: lava-navy, black-graphite
Suspension: Delrin U-frame
Ski carry: yes
Snowboard carry: yes
Waist-belt: yes
Hydration compatible: yes
Shovel pocket: yes
Warranty: lifetime
MSRP: $150
Buy now: Backcountry.com, REI.com, Amazon
---
Features
For a 'light' pack, this thing has a ton of bells and whistles. If you can name it, the Deuter Rise Lite 28 probably has it. One exception is a helmet holder – this pack has loops for it, but it's sold separately (and it doesn't seem like many shops have them in stock at the moment).
The other thing that would really flesh this pack out is back panel zipper access. Currently it's only front access for the avy tools and top access for the main pouch. This is far from a deal-breaker as the pack is great without rear access, and it would add some weight so I understand why Deuter chose to leave that feature out.
Here's a list of features – I'll go over some of these in more detail in the review below.
ski carry (diagonal)
board carry (vertical)
dedicated avalanche gear pocket
padded hip belt (with zipped pocket)
loops for helmet holder (holder sold separately)
ice axe/hiking pole loops
hydration compatible
valuables pocket
adjustable sternum strap
Delrin U-frame
stretch compartment for wet gear
SOS label (a Deuter mainstay)
air mesh shoulder pads
'Lite' back system
Review
Fit and Finish
If you aren't familiar with Deuter, you should know that they make excellent packs and have been in the ski touring/mountaineering game for years. They're confident enough in their products that they, like many of their competitors, offer a limited lifetime warranty.
Materials
The bottom panel of the Rise Lite 28 is a polyamide fabric (1000D PA) that is extremely abrasion resistant, so it should stand the test of time. It feels pretty thick and isn't showing any wear at all yet. I'll update this later in the season if anything changes on that front.
The rest of the pack is a lighter but still durable 'high tenacity' polyamide fabric that is the lightweight version of Deuter's Nylon Pocket Rip material. It's thin but tightly woven for durability.
According to Deuter, the pack material isn't waterproof but it is water-resistant. Appropriate for a winter use pack, but if you live in a really sloppy winter climate, you would want to get a rain cover.
Update: I've had a few more days in this pack since the review, and the only wear and tear it's showing is a few scuffs from getting tossed around. However, I had someone contact me saying that after hiking with skis A-framed on the pack he discovered that both sides of the pack were cut. His ski edges cut through the pack material. Definitely something to be aware of if your edges are sharp and you're going to boot-pack. This material is light, and not as indestructible as heavier packs. Diagonal carry might be the safer option.
Comfort
While skiing, I hardly even notice this pack. It has a really low-profile design and sits really close to your back when skiing which is great. The padded waist strap and the ergonomically shaped back keep this thing practically glued to my body when moving around. All of the straps are adjustable including the sternum strap (with built in whistle) for optimal placement.
It's also comfy while hiking and the well-ventilated back (called 3D AirMesh) provides more than adequate air circulation. The back is well padded, but has perforations throughout to keep you cool while you're skinning.
This pack is designed to accommodate a torso between 16 and 21 inches so it likely wouldn't work well for anyone quite short or quite tall. I'm around 6′ and it fits me perfectly. It's a little big for Mrs. HikeForPow, and she's around 5'4.
Storage
Avalanche Gear Pocket
Having a dedicated, easy to access pocket for your avalanche safety gear is a great feature for a pack. The Deuter Rise Lite's avy tool pocket fits these criteria nicely. It has adequate space for a shovel blade, handle, and probe and the location on the front of the pack makes it really easy to access. I found myself having to unbuckle the top compartment to fully access the front panel depending on how much gear I had packed, but this only takes an extra second or two.
One thing to note is that if you have a larger shovel blade (like I do), it reduces the ease of access into the main pocket of the pack. The way the pack is shaped causes a full front pocket to slightly interfere with the top access. Not the worst thing in the world, but can be a bit annoying. To be fair, my shovel is borderline enormous. I can fit my snow saw in there as well, but it's pretty tight.
This isn't as much of an issue with smaller shovels, but if you like to carry a big shovel keep that in mind. Check out how extra much room there is with a smaller BCA B1 Extendable shovel in the front pocket. Lots of room for a snow saw or snow study kit.
Main Pocket
I really like the closure system around the rim of the main pocket. It's easy to tighten closed like most bags, but it has two big tabs to pull that make it really easy to open even with gloves on. Clever.
At 28 liters, this isn't the biggest of backcountry packs, but it's big enough to swallow everything I need for a day trip. Extra layers, goggles, gloves, food, water, first aid kit, leatherman, etc. It wouldn't be suitable for an overnight trip unless you went really minimalist or strapped things to the outside of the pack. It's a great size for a slack-country pack too and would be perfectly happy doing double duty as a resort pack.
Other Pockets
On the top of the Rise Lite 28 there is a zippered compartment with room for goggles, extra gloves, hat, etc. Easy access and there is a fair bit of room in there. There is also a pocket on the side for a water bottle with a compression strap to keep it secure.
Under the top compartment there is a smaller 'valuables' pocket to keep things like keys safe. This is a bit smaller, but well protected. It's the perfect size for keeping a sandwich handy.
Straps and Attachments
The shoulder straps are ergonomic, nicely padded and very adjustable – bottom and top. The waist band has light padding on the thighs which provides a comfortable fit for hours of wear – no nylon waist strap rubbing against you. The sternum strap is height and tightness adjustable which is nice. I've had packs where the sternum strap is too high and that's a deal breaker for me now.
All of the buckles are easy enough to use with gloves on. Even the sternum strap, which is a pretty small buckle, is easy to open or close with gloves on.
The ice axe/hiking pole loops and straps work well. Not much more to say there aside from the fact that there is a little slot to stow the bottom loop when it isn't in use which is pretty cool. I haven't had a chance to test the helmet holder loops, but they look durable.
Attaching a pair of skis to the Deuter Rise Lite 28 is super easy. There's a built in loop and straps for diagonal carry (it's the same loop as the one for an ice axe). Check out the video below from Deuter to see how a diagonal carry works.
You can A-frame as well if you prefer – there are loops at the bottom on each side of the pack and compression straps at the top. The loops are pretty minimalist (in keeping with the 'lite' theme), but they get the job done.
There are also stowable straps on the front of the pack for carrying a snowboard or snowshoes.
---
Closing Thoughts
Overall this is a great medium sized pack that has everything you would need in a day pack for backcountry skiing. It's big enough to hold all the essentials and then some, and is really lightweight besides. The front avy tool pocket keeps your safety gear close at hand, and it's super comfortable when skiing and hiking.
If you're in the market for a well-designed and durable pack for day trips you should check out the Rise Lite 28. Especially those of you that don't have giant avy shovels or feel the need to pack anything and everything on every excursion.