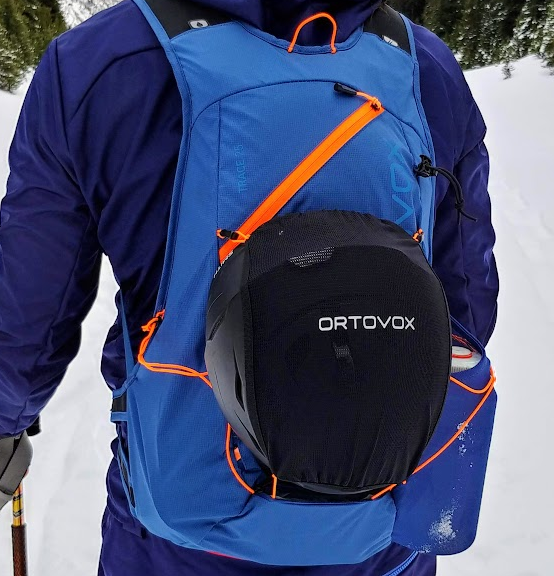 Ortovox Trace 25 Review: A Lightweight Ski Touring Backpack
Ortovox Trace 25 Review: A Lightweight Ski Touring Backpack
"Fast, lightweight and safe" is how Ortovox describes the Trace 25 and after testing I have no reason to argue. The Trace is as fairly minimalist pack and competes in the ultra-lightweight touring pack segment. It's a 25 liter pack that weighs less than a pound with a claimed weight of 445 grams. If you don't need 25 liters of storage you could look at the Trace 20 and the Trace 23 S and Trace 18 S (which are basically the Trace 25/20 designed for smaller people).
I started testing this pack last winter but didn't get as many days with it as I would have liked before posting a review. Fast forward to this season with the pandemic a bit more under control and I've been able to use the Trace 25 a few more times in the backcountry. Read on to learn all about this super lightweight touring pack.
---
Specifications
MSRP: $120.00
Capacity: 25 liters
Weight: 445 grams
Helmet Carry: Yes
Diagonal Ski Carry: Yes
Hydration Compatible: Yes
Colors: Night Blue (tested), Green Isar, Blue Sea
Other features: ice axe/hiking pole attachment, built-in whistle, water-resistant zippers, key holder
Buy Now: Backcountry.com, Amazon, Ortovox
---
The Ortovox Trace 25 Review
Overview and Features
Designed for fast and demanding ski tours, the Trace 25 has many of the basic features you would want in a ski touring pack and not much more in the interest of saving weight. From the moment you pick it up and feel how light the Trace is, it's clear that this is a minimalist pack. For reference it weights less than half of my go-to pack, the Mammut Spindrift 32.
Materials and Comfort
Most of the Trace 25 is constructed with 200D Ripstop Polyester. From Ortovox: "This fabric is extremely lightweight but also quite resistant to tearing and abrasion thanks to its Ripstop design. The inside is PU coated, which also makes the fabric waterproof." In my experience using this pack I have no reason to dispute any of this. I have, however, seen this type of material get cut from sharp ski edges, so use a bit of caution if your edges are super sharp.
The shoulder straps and the back panel are mostly a breathable mesh material which helps keep you cool. The back panel even has a removable foam pad. With this pad removed airflow is even better and the pack is lighter but comfort is reduced. You have to be careful how you pack anything that could dig into your back (like a shovel). Even the hip belt has breathable mesh sections to keep you cool.
Despite the minimal nature of the shoulder straps and hip belt they were still fairly comfortable. The teardrop shape of the pack helped keep it snug to my body so it didn't move around much when skinning or skiing. If it was a really warm day and you were down to a single layer you might feel the straps a bit. But with a base and mid-layer on I had no issues.
Attachments and Ski Carry
Despite being fairly minimal, the Trace 25 still has loops for diagonal ski carry, a stowable built-in helmet net, and an ice axe/hiking pole attachment. The bottom diagonal ski carry loop is on the small side (~120 mm max), which makes sense. You won't be doing a fast tour on powder skis, and if you do, keep in mind that those fat tails won't fit through the loops on the Trace 25. The ice axe loop is well hidden in the helmet net compartment. Easy to miss. This isn't likely a pack you would take on a mission requiring an ice axe, but it's nice to have the option. Both the top and bottom ice axe loops as well as the diagonal ski loops can all be stowed away. Good design.
Near the bottom of the front of the pack is a small zippered compartment. Inside is the helmet net and the aforementioned ice axe loop. The helmet net is adequately sized to attach a regular old alpine helmet. It stows away when not in use. Note that like most packs, using the helmet net and diagonal ski carry at the same time isn't possible.
Here's a short product video from Ortovox showing some of the highlights of the Trace 25:
Storage
For a minimalist pack, storage in the Trace 25 is fairly ample. Everything is stored in one main pocket that's accessible from the back panel. The back panel zips pretty much fully open, so access to the main pocket is great. A sleeve on either side for shovel handle or probe help keep things organized. There's plenty of room for a shovel and probe along with some extra layers, gloves, etc. I was even able to get my bulky BD Transfer shovel in there along with enough gear for a day trip.
Inside the back panel is a small pocket with an emergency card (fill this out with your info) and a small bit of storage. You'll find a decent sized zippered pocket (with a water resistant zipper) on the front of the outside of the pack. Inside is a clip to keep your keys safe and room for goggles, extra gloves, snacks, or anything else you want to keep handy.
On one side of the outside of the pack there is a 'cargo net' with elastic cords to keep things contained. Plenty of room here for a water bottle and/or some snacks. I tended to keep a Nalgene in the net and it stayed put no problem.
---
Closing Thoughts
This is a well-designed minimalist pack. Ortovox has managed to include all of the necessities for fast ski travel and keep it in a very lightweight package. Some skiers might rue the lack of padding in the shoulder straps and hip belt, but those of us looking to shave some weight will really appreciate them. The mesh panels everywhere really help keep your body cool on fast ascents. 25 liters of storage is ample storage for what this pack is meant to do and the main pocket is wide open and easy to access. So far my only minor gripe is that the chest strap buckle is a bit hard to use with gloves on. Far from a deal-breaker. On days when I want a light pack, I've really enjoyed strapping on the Ortovox Trace 25.