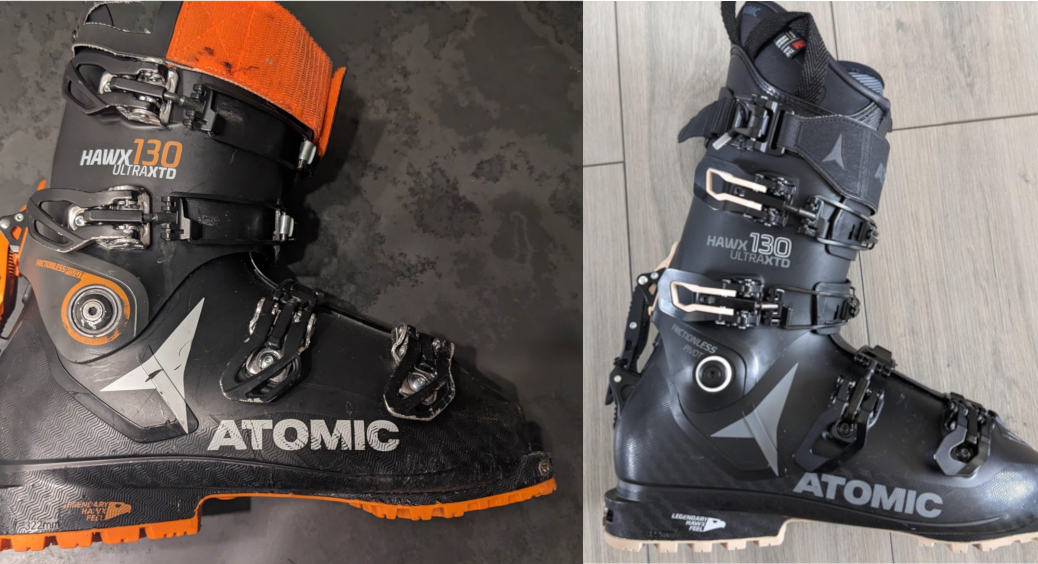 Atomic Hawx 130 Ultra XTD Ski Boot – Old vs. New Comparison
Atomic Hawx 130 Ultra XTD Ski Boot – Old vs. New Comparison
I spent many days in the original 2017/18 Atomic Hawx 130 Ultra XTD and picked up a pair of 21/22 130 XTDs this season so I thought I would do a comparison of the two versions. Atomic has made some improvements, most significantly to the liner, but the fit and performance remain very similar. For skiers with low volume heels/feet that want a beefy touring boot (like me), the Atomic Hawx line is worth trying on. With some shell stretching/punching in the forefoot area, I'm able to get a pretty decent fit for my troublesome combo of narrow heels, low instep and fairly average forefoot. Fun fact: XTD is pronounced 'extended'.
At first glance, they look like pretty much the same boots aside from some color changes. They have very similar style with some texture on the lower half of the shell. Atomic has really toned down the color scheme for 2021/22 though. The buckles look very similar, the ski/walk mechanism still looks like it would be useful for self defense, and there are tech fittings in the toes and heels. Even the Hawx label on the side is almost identical. But looking more closely and sticking my foot in the boot reveals some worthwhile upgrades.
Note that there's a newer version of these available this season (with some very minor changes) and a BOA based boot coming out next year. The BOA version is heavier, but provide a better fit over the forefoot due to the way the BOA system works. TBD.
Stats
As most of these haven't changed, if there's only one value listed assume it's the same for both versions. If there are 2 values, the first is for the older 2017/18 version of the boot.
Stated Flex Rating: 130
Stated Last Width: 98mm
Stated Range of Motion: 54°
Stated Weight (size 26.5): 1420g, 1580g
Stated BSL (size 26.5): 302 mm
Sole: Walk-to-Ride, GripWalk (both rubber, rockered, non-replaceable)
Forward Lean: 15-17° (13-19° with available flip-chip)
Buy Now: Backcountry.com, evo, Cripple Creek Backcountry
Pretty similar from a 'stats' perspective overall. Let's dig into what has actually changed and see why the boot has gotten a bit heavier.
---
Shell
No major changes here. They still have the frictionless pivot, energy backbone (to add stiffness in the spine of the boot), and a very similar shape. I'm stoked they didn't make major changes to the shell. I had zero complaints about the original and it feels like the new one might even be slightly lower volume over the arch and in the heel. The heel may be more due to liner changes though.
Range of motion in walk mode is basically the same. Not as good as a full-on touring boot, but enough for flat approaches. Make sure your buckles are nice and loose as they can hinder the range of motion. More on the buckles below. The flex is still nice and stiff for a hybrid boot, but not really a true alpine 130 (the same can be said for all 130 flex touring boots). The 'energy backbone' must be doing its job of stiffening up the flex.
Liner
This is where Atomic has made some serious upgrades. In 19/20 they changed the liner a bit from the original orange version, but now it's a Mimic Platinum liner. The original liner was light…but not great. Personally I couldn't use it at all because one of the seams beside the tongue hit a pressure point on my right ankle. From what I've read and heard, the liner packed out fairly rapidly. When new, it was decent for touring as it had good range of motion with a flex panel in the back.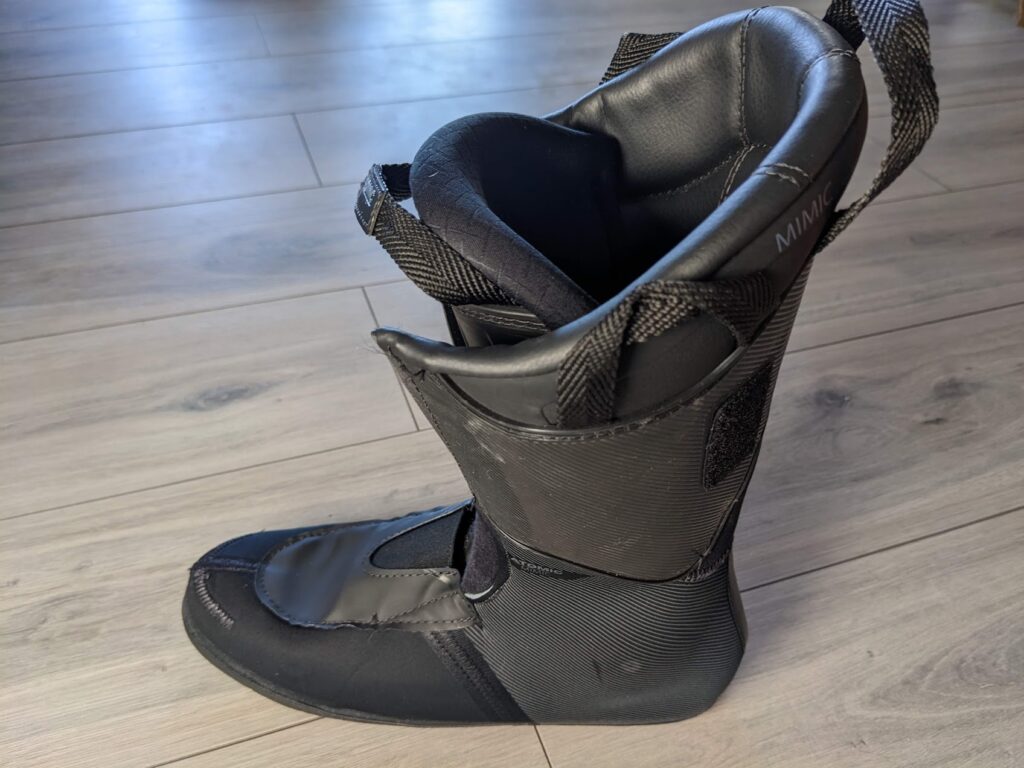 The new Mimic Platinum liner is much beefier. It's more substantial in all areas with thicker, moldable foam and has a hard plastic layer around the upper cuff and the tongue. It seems like the most material is around the ankle and heel pocket, transitioning to a thinner 'neoprene' type material for the forefoot. The heel hold out of the box in the new Hawx has improved, and I'm betting it's mostly due to the beefed up heel pocket of the liner.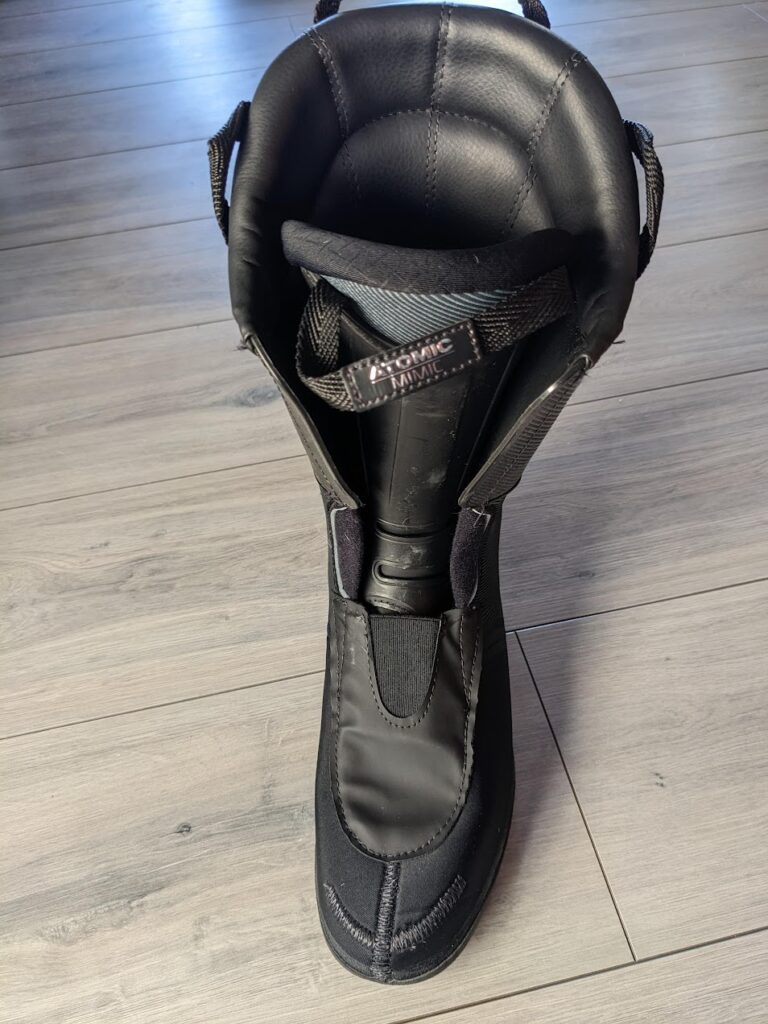 There are velcro attachment points on the back for the optional spoiler and the flex zone in the back panel remains. The upper cuff doesn't flex much by hand, but it definitely moves a bit. Another nice touch are the substantial handles on the tongue and upper. These are actually useful, because these boots are a challenge to get your feet into. It's also very heat moldable – more on that below in the Fit section.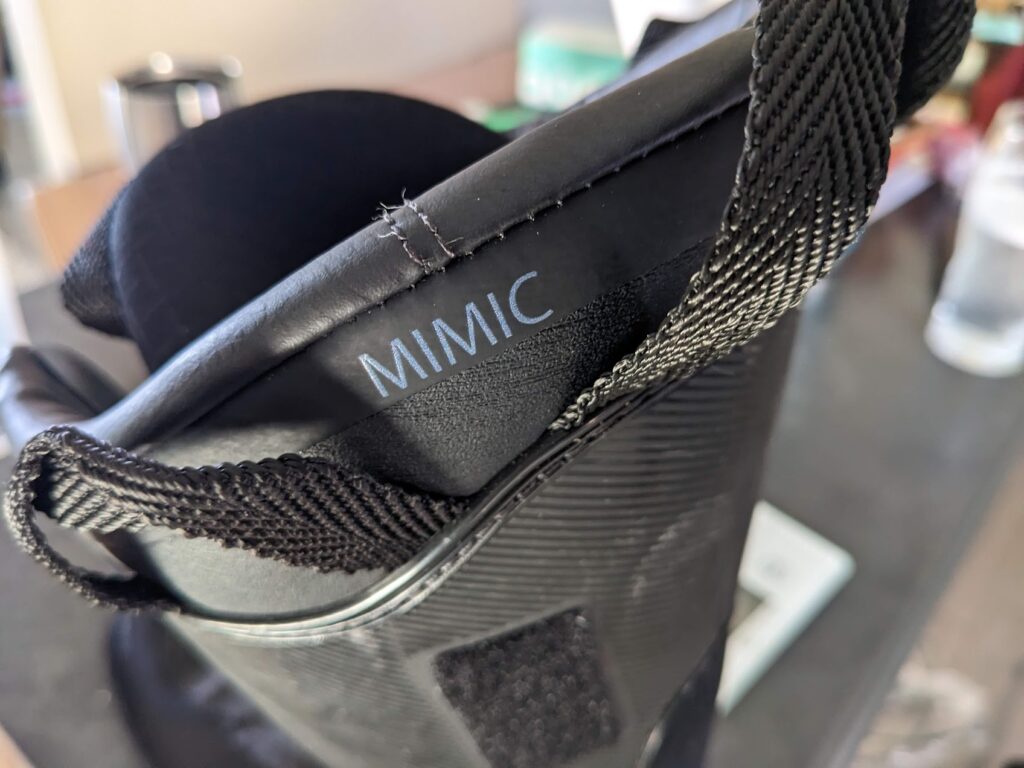 For touring, these liners aren't amazing but they aren't terrible either. I've toured 5 days in them and the one thing I really miss from my Intuition liners are laces/boa to keep my foot from moving around. I've developed a couple of hotspots when the buckles are loose and will be swapping in an Intuition Pro Tour liner for touring. You can also save a couple hundred grams. Like I said, this Mimic liner is pretty beefy. That said, its downhill performance is pretty darn good. Heel hold is great and it's nice and supportive.
Buckles
Another nice improvement is to the buckles. The original Hawx XTD had a 'keeper' notch that you could use while touring. The new buckles have a slider that allows them to open way further than the old ones. The keeper notch is gone – you can now just open the buckles all the way and get pretty much full range of motion. There is also a 'cover' to keep the buckle from moving around on the notches. Nice. I may have broken one of the plastic 'slider' inserts when releasing a buckle…a small piece of beige plastic flew off and it now moves a bit. Seems okay, but I might try and get a new buckle from the shop.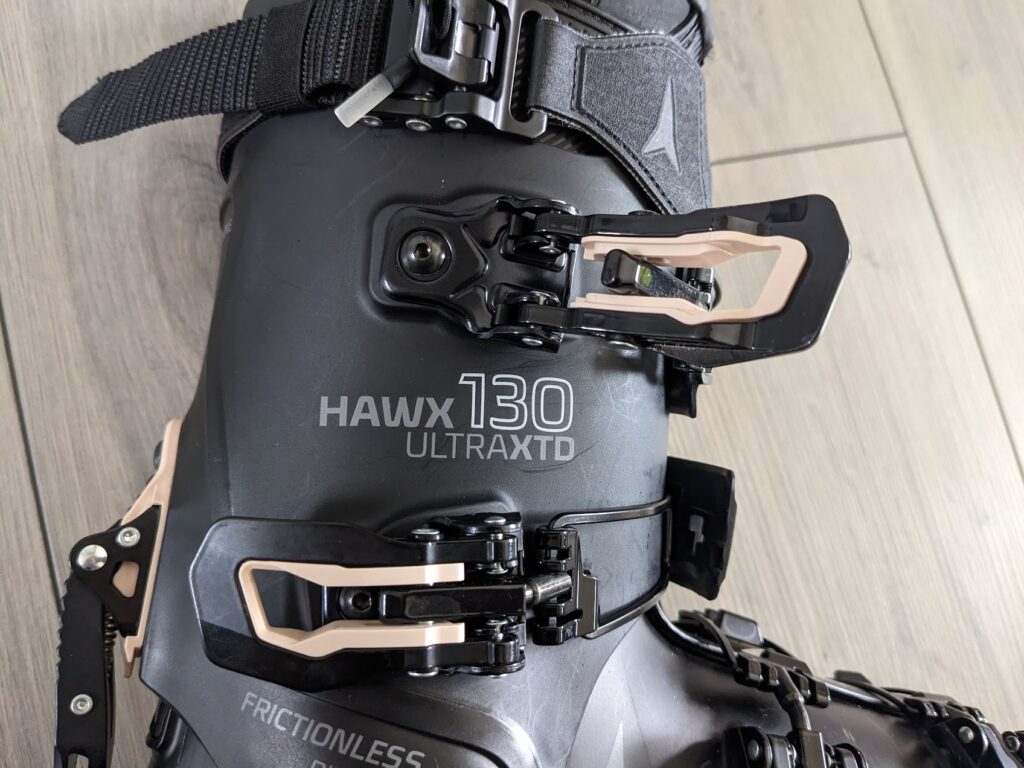 Each buckle has 2 mounting points to get a tighter/looser fit. You can remove them with a hex key and remount to get a tighter fit. I've done this around my lower leg because I have fairly small ankles and calves. It's fairly easy – I did it in a parking lot while taking a break from laps.
Sole
As before, it's rockered with deep rubber lugs but they are now GripWalk compatible instead of Walk-to-Ride. Thumbs up for the demise of WTR. Not that I had anything against WTR in particular, but fewer varieties to worry about when buying boots and bindings makes life easier. My old soles showed very little wear after a few seasons, so let's hope the new ones are as durable.
Power Strap
On the 2017/18 boot, the powerstrap was just a wide orange velcro strap. No stretch, no fancy buckles. Nice and minimal. One of mine ripped almost completely in half after a few days. Not sure how. It was replaced with a generic Atomic strap for a while, then a Booster strap.
In the 2019/20 boot, Atomic made some drastic changes to the XTD powerstrap. It's very similar to the Tecnica Zero G powerstrap with a wide strap across the tongue and a small buckle to release it at one end. It isn't stretchy like a Booster strap, but you can grab the tail end and snug it up nice and tight like a Booster. I'm still undecided if I'll move the Booster over to the new ones…the new power strap seems all right so far.
Overall Weight
You may have noticed above that the weight of the 2021/22 Hawx XTD is a bit more substantial than the original. Most of this comes courtesy of the beefier liner, but they've added a few grams to the shell too. Swapping out the liner for a lighter, more touring-friendly model brings you pretty much in line with the old version of the boot.
Note that these weights are for a size 28.5 boot, so they're a bit more than the 'stated weights' listed above. They're for a 26.5.
| Size 28.5 | 2017/18 | 2021/22 |
| --- | --- | --- |
| Shell | 1203 g | 1246 g |
| Liner (no footbed) | 355 g* | 486 g |
| Shell + Liner | 1558 g | 1732 g |
| Stock footbed | 15 g | 24 g |
*I might have left the footbed in for this measurement
As you can see, the 2021/22 Hawx Ultra 130 XTD has a bit more heft to it. A total difference of 174 grams for a size 28.5, which is around 11% heavier. Possibly more as I'm not sure I removed the footbed when I weighed the 2017/18 liner. In other reviews, the old liner weighed in a bit lighter.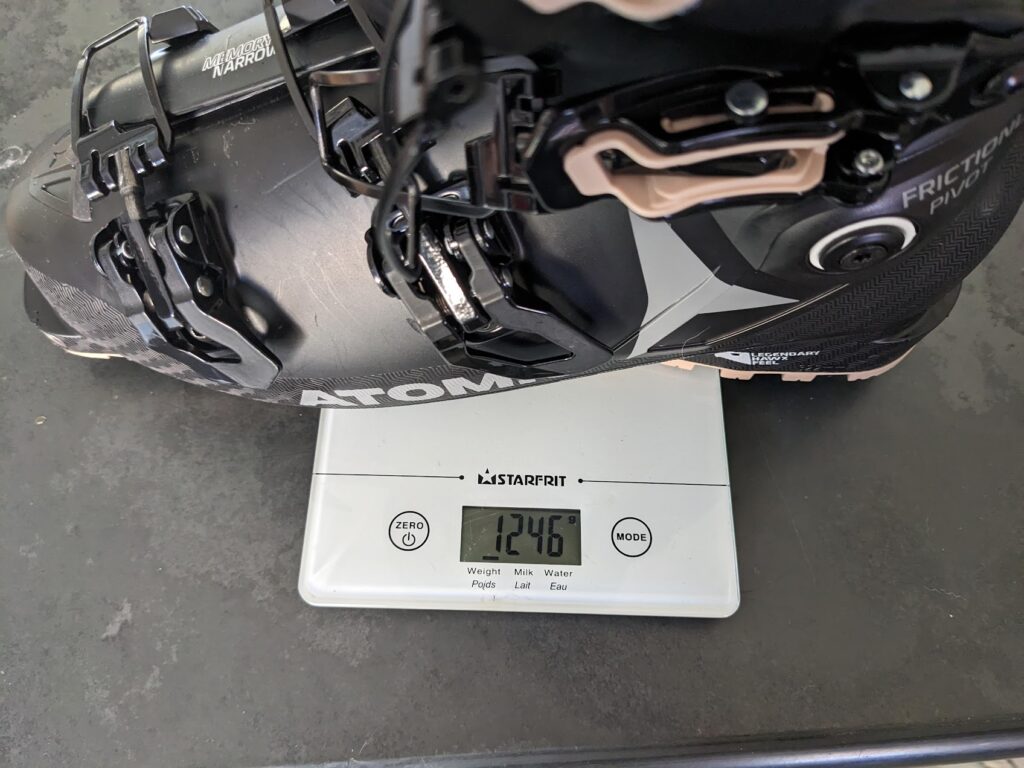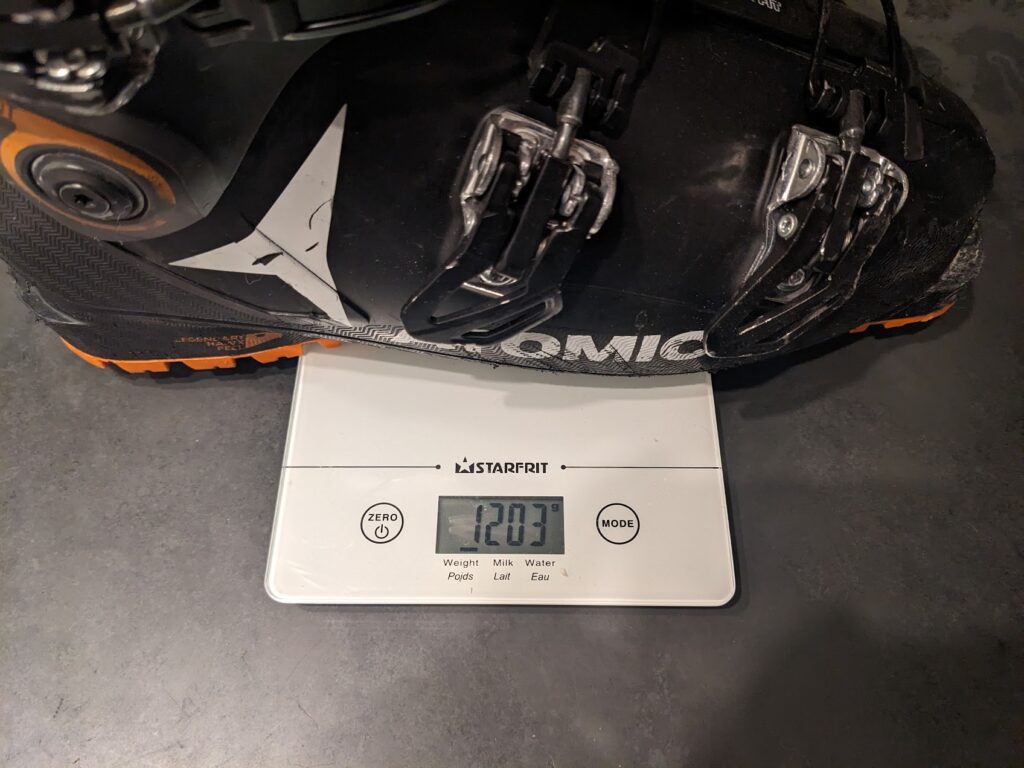 In any case, around 130 grams of difference comes from the liner with only 43 grams difference in the shell. As I mentioned above, switching to a touring specific liner like an Intuition Pro Tour or Tour Wrap is recommended for touring. You'll same some weight and they have laces to keep your foot from moving in walk mode. In conclusion, I'm not concerned at all about the bit of extra heft.
Fit
Out of the box, the heel pocket of the 2021/22 Hawx XTD feels snugger. I'm pretty sure this is down to the new, much improved liner, but the fit before molding was pretty darn good for my feet. I have a low instep, so the shop added the volume reducer under my footbed to get contact above my arch.
I definitely needed a heat mold – with the liner removed, both feet were touching the sides of the shell near my mid-foot. This is where things get interesting. After heat molding, the fit was almost perfect which was a surprise. In my old boots I needed a punch immediately for the toebox width and forefoot width. The new shells and liners seem to be a bit more malleable after some time in the oven.
I now have 5 days on these, mostly touring, and have determined that I need a small punch at the side of my big toe and the mid-foot on my right but these are minor. That said, I could definitely survive without any punching. Very impressed.
Conclusion
Not much more to say really. I'm as stoked about my new Atomic Hawx 130 Ultra XTD as I was with my old ones, possibly even more so. They ski great and for this type of boot I really can't complain about the touring/uphill performance. I'll get my new Intuitions heat molded soon, get the shells punched and report back after more time in them.