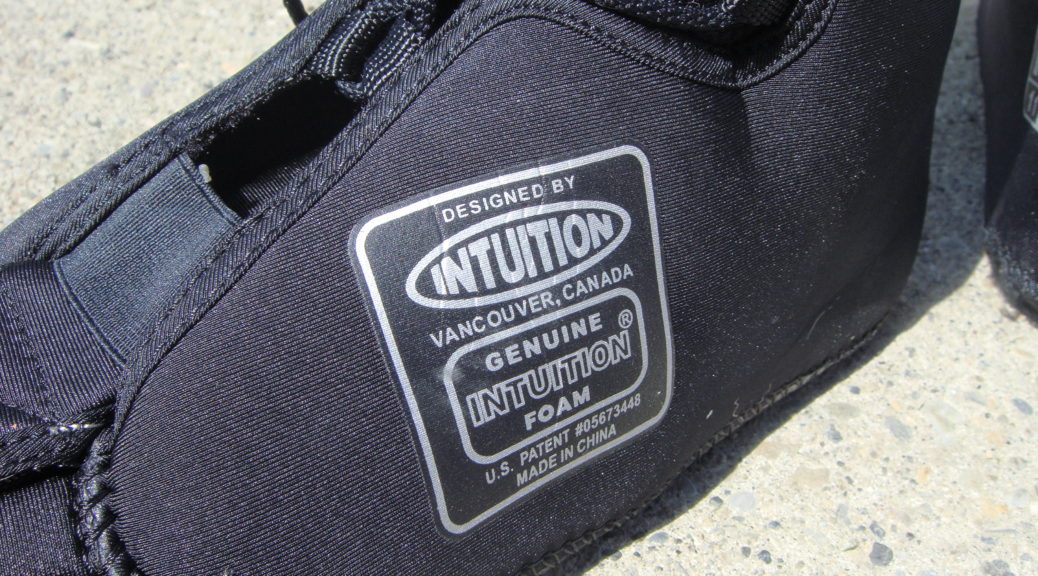 Intuition Pro Tour Liner Review
Intuition Pro Tour Liner Review
Many models of alpine touring boots now come with excellent liners, but some still fall short. Intuition liners have been one of the benchmark aftermarket ski boot liner providers for years. The latest iteration of the Pro Tour model continues that legacy. In this review we'll tell you what makes it such a good liner (spoiler alert: it's excellent).
Intuition: A Small Company with a Reputation for Quality
For over 20 years, a small company named Intuition Sports, Inc. based in Vancouver, British Colombia, Canada has been making high performance replacement ski boot liners. They realized that having cold, sore feet didn't have to be part of going skiing and that the liners that came with ski boots packed out really quickly.
"Packed out" means that a liner takes up less space than it did when new. Over time, the foam used in ski boot liners permanently compresses. This makes your boots feel sloppy, reduces your control and can even make your feet hurt.
A Brief History Lesson
In the 1990s, Intuition set out to make the best ski boot liner the world had ever seen. Now, they have the world's most extensive line of high performance replacement ski boot liners (those are their words).
Their liners use a propriety foam that is very heat moldable and resists compression so they last much longer than most stock liners. It is a closed cell foam that Intuition makes in a variety of densities and thicknesses for different types of liners. They've come up with a custom blend of materials that has resulted in a material that is perfect for ski boot liners.
The foam has improved elasticity, resilience, temper and toughness. What this means is that Intuition liners are durable, warm, comfortable, lightweight, and have excellent shape memory. These liners can be heat-molded multiple times and they do not absorb any water.
Intuition liners are now used as the stock liners in many production ski boots. This is a testament to their quality and how far Intuition has come as a company.
Current Intuition Product Line-up
Intuition claims they have the widest selection of high-performance liners, and I can't find anything to dispute this. They have over 25 different models, from a basic alpine liner to liners for inline skates (aka roller blades). They have Junior specific liners, Women's specific liners, liners for racers and liners for those that just hate their ski boots and want more comfort. There is something available for pretty much anyone.
One notable model that helped put Intuition on the map is the Powerwrap. This liner is different from traditional liners in that it doesn't have a tongue. Instead, two sections of foam wrap one over the other. The result is a form-fitting liner that can really help increase the stiffness of a ski boot. From personal experience, I can say that these liners ski extremely well but are not idea for touring. Their range of motion isn't great, but that's where the Pro Tour really shines.
The Intuition Pro Tour Liner Review
Pro Tour Liner Stats
Weight (sz 29, MV): 303 grams (10.7 oz)
Sizes: Mondo 22-33 (US 4-15)
Thicknesses (Volumes): Low (thinnest), Medium, High (thickest)
Tongues Available: Flex (included), Power, Thick
Price: $198
Additional Tongue Price: $40
The standard Intuition Pro Tour comes in the Medium Volume with the Flex Tongue, which is stiffer at the top and flexes at the bottom. If your shell fit is quite tight (1/2″ or less behind the heel) the Low Volume liner is recommended, and if your shell fit is loose, the Higher Volume will take up some additional space. That isn't to say that an Intuition liner will fix a bad shell fit. It might help, but won't cure it completely.
There are 2 other tongues available aside from the included Flex Tongue. The Power Tongue is stiff all the way down and the Thick Tongue is the highest volume tongue option that Intuition offers, and is thick and stiff all the way down. If you need to take up some space in front of your shin, the Thick Tongue will do so.
At a price tag of almost $200 USD, the Pro Tour Liner isn't cheap, but in many cases the benefits make them well worth it. Personally, the improvements they make over my stock liners in terms of touring comfort and weight savings easily justifies the price.
Advantages of the Pro Tour Liner
Weight
Depending on how good the stock liner is in your touring boots, the Pro Tour can offer a number of advantages. For me personally, the biggest gain was in weight savings. Compared to the stock liner in my Tecnica Cochise 130 Pro, the Intuition Pro Tour is around 230 grams (8 oz) lighter…per liner. That's a total weight savings of around 460 grams (over 1 full pound!) which is quite significant.
Heat-Moldable Foam
As mentioned above, the foam that Intuition uses in their liners is repeatedly heat moldable and will really conform to your foot if molded properly. The heat molding will take care of any minor pressure points you might have and if you have a decent shell fit, your feet will be in heaven. If you buy these in a shop, they'll take care of the heat molding for you. If you buy them online, you can tackle it yourself, as heat molding these liners at home is a breeze. Intuition includes a 'fit kit' that includes all of the necessary tools and instructions to properly heat fit your new liners.
Intuition's foam is also famously warm, and the Pro Tours follow this tradition. Although not as warm as the Power Wrap in my experience, these are still much warmer than most stock liners.
More Comfort for Your Feet
Another comfort related feature in the Intuition Pro Tour is a bit of extra padding at the end of the toe box. For those of us whose toes unfortunately bang against the end of your boots sometimes (this happens to me when skinning on flats…ugh), this is a game changer. This past winter on my first tour of the season with an older pair of liners I bruised my big toe-nail enough that it eventually fell off (yuck). Shortly after that I got a new pair of Pro Tour liners and will never look back. Even with a bruised toe-nail my feet were in heaven.
These liners come with a speed-lace system that is intended to help keep your feet locked into position even when your boots are loose while touring. In my experience, this system works quite well. I have had very minimal hot spots from touring after around 20 days in these liners. If you aren't a fan of laces, they are easy to remove.
Depending on your boots, the speed lace 'button' might get trapped between your shell and the tongue, so prepare for a bit of fiddling to get it comfortable.
Intuition has strategically placed a flex-panel on the rear of the liner. This panel is a more flexible foam, and allows for more movement when touring and works quite well.
Control
For many skiers, the holy grail of boot fitting is how much control you have over your skis. With a perfect fit, as in a plug, custom-molded race boot, every little motion of your foot is translated directly to the skis they are driving. Of course when backcountry skiing, comfort is equally or more important, as you spend a higher percentage of your time hiking/skinning. That said, having better control over your skis is still an advantage.
The great thing about the Pro Tour is that it gives you added control without sacrificing comfort. The heel pocket is ergonomically designed and provides amazing hold, even compared to the new Cochise Pro liner, which has been praised for its excellent heel pocket.
Final Thoughts
As mentioned above, the liner comes in 3 thickness/volumes and with 3 different tongue options that are easily removable. With all this customization, finding a configuration that will work for your boots should be a snap.
One thing to note is that many people, myself included, find that the easiest way to get these liners on is a bit different than what you might be used to. Instead of shoving the liner in your boot and then putting your foot in, you start with the liner out of the boot. Stick your foot in it, lace it up tight, and then put your liner-clad foot into the shell. It sounds really odd, but it works and becomes second nature.
I spent a full winter with these liners in my Tecnica Cochise 130 Pros, and will never look back. When touring, the weight savings and freedom of movement makes every day better. They're stiff enough for a day at the resort, and kept my feet warmer than the stock liner too.
If you have any additional thoughts or questions, feel free to leave them below.