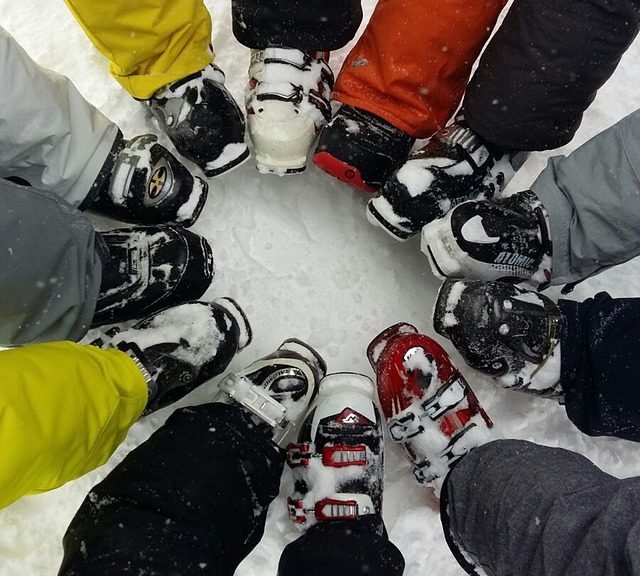 Top Reasons to Get Alpine Touring Boots
Top Reasons to Get Alpine Touring Boots
A question that many skiers ask at some point is 'Should I get touring boots or use my alpine boots for backcountry skiing?' I know when I first started exploring the backcountry I asked myself this question. I used my alpine boots (which were freaking heavy) for the first 5-10 days of backcountry skiing. Once I got a pair of touring boots (the original Tecnica Cochise in my case – check out my review of the new one), I never looked back.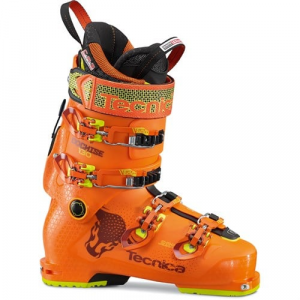 I'm here to give you some insight, talk about the advantages of touring boots, and to help you decide. If you are going to be doing some backcountry skiing (or even just lift-served sidecountry), there are definitely pros and cons to touring boots. One thing that might be holding you back is the cost, and fair enough. Alpine touring boots are generally a bit more expensive than regular alpine boots.
The good news is that in recent years, the downhill performance of touring boots has vastly improved. This means that the downsides of switching from alpine to touring boots, aside from the cost, are pretty much eliminated.
Assuming you do at least a bit of backcountry skiing, here are the top reasons to switch from alpine boots to alpine touring boots:
Weight Savings
Alpine Touring boots are lighter than alpine boots. In some cases, WAY lighter. Ultra-light touring boots can weigh less than a kilogram (2.2 lbs) per boot. Some traditional alpine boots weigh up to 3 kg (6.6 lbs) each! Imagine having a 4 pound weight strapped around each ankle when touring. That wouldn't be fun, right?
In the not-too-distant past, touring boots were a bit of a compromise. Yes, they were lighter, but their downhill performance was typically lacking. Luckily, we are living in the golden age of ski boot technology. There are now many options for light boots that ski very close to their alpine brethren.
Some examples of high-performing touring boots are the Dynafit Vulcan, the upcoming Dynafit Hoji Pro Tour, Salomon S/Lab MTN, Tecnica Zero G Tour Pro, and the Scarpa Maestrale RS. There are more, but these are good examples of light boots that tour and ski very well.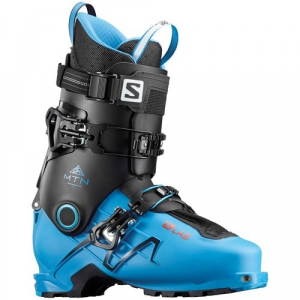 Range of Motion
Alpine ski boots typically lock you into a slightly forward leaning position. This is optimal for downhill skiing, but not being able to flex your ankle when touring is less than desirable. Loosening or completely undoing your buckles can increase this range of motion. However, this can lead to your foot slopping around while touring which is a recipe for terrible blisters.
Some alpine boots now have a 'walk mode' to make it easier to clomp around the resort when you're enjoying lunch or an après-ski beverage. This is a great feature, but shouldn't be confused with the walk-mode (or climb-mode) present in touring boots. The locking mechanisms aren't as durable, and the range of motion is still far superior in touring boots.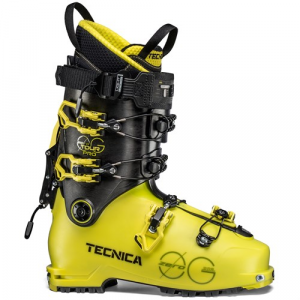 When touring, having a limited range of motion isn't a huge issue when you're climbing. Your knees are typically slightly bent the whole time anyway. If you're on flat traverses, it's a huge pain in the ass. Imagine having your legs slightly bent the entire time you're walking. Think your quads will get tired? Yes, yes they will. Very tired.
Top-of-the-Line Liners
Not only have the shells of alpine touring boots gotten lighter, but the liners have as well. Many moons ago, heat-molding liners starting becoming the hot new thing in ski boots. Now it's pretty much standard, but the quality of heat moldable liners varies quite a bit. The best of the best end up in touring boots, where comfort on long tours is paramount.
Some touring boot liners are still less than stellar, and are often replaced with an aftermarket Intuition liner. Intuition liners now come standard in many boots, which is excellent. They've been making liners for years that are comfortable, light as a feather, and ski very well. Read more about their Pro Tour liner here.
Easier Transitions
When you're out touring on a sunny powder day, no one wants to wait around while you fiddle with your buckles after getting your skins off. Many touring boots make this process easier by having fewer buckles, using cable-based tightening systems or camming power straps. The new Dynafit Hoji Pro Tour goes one step further – with the flip of one buckle, the entire boot loosens or tightens around your foot. Amazing.
One thing to note is that there are a few touring boots with removable tongues (looking at you, Dynafit Vulcan and Dalbello Lupo). This can slow down your transitions. I've never used any boots with removable tongues (because none of them fit my feet), but have heard mixed reviews. Something to keep in mind.
Touring Binding Compatibility
One huge advantage to getting touring boots is having tech fittings (some of you may call these pin or pin-tech fittings). Tech bindings tour way better than frame bindings. They're lighter, and the pivot point feels much more natural. Check out this article to find the best one for your skiing style.
Even if you don't want or need a super light pair of bindings, game-changers like the Salomon S/LAB Shift MNC binding still use tech pins for climbing. This makes for a binding that tours really well but still skis like an alpine binding. This isn't an option with alpine boots.
The only bindings that work with alpine ski boots are frame bindings, the lightest of which are still heavy compared to tech bindings. These are a good way to introduce yourself to the backcountry, but many skiers switch to tech bindings eventually.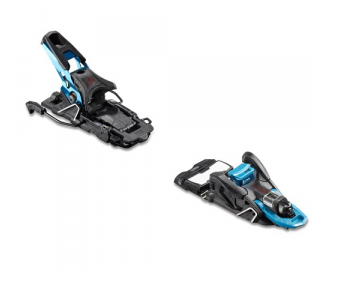 Better Boot Soles
Have you ever been walking around in your alpine boots and wondered why they are so damn slippery? Well there's a good reason. Traditional alpine soles have smooth areas where the toe meets the binding for predictable releases when you crash.
Alpine touring soles, on the other hand, often have nice big lugs like hiking boots. This is for grip when you're hiking/boot packing. Some soles are even rockered (curved) so they walk more like a normal boot. This is one of the reasons that many touring boots don't work in traditional alpine bindings.
Cool factor
Last but not least, there is the cool factor. Who doesn't like having the latest and greatest piece of tech on their feet? You'll garner a bit more cred in the field if you show up with a pair of Dynafit Hoji Pro Tours than you if you showed up in your rear-entry alpine boots.
I say this somewhat tongue-in-cheek, and this isn't really a compelling reason to get touring boots. But if you want to be the 'coolest' guy on the skin track, getting some alpine touring boots can't hurt.
Closing Thoughts
If you're going through this debate, I hope my top reasons to get alpine touring boots has helped you decide. You certainly get away with backcountry skiing in alpine boots, but for the reasons above (and more) you should really consider getting some touring boots.
Let me know your thoughts below!