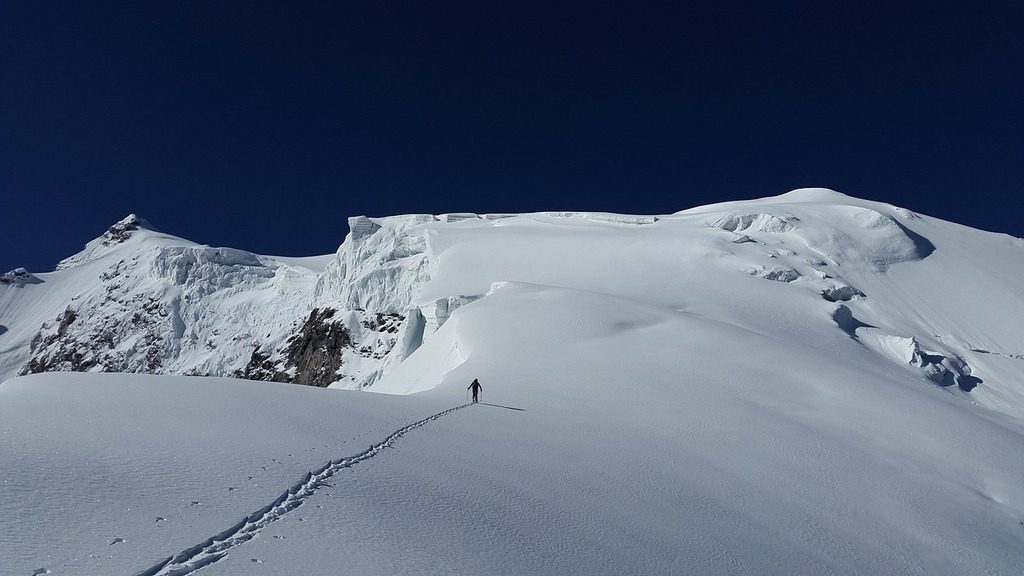 The Best Alpine Touring Bindings in 2019: Part 2 – Tech (Pin) Bindings
The Best Alpine Touring Bindings in 2019: Part 2 – Tech (Pin) Bindings
This is part 2 of our 3 part series on the best bindings for backcountry skiing in the 2019/2020 season. Part 1 of our best alpine touring bindings series looked at 50/50 resort/touring bindings and this looks at the best tech bindings (also known as pin bindings). Part 3 will take a quick look at frame bindings.
As I mentioned in Part 1, we're in what might be the best era ever in terms of choices for touring bindings. It's a bit overwhelming, but we'll try and narrow it down based on the type of backcountry skiing you do and what you need in a binding.
The bindings in this article are oriented more toward touring than for resort or 50/50 use, so keep that in mind when reading. Some of them are definitely capable of being a 50/50 binding and are lighter than other 50/50 options. Read on to find out which one will work best for your needs.
Table of Contents
---
New This Season: The Fritschi Xenic 10
Before we get into our recommendations there is one new binding this year that we'd like to mention. Fritschi, a well-known Swiss binding manufacturer, has released a new pin binding, the Xenic 10. Fritschi might be best known for their frame bindings that used to be super popular, but they've made waves recently with the Tecton and Vipec (read more about those two excellent bindings here).
The Xenic is their new entry into the 'light' tech binding arena weighing in at 280 grams (9.9 oz) without brakes. That's per binding, so they're 560 grams per pair. Quite light. Compare that to the G3 Zed at 345 grams per binding (690 g per pair) or the Salomon MTN at 296 grams per binding (592 grams per pair). The Marker Alpinist is lighter, however, at a very slight 245 grams per binding (490 grams per pair).
Highlights
The Xenic has release values that can be set from 4-10 and has 10 mm of length compensation to account for ski flex, so they shouldn't have pre-release issues when skis really flex. The toe has a 'positioning guide' to make stepping into the binding easier. They also claim power transmission is top notch thanks to the broad support of the heel unit (I realize this is vague 'marketing-speak', but that's what they're claiming).
We have a pair coming for testing, so we'll know soon enough how well the Xenic stacks up to the competition. With a predicted MSRP of $420 (without brakes), they could be good value as well. It looks good on paper, so stay tuned for more info.
---
Best All-Purpose Tech Bindings
What do we mean by all purpose? We mean a binding that can be used at the resort and for touring, but are a little more oriented toward touring than resort skiing. Although downhill performance and vibration-absorption have improved in tech bindings in recent years, there are still some limitations compared to the bindings discussed in Part 1 – 50/50 Touring Bindings. If you want a one-ski quiver but love touring on light-ish, more traditional tech bindings (compared to the Vipec Evo for example), these are worth a look.
---
Dynafit ST Rotation 10 and 12 Stats
MSRP: US$599.95 (DIN 10), $649.95 (DIN 12)
DIN Range: 4-10, 5-12
Weight (single, with brakes): 624 grams (1 lb 6 oz)
Risers: Flat, Low, High
Elasticity (toe): Nope
Elasticity (heel): Nope
Forward Elasticity*: 10 mm
Boot Compatibility: Tech
*compensation for ski flex
Buy Now: Backcountry.com, evo.com, REI.com, Amazon
Summary
The Dynafit ST Rotation 10 was the evolution of the Dynafit Radical 2.0, and now there is also an FT Rotation 12 for heavier/more aggressive skiers. Like the Radical 2.0, the toe rotates a few degrees in either direction to help avoid unintentional releases (also known as pre-releases). The Radical and the Rotation are very similar bindings, but Dynafit made some crucial improvements with the ST Rotation.
The Radical 2.0 was pretty tricky to step into – the toe freely rotated, so getting your boots lined up with the pins was a bit of a challenge. Once you had your toe in, getting the heels perfectly lined up to step in was another issue. With the ST Rotation, Dynafit placed a small ball bearing that slips into an indent in the binding to help keep it stationary when it's lined up straight. The toe can still rotate, but there is a bit of resistance to move away from center, so clicking in is much easier.
Dynafit was also able to trim a bit of weight on the Rotation by using aluminum for the toe piece arms versus steel in the Radical 2.0. This saves around 25 grams per toe (not life-changing, but it's something).
The Rotation ST 10 and FT 12 have very similar risers to the Radical 2.0, which are pretty easy to use. They have flat, mid and high levels and are easy to flip up with a pole basket. The mid-level riser can be a bit tricky to catch sometimes, but gets easier with practice.
Verdict
If you like the feel of traditional tech bindings, do a bit of resort skiing along with touring and have faith in Dynafit's excellent reputation, the Dynafit Rotation 10 (or 12 if you're fast and/or heavy) is a great choice. It's fairly easy to use, especially if you're familiar with Dynafit tech bindings. The Rotation is a bit burlier than the 'light' tech bindings listed below, and like the G3 Ion, is strong enough to withstand some resort skiing but still tours very well.
---
G3 Ion 10 and 12
Stats
MSRP: US$538.95 (DIN 10), $578.95 (DIN 12)
DIN Range: 4-10, 5-12
Weight (single, with brakes): 585 grams (1 lb 4.6 oz)
Risers: Flat, Low, High
Elasticity (toe): Nope
Elasticity (heel): Nope
Forward Elasticity*: Yes
Boot Compatibility: Tech
*compensation for ski flex
Buy Now: Backcountry.com, REI.com, Amazon
Summary
G3 has had a lot of success with the Ion 10 and 12, and this isn't surprising as it's a well-designed touring binding. It doesn't have a rotating toe or any elasticity in the toe, so it skis like a traditional tech binding. Keep that in mind if you do a fair bit of resort skiing – tech bindings can be a bit harsh feeling in firm conditions.
The heel is similar to the Dynafit Radical bindings in that it rotates in either direction to get into touring mode. The risers are super easy to use – grabbing them with a pole basket is a piece of cake. The G3 Ion is not prone to pre-release issues – G3 designed the springs in the toe to minimize pre-releasing and it works quite well to keep your boot in the binding unless it is supposed to release. The heel also has flex compensation to prevent pre-releases from the ski flexing under load.
If you use brakes on your touring bindings, note that the brakes on the G3 Ion are not interchangeable. They're part of the base plate, so unlike most other bindings you can't swap to a different size.
Verdict
The G3 Ion 10 and 12 have a proven track record as a touring binding over the last few seasons and would be a great choice if you occasionally ski at the resort with your touring skis. They would even work as a 50/50 binding if you ski mostly soft conditions or don't mind the 'direct' feel of a tech binding in firm conditions.
---
Best Light Tech Bindings
This might be the most exciting segment of the alpine touring binding market. In years past there were few options in this category but in the last few years these have really multiplied and more are coming (read about the Fritschi Xenic at the beginning of this article if you missed it).
Bindings in this category are suitable for longer tours or for anyone that likes a nice light touring setup. You can even ride these at the resort without too much trouble, but keep in mind they can't be hammered on as hard as a full alpine or more 50/50 oriented bindings, especially if you're not a lightweight. One unavoidable aspect of being a light binding is that there just isn't as much material to absorb impact after impact. Many hard days at the resort aren't recommended for these bindings.
---
Salomon MTN/Atomic Backland Tour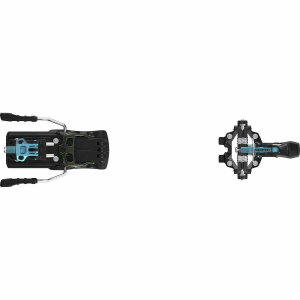 Stats
MSRP: US$549.99
Release Range**: "women", "men", "expert"
Weight (single, with brakes): 369 grams (13 oz)
Brake Widths: 80, 90, 100, 110, 120 mm
Risers: Flat, Low, High
Elasticity (toe): Nope
Elasticity (heel): Nope
Forward Elasticity*: Nope
Boot Compatibility: Tech
*compensation for ski flex
**3 different U-springs can be used in the heel to adjust release
Buy Now: Backcountry.com, evo.com, REI.com, Amazon
Summary
You might be more familiar with Salomon's heavier-duty touring binding the S/Lab MNC Shift, but they also make an excellent minimalist tech binding, the Salomon MTN. The Atomic Backland Tour is the exact same binding but with different branding. The MTN is a fairly traditional tech binding but unlike some other minimalist tech bindings, you can adjust the release strength of the heel by swapping in different U-springs (some tech bindings use a U-shaped piece of metal in the heel instead of 2 metal pins). Salomon has (somewhat oddly) named the spring weights women, men and expert, with expert being the stiffest. While adjustable, the release on the MTN isn't as adjustable as the other bindings in this article.
The toe of the MTN looks like most other tech bindings, and is almost entirely metal. The tour/ski lever is the only plastic piece. There is a helpful metal bar to help align your boot when clicking in to the toe pins. These aren't the hardest bindings to step into, but they aren't the easiest either – like most tech bindings, they get easier with practice. The heel is also quite stout with minimal plastic and the risers are relatively easy to flip up or down. Not as easy as the G3 Ion, but not bad at all and there is a true flat touring mode.
Entering touring mode is super simple – rotate the heel 90°. Done. The heel piece spins independently of the risers, so you don't need to rotate it a full 180°. If you don't need flat mode you can simply flip the risers down over the heel pins and start heading up the skin track. The risers seem fairly stout and we haven't heard any reports of them, or anything else on the MTN binding breaking.
Verdict
Anyone looking for a lightweight, reliable, no-fuss alpine touring binding should seriously consider the Salomon MTN. It's pretty durable thanks to its simple design, relatively easy to use and skis like a traditional tech binding, so if you like that 'connected' feeling you'll like how these ski, as there is no elasticity in these bindings to absorb vibrations. Like all the bindings mentioned here, it's available with or without brakes.
---
G3 Zed 12
Stats
MSRP (no brakes): US$498.95
DIN Range: 5-12
Weight (single, with brakes): 430 grams (15 oz)
Risers: Flat, Low, High
Elasticity (toe): Yes
Elasticity (heel): Nope
Forward Elasticity*: Yes
Boot Compatibility: Tech
*compensation for ski flex
Buy Now: Backcountry.com, REI.com, Amazon
"Skiers love the G3 Ion, so why don't we make a lighter version? But in green!" I imagine that's how the conversation at G3 went when they started designing the Zed 12, and they seem to have nailed it. The Zed 12 is a little over half the weight of the G3 Ion and shares many of the same features and ease of use.
The toe design is very similar to the Ion, but metal has been shaved away in key locations and the toe guide is smaller to make the toe a fair bit lighter. The Ion toe design is simple to use and durable, so this is a good model to follow. It's one of the easiest tech bindings to to step into and according to reviews it skis very well and features a well-designed spring mechanism that does a great job of keeping your toe in the binding and releasing when it should.
While you might think that a binding this light uses a U-spring to save weight, it in fact uses independent pins. One very cool feature of the Zed is that it uses a single screw to adjust both the lateral and vertical release values (most tech bindings use 2 separate screws, sometimes requiring different screwdriver heads). This means you can't fine tune the release values independently, but this won't be an issue for the vast majority of skiers. The heel is also lighter than the Ion version and it sits a bit closer to the ski.
It features the same easy-to-use risers as the Ion, has a true flat mode and the heel piece is pretty easy to turn with a pole to get into touring mode. Transitions are a piece of cake with the G3 Zed 12 due to its simple, trustworthy design.
I've heard a couple of reports of risers breaking, but they seem to be few and far between and may have been on early production models. The G3 Ion has been a super reliable binding, so I would expect the same from the Zed 12 in terms of reliability.
Verdict
If you're looking for a super simple, easy-to-use touring binding that still performs well going downhill, the G3 Zed 12 is a great choice. It gives up a few grams to the Salomon MTN but the release is more adjustable and it has independent heel pins versus the U-spring in the MTN.

---
Dynafit TLT Speed 12 Stats
MSRP: US$449.95
DIN Range: 6-12
Weight (single, with brakes): 376 grams (13 oz)
Brake Widths: 75, 95, 105 mm
Risers: Low, Medium, High
Elasticity (toe): No
Elasticity (heel): No
Forward Elasticity*: None
Boot Compatibility: Tech
*compensation for ski flex
Buy Now: Backcountry.com, Amazon
Summary
One of Dynafit's many tech bindings, the Dynafit TLT Speed 12 is certainly one of the more interesting looking bindings in the lineup. The toe looks fairly standard, but the heel is a bit unique looking with its triangular riser tabs sticking up. It uses a U-spring to determine vertical release, and unlike the Salomon MTN or Marker Alpinist it is only offered in one stiffness. Lateral release is adjustable with a screw on the back of the heel.
One downside of the TLT Speed is that there isn't a truly flat touring mode. While touring, the binding is rotated 180° and the heel of your boot actually rests on the back of the binding which acts as a small riser. This isn't a huge deal unless you have a lot of long, flat approaches in the terrain you tour. If using leashes, you can achieve a flat mode by only rotating the heel 90° but it isn't designed to do this and it won't work with brakes (unless you strap them down).
In terms of downhill performance, reports are that the TLT Speed feels pretty solid and provides a fairly smooth ride, especially considering how simple the toe is (there is no elasticity). Really aggressive skiers may want to stay away from this one though: with no elasticity in the toe or for length compensation to prevent pre-releases, this binding isn't designed for real hard riding. It has the standard Dynafit 5 mm gap to the heel pins, so there is minimal allowance for ski flex. If you tend to not go mach schnell (really frickin' fast) in the backcountry, which applies to most of us, then I would say go for it.
There is also the Dynafit TLT Speedfit which is 10 DIN, and has more steel parts vs aluminum in the TLT Speed. It's also slightly heavier but slightly less expensive too, so the Speedfit is worth considering if you like the sound of the TLT Speed.
Verdict
The Dynafit TLT Speed 12 provides a smooth ride, an easy step in and a nice light weight. If you don't have a lot of long, flat tours and aren't the fastest skier on the mountain, the TLT Speed would serve you well. But for some people the lack of a flat mode is a deal breaker…we've talked about better choices above if that's a requirement.
---
Old Faithful: Dynafit Speed Turn 2.0 Stats
MSRP: US$349.95 (that's not a typo)
DIN Range: 4-10
Weight (single, no brakes): 370 grams (13 oz)
Brake Widths: n/a
Risers: Flat, Medium, High
Elasticity (toe): No
Elasticity (heel): No
Forward Elasticity*: None
Boot Compatibility: Tech
*compensation for ski flex
Buy Now: Backcountry.com, Amazon
Summary
As simple as a touring binding can get and still have an adjustable release, the Dynafit Speed Turn 2.0 is a workhorse of a tech binding. It isn't available with brakes, and there is nothing fancy in the toe or the heel. This binding just does its job without any complaints. Stick your pole in that hole (in the heel piece) and rotate it to enter touring mode or activate the high riser. This binding has been field tested to death and you can always count on it to get you home.
Verdict
There are a few minor gripes that are probably offset by the price for a lot of people. The ride is pure tech, so can be harsh in firm conditions. No brakes, so you have to run leashes – not a problem for many. The height delta between the heel and toe is a higher than most bindings, so you might notice excessive forward lean when skiing these. You can either live with it, shim the toe, or change up your boots/stance if you have adjustable forward lean.
---
Honorable Mentions
There are a few bindings (okay many) that didn't make the list, but there at least a couple that are worth considering. Read on to find out more.
---
Marker Alpinist 9 and 12
Buy Now: Backcountry.com, evo.com, REI.com, Amazon
Summary
One of the newer kids on the block, the Marker Alpinist 9 and 12 have certainly raised some eyebrows. With a ridiculously low weight (Marker claims 335 grams with brakes) and rave reviews regarding the downhill performance, on paper it's an excellent binding.
That isn't quite the whole story though. Apparently it's one of the more difficult tech bindings to step into, but like most tech bindings, I'm sure it gets easier with practice.
Another thing that will be a deal breaker for many is the risers. Good news – there is a flat mode. Bad news – to use the mid height riser, you have to rotate the heel piece 180°. Not that sweet especially when you learn that they aren't easy to rotate with a pole. So you'll probably end up just using the flat and high riser, but the high riser isn't that high…it's more like the medium riser on the MTN, so if you hike steep skin tracks you may not like the Alpinist.
The other thing to consider with the Alpinist is that it's fairly new. Remember the toe pin shearing issues that the Kingpin had in its early days? Many of us do remember and are hesitant to trust another Marker product deep in the backcountry. That said, I haven't heard of any serious issues with the Alpinist. Only a couple of isolated minor incidents.
Verdict
This binding reportedly skis quite well and is super light. If you can work around the difficulty stepping into the toe and riser issues, then go for it…it can also be found for a pretty good price if you look hard, but definitely take the downsides mentioned above into consideration.
---
Hagan Core 12/ATK Raider 2.0 12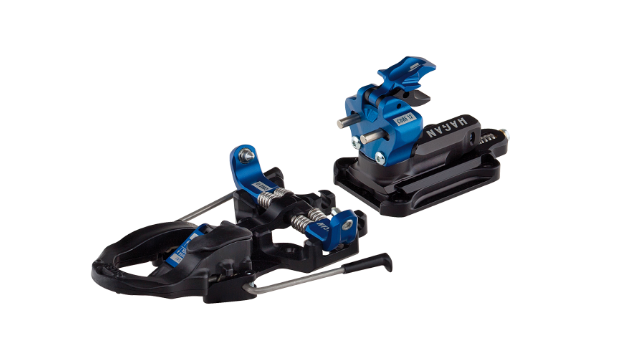 If you live in North America, you may not have heard of the brand ATK, but they're an Italian company that makes a wide variety of light tech bindings. They're readily available in Europe, but not so much on this side of the pond.
Hagan is an American company that has rebranded the ATK Raider 2.0 12 and are distributing them here. Their version is called the Hagan Core 12 and is identical to the Raider except it's blue – if you want red, you'll have to hunt for the ATK Raider.
The only reason this binding is an 'honorable mention' instead of a recommendation is the limited distribution network. If you end up having issues, taking them back to your local shop won't be an option for a lot of people. Based on what I've seen and heard, you're very unlikely to actually have any issues, but you never know.
Summary
Anyway, on to the bindings: the Core 12 is all metal in both the heel and toe but is surprisingly light despite that fact. At a claimed 350 grams (12.3 oz) per binding with brakes, they're right in line with the other bindings in this article. They have a bit of elastic travel to compensate for ski flex and downhill performance is among the best of all these light tech bindings. Reports are that it feels very solid and doesn't pre-release but isn't quite the smoothest binding out there (but definitely isn't the harshest).
You may have noticed in the picture that the toe looks a bit weird. What ATK have done is attach the brake to the toe piece instead of the heel. Aside from the brake, the toe is quite standard – simple even (which is a good thing). To lock the brake when touring, you push down on the large plastic brake lever with a pole (or your hand) and apparently it stays in place quite well.
Transitioning in the Hagan Core 12 is similar to many tech bindings in that you rotate the heel piece to go to touring mode and back. Unfortunately there isn't a way to do this with a pole, so it must be turned by hand. One upside is that you don't have to worry about the brake getting in the way since it's attached to the toe.
Verdict
One of the more interesting bindings out there but still a really solid design, if I had the chance to try these I wouldn't hesitate. No one seems to have a bad thing to say about them, but the limited support might be an issue for some. They're also a bit pricier than some bindings in this list (MSRP is US$625), but not extremely. The Hagan Core 12 is right up there with the best performing bindings on the market.
---
Black Diamond Helio
Some of you may be wondering why the Black Diamond Helio isn't included here and it isn't because it's not as good as these bindings. It's more that the Helio on the 'super-light' end of the spectrum. From everything I've heard they ski well and are quite durable and if you're looking for an ultra-light binding, they're worth checking out.
Like the Hagan Core 12, Helios are rebranded ATKs so you can expect the same high quality as with the Core 12/Raider 2.0 12 discussed above. The Helio comes in many varieties – check out the Black Diamond website for all the options.
---
Closing Thoughts
I think that's enough for one day on tech bindings…if you have any questions or comments leave them below and we'll try and get back to you soon. There are so many bindings that we couldn't cover here – Dynafit alone has a crazy number of different models available – but we think these are the best of the best.
Stay tuned for Part 3 – Frame Bindings!