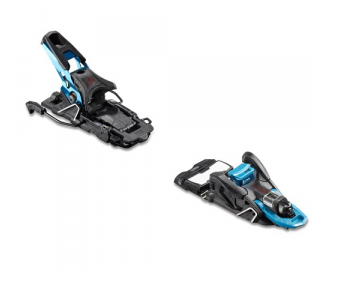 The Best Alpine Touring Bindings in 2018
The Best Alpine Touring Bindings in 2018
Update: check out the updated 2019 versions of the best bindings for backcountry skiing:
The Best Bindings for Alpine Touring in 2019
Part 1 – 50/50 Bindings
Part 2 – Tech (Pin) Bindings
---
As the backcountry skiing industry keeps heating up, more and more manufacturers are making high quality touring bindings. The number of choices of bindings for backcountry skiing is a bit overwhelming. Hopefully this guide to the best alpine touring bindings will answer some of the questions you have and help you determine which binding is right for your backcountry skiing adventures.
From ultra-light, barely adjustable bindings like the Dynafit Speed Radical to the burliest options like the Marker Duke 16 or the Salomon Guardian 16, we take a look at the best options available.
I should note that there is a plethora of Dynafit options out there, so I didn't list them all here. If we've missed any bindings that you want to know more about, let us know in the comments below and we'll add them.
---
Table of Contents
Quick Summary
There is a lot of info to consume in this article, so let me break it down for you a little bit. The recommendation links below will jump down to the appropriate spot in the article.
There are a few different types of touring bindings people will be looking for. Ultra light, ultra burly (for heavier hard chargers), and one-ski-quiver types (meaning they need a binding that can both tour and ski resort). Luckily there are great options to fit all of those needs.
Recommendations
Ultra light: Salomon MTN, Dynafit TLT Speed or Marker Alpinist. The Dynafits have finer release adjustment while the Salomon has 3 different springs. The Salomon is still incredibly light even with brakes while the Dynafit uses leashes on the Radical to save weight. The TLT Speed is a new iteration of that binding this year, and looks really promising. The Marker Alpinist is a brand new binding this year, and reviews have been very positive. The downhill performance is amazing.
Yes, there are lighter 'race' type bindings out there that can't be adjusted, don't have risers, and have somewhat questionable release properties. But those aren't really applicable here. We're looking at bindings for everyday use, not rando racing.
Ultra burly: Salomon S/Lab Shift MNC if you have tech toes, Marker Duke 16 if you have alpine boots. If you're skiing mainly resort with only a bit of slack-country, either of these bindings would be great. If you're a heavier person that skis hard but tours quite a bit, the new S/Lab Shift binding will be hard to beat.
One-ski-quiver: for heavier skiers, the Salomon S/Lab Shift MNC is the way to go this year, but the Marker Kingpin should also be considered. If you can survive with a max DIN of 12, the Fritschi Tecton is really worth a look – it has an alpine-style heel, the toe release is adjustable and it's a bit lighter than the Kingpin. If you prefer a more traditional tech binding, the Dynafit TLT Radical FT 2.0 or the Dynafit ST Rotation would be great options. Unlike old-school tech bindings, they have some elasticity that helps smooth out the ride on hard pack days. If you're a true lightweight, there is a 7-DIN version of the Dynafit ST Rotation that goes all the way down to a DIN of 2.5 (thanks for pointing that out, Slim!).
If you don't have tech toes on your boots, then the Marker Duke 16 or Marker Tour F12 would be your best options. The Duke would be appropriate for someone that needs a DIN higher than 12. The Salomon Guardian skis very well too, but it's a bit heavier than the Duke.
---
---
Dynafit TLT Radical FT 2.0 MSRP: $549.95
Release Rating: 5-12
Weight: 1247 g / 2 lbs 12 oz (pair)
Brake Width: 105, 120, 135 mm
Buy Now: Backcountry.com, evo.com, Amazon
Overview
The first generation of the Dynafit Radical made touring in tech bindings much more user friendly, and the Dynafit TLT Radical FT 2. 0 Binding has made it even better. Not only does the newly redesigned Radical 2. 0 maintain the same easy-walking feel as its predecessors, but it now carries with it a well-earned TUV certification. This means the Radical 2. 0 is a safer and more reliable tech binding.
The Radical 2. 0 earns its TUV certification through a pivoting toe piece that is able to compensate for lateral impacts and ensure reliable release values that can be set between 5-12 as determined by DIN ISO 13992 standards. The heel is also able to withstand 10 mm of forward pressure, giving it the ability to compensate for forward impacts. In addition to the elasticity of the heel and toe, the Radical 2. 0 is now equipped with an easy lock brake system, meaning the brake can be engaged or disengaged independently of the heel piece. This means you won't have to worry about losing a ski whenever the binding is in walk mode, which was an issue with the old version.
Where the Radical FT separates itself from the ST option is with higher release values (12 versus 10), making it the best option for heavier or more aggressive skiers. The freeride design really puts an emphasis on the descent due to the wide toe piece that is able to direct more power to wide, freeride skis. The binding itself is housed in a burly combination of forged aluminum, CrMo steel, stainless steel, and high-strength plastic. The Radical 2. 0 FT also features carbon power plates, which are located under the toe and heel and increase torsional rigidity by 12 percent. In the real world, the effect this increased rigidity has on quality of skiing is minimal.
Another major improvement to the newly re-worked radical is the multi-directional heel piece that can be turned both clockwise or counter clockwise. Unlike older Dynafit bindings, this means no more having to rotate the binding a full 360-degrees just to switch it from walk to ski mode. The toe is also compatible with Dynafit ski crampons for when conditions demand more bite than mohair can offer.
Verdict
The TLT Radical ST and FT 2.0 (10 and 12 DIN respectively) are the next iteration of the much-loved Dynafit Radical series of alpine touring bindings. The big improvement made is that 2.0 has a much stronger heel piece with a bit of elasticity and a rotating toe.
In theory, a rotating toe and some elasticity in the heel will lead to fewer unwanted pre-releases and provide a bit of shock absorption. The ride will be smoother and more confidence inspiring and real-world reviews have shown this to be mostly true.
It should be noted that this binding has been replaced by the Dynafit Rotation 10 and 12. The Rotation is essentially the same binding, but with aluminum toe arms and a mechanism that helps keep the toe centered. Both bindings are a solid choice, and great deals on the 2.0 can still be found.
---
Marker Alpinist 12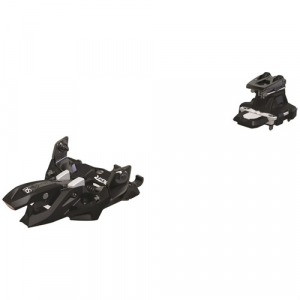 MSRP: $449.00
Release Rating: 6-12
Weight: 490 g / 1 lb 3 oz (pair, no brakes)
Brake Weight: 190 g / 6.7 oz (pair, 105 mm)
Brake Width: 90, 105, 115
Risers: flat, low, medium
Overview
This binding is for the weight conscious among us. Your idea of a good time is a week-long traverse above treeline, and 5,000 vertical feet of climbing is a piece of cake. Your whole setup is as light as you can make it without sacrificing reliability, and a 500 gram tech binding feels like an anchor on your feet. You need the Marker Alpinist 12 Alpine Touring Ski Bindings ASAP. Super light at 245 grams per side without brakes, but with features like three climbing levels, fore-aft adjustability and elastic travel at the heel, and the option to add a brake that simply aren't available with race tech bindings, the Alpinist sets a new bar for sustained backcountry travel.
Verdict
The Marker Alpinist 12 (also available in a 4-9 release version for lighter folks called the Marker Alpinist 9) is Marker's first attempt at a minimalist tech binding, and did they do ever well. The toe is solid looking and feeling, and reviewers have reported very solid toe retention with no unwanted pre-releases in these bindings. The heel is fairly traditional in that you rotate it to transition between ski and climb mode.
Lateral release is adjustable, while vertical release is controlled by a U-spring. Marker sells three different U-spring options, so this release is somewhat adjustable. The Alpinist 12 comes with the stiffest, and the Alpinist 9 comes with the 'medium' spring.
The heel also features a mechanism to compensate for the changing length of your ski when it flexes. The boot sits flush with the heel piece, and as the ski flexes, the heel moves back on a track to adjust. This leads to much better downhill feel and consistent release. The consensus so far on this new bindings seems to be that the downhill feel is very smooth for a tech binding, even in rough, icy conditions.
---
G3 Ion 12 MSRP: $578.95
Release Rating: 5-12
Weight: 1170 g / 2 lbs 9 oz (pair)
Brake Width: 85, 100, 115, 130 mm
Buy Now: Backcountry.com, Amazon
Overview
It would be an overstatement to call it revolutionary, but the Ion introduces a whole host of killer features without compromising the classic two-pin toe and heel tech design that's worked so well for so long.
G3 started by giving the Ion an adjustable forward-pressure setting, which allows 22 mm of adjustment to ensure a super-solid connection between the heel of your boot and the heel piece of the binding, reducing vibration and helping to eliminate chatter. This gives the Ion a smoother, less rattly feel than traditional tech setups and makes sure that it'll release consistently, but only when it's necessary (it's release values run as high as 12, if you're wondering).
The mounting pattern is 33% wider than standard tech bindings, as are the toe jaws, making it easier to get power to the edges of wide skis and reducing vibration for a easier, more powerful ride in rugged conditions. G3 even built in a Boot Stop step-in guidance system, which employs two bumpers that let you settle your boot down in the right spot without trying and retract when you click into ski mode to stay out of the way.
The Ion crushes it on the way down, to be sure, but it'd be pretty worthless if it didn't go up like the dickens, too. Luckily it does, with thoughtful features like bi-directional heel rotation–no more forgetting which way is right and which left–and dual Quick-Flick heel lifts that are easy to manipulate with a ski pole. Maybe the best innovations are the toe piece's double snow-clearing channels under the jaws, which let you poke out snow with a ski pole, ensuring that you won't ever accidentally start to ski without the toe pins being fully engaged. The Ion also boasts a fully retracting alpine-style brake for solid and reliable ski-stopping performance for when you do eject.
Verdict
Although G3 describes the Ion 12 as 'revolutionary,' there really isn't anything that quite warrants that label. There is forward pressure unlike traditional tech bindings, but the consensus seems to be that they still ski like traditional tech bindings. This can be a pro or a con. There is no elasticity in the toe or the heel, so the feel can be quite harsh when snow conditions are less than ideal. That said, if you like the 'directly connected' feel of traditional tech bindings, you won't have a problem with these.
Transitioning with your boot still attached to the binding can be quite a challenge in the Ion 12. The heel piece has to be rotated by hand, and some flexibility is required to accomplish that while clipped in.
On the upside, it's one of the lighter bindings among its peers, has quite a predictable release, and the heel risers are reportedly very easy to flip up/down with a pole. The downhill performance is also among the best of tech bindings due to the forward pressure mechanism in the heel.
---
Dynafit TLT Speed (2019) MSRP: $449.95
Release Rating: 6-12
Weight: 570 g / 1 lb 4 oz (pair)
Brake Width: 75, 105 mm
Buy Now: Backcountry.com, Amazon
Overview
Dynafit has been making minimalist bindings like this for many years, and they are only getting better. Simplicity, durability, and function strike a balance in the new version of the TLT Speed Binding. Weighing in at a claimed 570 grams per pair (without brakes), these bindings are light enough to please weight-conscious skiers and strong enough to give you the confidence to rip that 3,000-foot couloir you just scurried up.
Two heel riser settings keep your time on the skin track smooth and efficient, while Ice Breaker pins keep snow and ice out of your boots to ensure reliable boot-to-binding retention.
Verdict
The TLT Speed (not to be confused with the Speedfit, with release values of 5-10) is Dynafit's latest minimalist binding with adjustable release values. At a claimed weight of 570 g without brakes, it's one of the lighter tech bindings.
The toe piece is a combination of aluminum and plastic, but is quite solid and confidence-inspiring. One thing to note is that the vertical release of the TLT Speed is not adjustable (the lateral release is adjustable). It's determined by a U spring (like the Salomon MTN), but it is not swappable. There is also no true 'flat' touring mode if you're using brakes, although it isn't a huge difference from flat. If you're using leashes, you can rotate the heel to allow for true flat mode.
On the downhill, the TLT Speed performs similarly to other low-tech bindings, providing a relatively smooth and direct feel. In harsher conditions, the ride will be a bit rougher due to the lack of elasticity, but the same is true for most minimalist bindings, although the Marker Alpinist is apparently very smooth on the downhill.
---
Black Diamond Fritschi Tecton 12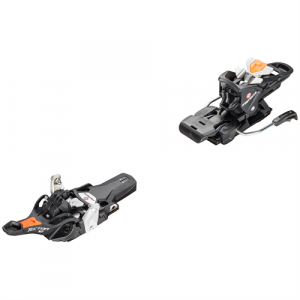 MSRP: $649.95
Release Rating: 5-12
Weight: 1356 g / 3 lbs 1 oz (pair)
Brake Width: 100, 110, 120 mm
Buy Now: Backcountry.com, evo.com, Amazon
Overview
Tech touring bindings you'd trust for aggressive every day skiing were an anomaly until now. The Black Diamond Tecton 12 Alpine Touring Ski Bindings combine the proven toe unit of the Vipec 12 with an all-new lever-locking heel to produce an adventure binding with no equal. This comes all at a weight of only 678 grams per binding. With three climbing levels (pull the locking lever to vertical to use them), micro-adjustable toe wing width to accommodate variations in tech fitting dimensions, and skiing performance to rival much heavier alpine bindings, the Tecton 12 makes using a tech binding for all of your skiing needs a reality.
Verdict
Reviews have been really positive for the alpine performance of the Tecton, with many people saying that it's almost on par with alpine bindings. The binding it's most similar to is the Marker Kingpin, but it's slightly lighter and skis just as well. It's heavier than many true tech bindings, but the Tecton is better suited for heavier, hard-charging backcountry skiers.
The compromise is that the Tecton doesn't tour quite as well some other tech bindings. The pivot range of motion is a bit limited (only really noticeable when performing kick turns on steep slopes), and it's somewhat prone to icing. On hard pack or icy side hill skinning, you might notice some flex in the toe piece. This isn't something you'll find with a more 'traditional' tech binding and could be a bit unnerving.
That said, the Marker Kingpin suffers from all of the same issues to some extent. The toe piece of the Tecton releases reliably and the binding skis incredibly well. If you can live with some minor compromises in touring performance, this binding would be a great choice for you.
---
Marker Kingpin 13 (2019)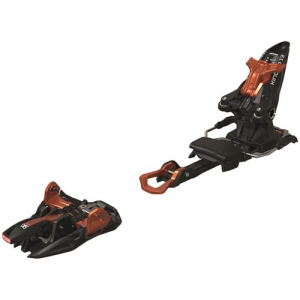 MSRP: $649.00
Release Rating: 6-13
Weight: 1516 g / 3 lbs 5 oz (pair)
Brake Width: 75-100, 100-125 mm
Buy Now: evo.com
Overview
When it comes to tech bindings you can use for daily skiing, the Marker Kingpin 13 Alpine Touring Ski Bindings still rule the roost. Light enough for adventurous touring but tough enough to slap on your daily drivers, the Kingpin 13 simply gets the job done with a weight of only 758 grams per foot. In addition, the power transmission with the spring-loaded Kingpin heel unit is a an improvement you'll feel over the traditional twin-pin tech heel connection. A favorite of hard charging backcountry types and working snow professionals.
Note: The newest version of these bindings have updated toe pieces from Marker and are not affected by the August, 2018 recall. It seems there were some reliability issues in the original toes, so Marker issued a recall.
---
Salomon MTN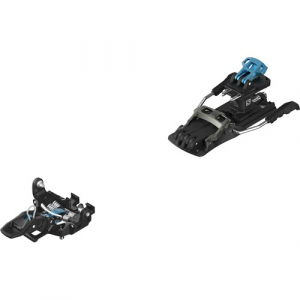 MSRP: $625.00
Release Rating: n/a
Weight: 784 g / 1 lbs 12 oz (pair)
Brake Width: 100, 110, 120 mm
Risers: 2, 7, 13 degrees

Buy Now: evo.com
Overview
The earliest tech bindings featured a swappable "U" spring and a stripped-down design with very few moving parts. It was a pretty good idea; some of those bindings are still in use today. Salomon brings back the best of the old-school and adds a few modern touches with the Salomon MTN + Brake Alpine Touring Bindings, and we're glad they did. Unlike early "U" spring heels and most current race bindings, the MTN heel body pivots underneath the binding top plate so the flippable lifters are always pointing forward.
Some other welcome changes are the wider 40 mm footprint, a full 30 mm of fore/aft heel adjustment (handy for those with more than one pair of tech boots in the quiver), and three release value options (you need to swap the spring to change release value). At just under 400 grams for the version with brakes, the MTN is a minimalist touring binding with the guts to survive some seriously rigorous use.
There is no real 'release rating' for this binding, but it comes with 3 springs of different stiffness. The springs are labeled women's, men's, and expert springs. The men's spring comes standard in the bindings. According to reports, the stiffest spring equates to somewhere in the neighborhood of a DIN of 12. The softest spring is likely to have similar release characteristics of a 4 or 5 DIN binding.
---
---
Salomon S/Lab Shift MNC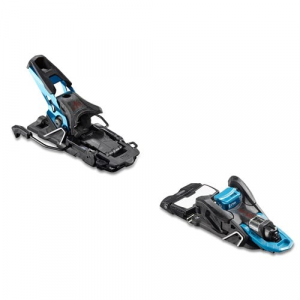 MSRP: $650.00
Release Rating: 5-13
Weight: 1730 g / 3 lbs 13 oz (pair)
Brake Width: 90, 100, 110, 120 mm
Risers: 2, 10 degrees
Boot compatibility: ISO 5355 Alpine, ISO 9523 Touring, WTR, Gripwalk
Buy Now: evo.com
Overview
News of the Salomon S/Lab Shift MNC Alpine Touring Ski Bindings struck the ski industry like a bolt from the blue last season. A totally new concept developed from scratch by Salomon athlete Cody Townsend and binding designer Benoit Sublet, the Shift toe piece changes from a low profile conventional toe in ski mode to a fully "pinned" tech toe for skinning.
The binding feels like a lighter, lower Warden 13 going downhill, then lets you engage your tech-toed boot to smoothly skin uphill. With a weight of 865 grams per binding, the Shift is a remarkable advance in both skiing and touring performance relative to frame AT bindings, and a very viable choice for those who want to ski lift-served terrain and true backcountry on a single setup.
Note: there is an Atomic branded version of the Shift MNC binding as well. It's exactly the same as the Salomon S/Lab Shift MNC aside from the color scheme.
---
Salomon Guardian MNC 16
MSRP: $449.95
Release Rating: 7-16
Weight: 2960 g / 6 lbs 8 oz (pair)
Brake Width: 90, 100, 115, 130 mm
Boot compatibility: ISO 5355 Alpine, ISO 9523 Touring, WTR
Buy Now: Backcountry.com, Amazon
Overview
When you venture into the backcountry to slay steep and committing lines, you want a binding that is going to hold you to your ski when you're picking up speed and taking big airs. The Salomon Guardian MNC 16 Alpine Touring Binding is a huck-able binding with DIN values that won't pre-release at the worst possible time. Salomon made a few tweaks to this year's iteration of the Guardian to improve on its now legendary downhill performance.
A reduced stand height, an oversized chassis, and the U power toe all come together to increase power transmission to the ski, as well as lateral power transmission, making these bindings an ideal clamp for girthy big mountain boards.One of the big complaints about previous versions of the Guardian was its boot compatibility. Well, Salomon worked that out by making the binding Multi Norm Certified, so it will now accommodate everything from your alpine boot to lugged AT boot.
The hike and ride switch allows for quick transitions from walk to ski mode without having to take off your ski, while the easily lifted heel elevators help make your climb a whole lot easier. With a burly DIN range of 7-16, the Guardian will hold big skiers tight when they're taking big airs and charging down big lines in variable conditions.
---
Marker Tour F12 EPF MSRP: $429.00
Release Rating: 4-12
Weight: 2234 g / 4 lbs 15 oz (pair, Large)
Brake Width: 110 mm
Risers: 7, 13 degrees
Boot compatibility: ISO 5355 Alpine, ISO 9523 Touring, WTR, GripWalk
Buy Now: Backcountry.com, evo.com, Amazon
Overview
The Marker Tour F12 Alpine Touring binding may have left its resort-loving brothers and sisters in favor of fresh, backcountry lines, but it still bears the crest and bloodline of the Marker Royal Family. For example, its EPF Extended Power Frame is found on the Duke and Baron for crazy-efficient power transmission on fatter skis. And it features the same Backcountry Technology with climbing ability that the Duke and Baron have. The hollow linkage heel sheds weight for a speedy ascent, and the Triple Pivot Light toe has a horizontally oriented spring for reliable retention and lightweight power.
This touring binding accommodates alpine and AT boots, so you won't need multiple pairs of skis for backcountry touring and resort skiing. The Tour F12 has a lower DIN range (4-12) than the burlier Duke and Baron, but is also is lighter, making it the obvious choice for folks who plan on spending more time in the backcountry than at the resort.
---
Marker Duke 16 EPF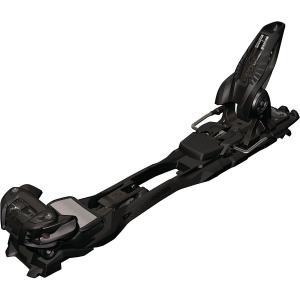 MSRP: $448.95
Release Rating: 6-16
Weight: 2790 g / 6 lbs 2 oz (pair, Large)
Brake Width: 90, 110, 136 mm
Risers: 7, 13 degrees
Boot compatibility: ISO 5355 Alpine, ISO 9523 Touring, WTR, GripWalk
Buy Now: Backcountry.com, evo.com, Amazon
Overview
Earn your big mountain turns in the powerful Marker Duke EPF Alpine Touring Binding. With backcountry Climbing Aid technology, you can set the Duke to flat, 7 degree, or 13 degree positions easily with your ski pole, while integrated elastomer padding dampens impact, to reduce those annoying clacking noises. A 6-16 DIN range allows you to bomb the mountain and huck cliffs without fear of kicking a ski when you need it most. A widened platform featuring Power Width Design and a 28% larger EPF Extended Power Frame give supremely smooth transmission of power from boot to ski, even on those fatty boards that have a love affair with powder.
A Triple Pivot Elite toe, Inter Pivot heel, and stainless steel gliding AFD all further enhance power transfer while providing optimal energy absorption to reduce the risk of pre-releasing. This hard-charging monster of a binding has to be super heavy, right' Wrong. Magnesium parts and a Hollow Tech fiber-reinforced frame provides impressive stability and strength with minimal weight.
---
Dynafit Speed Radical (2019)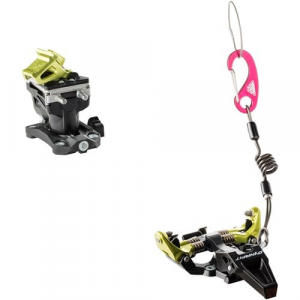 MSRP: $399.95
Release Rating: 4-10
Weight: 740 g / 1 lb 10 oz (pair)
Brake Width: n/a
Risers: flat, low, high

Buy Now: evo.com
Overview
The Dynafit Speed Radical Alpine Touring Ski Bindings are a proven standby among hard core ski tourists who live by the credo "only what's necessary." Steel toepiece arms and Step In Side Towers provide extra durability with minimal weight gain, and the minimalist Radical heel has enough length adjustment to fit several different boot sole lengths while remaining light and compact. If you're a "no brakes" kind of skier who values reliability, it's hard to go wrong with the Speed Radical.
---
Dynafit ST Rotation 10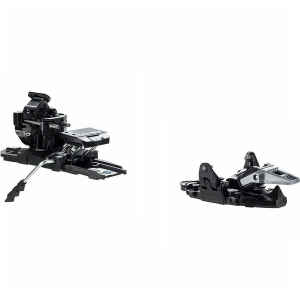 MSRP: $599.95
Release Rating: 4-10
Weight: 1190 g / 2 lb 10 oz (pair)
Brake Width: 90, 105, 120, 135 mm
Risers: flat, low, high
Buy Now: Backcountry.com, evo.com, Amazon
Overview
The Radical 2. 0 was all the rage last year, and Dynafit continues to push the limits in backcountry performance with its new ST Rotation 10 Binding. The binding utilizes the same rotating toe piece and 10mm of forward pressure in the heel that made its predecessor so popular with hard-charging skiers, but Dynafit added a spring-tensioned toe piece that auto-realigns itself so you aren't missing the heel piece every time you go to step into the binding.
Dynafit also integrated the heel unit into the baseplate, which strengthens and stiffens the heel for performance on the descent. Not only is the ST Rotation 10 Binding more solid on the downhill, but by updating more of the binding material to aluminum, Dynafit was able to knock 50 grams off the Radical 2.0. With uncompromising performance on the uphill and downhill, the ST Rotation 10 throws a big middle finger to those clunky frame bindings your buddy keeps insisting are worth the weight.
---