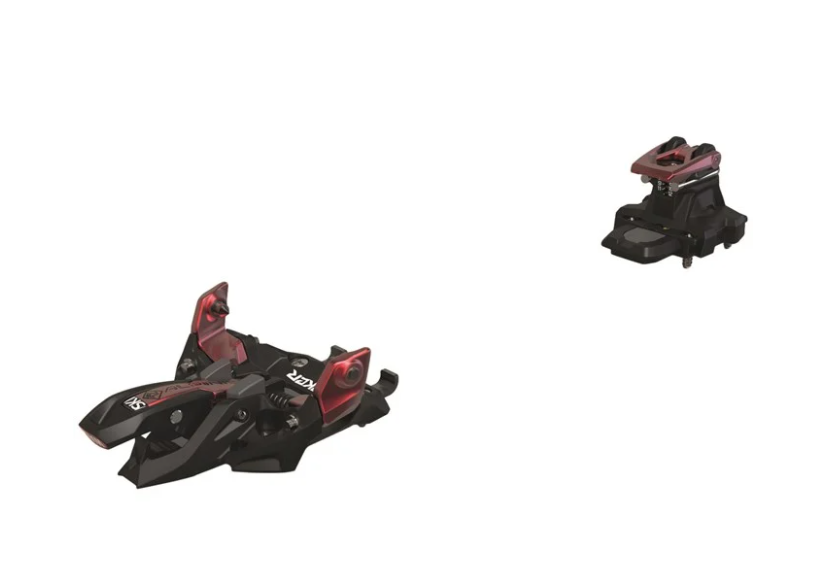 The Best 'Light' Touring Bindings in 2022
The Best 'Light' Touring Bindings in 2022
There are so many good tech/pin bindings out there right now it's hard to go wrong. But with all the options it can be confusing to figure out which binding will suit your needs. Every skier is a little different and not every binding will be perfect for every skier. Far from it. In this article we're going to narrow it down to a few of the best light touring bindings as of early 2022. We aren't going to rank them as that's impossible – different skiers have different criteria for the ideal binding. But these are all good bindings. Very good.
First of all, let me explain what I mean by a 'light' touring binding. I'm not talking about skimo race bindings that are 200 grams or less. I'm also not referring to bindings like the Salomon Shift, Marker Kingpin, or Fritschi Vipec EVO or Tecton. What I'm looking for is a binding that's somewhere around 350 grams (~12 oz) per binding, has a somewhat adjustable release, a bit of adjustment for different boot sole lengths, and decent riser options. Flat touring mode is a nice feature, as is a high riser. Brakes aren't essential, but all of the bindings mentioned below have them available.
I haven't personally skied all of these bindings (yet), but have done a ton of research on the ones that I haven't. I've read reviews, pestered ski shop employees, asked friends that ski them for their feedback, and googled like a madman to get all the info I could.
Without further ado, here are the best light touring bindings in 2022.
---
Salomon MTN Pure / Atomic Backland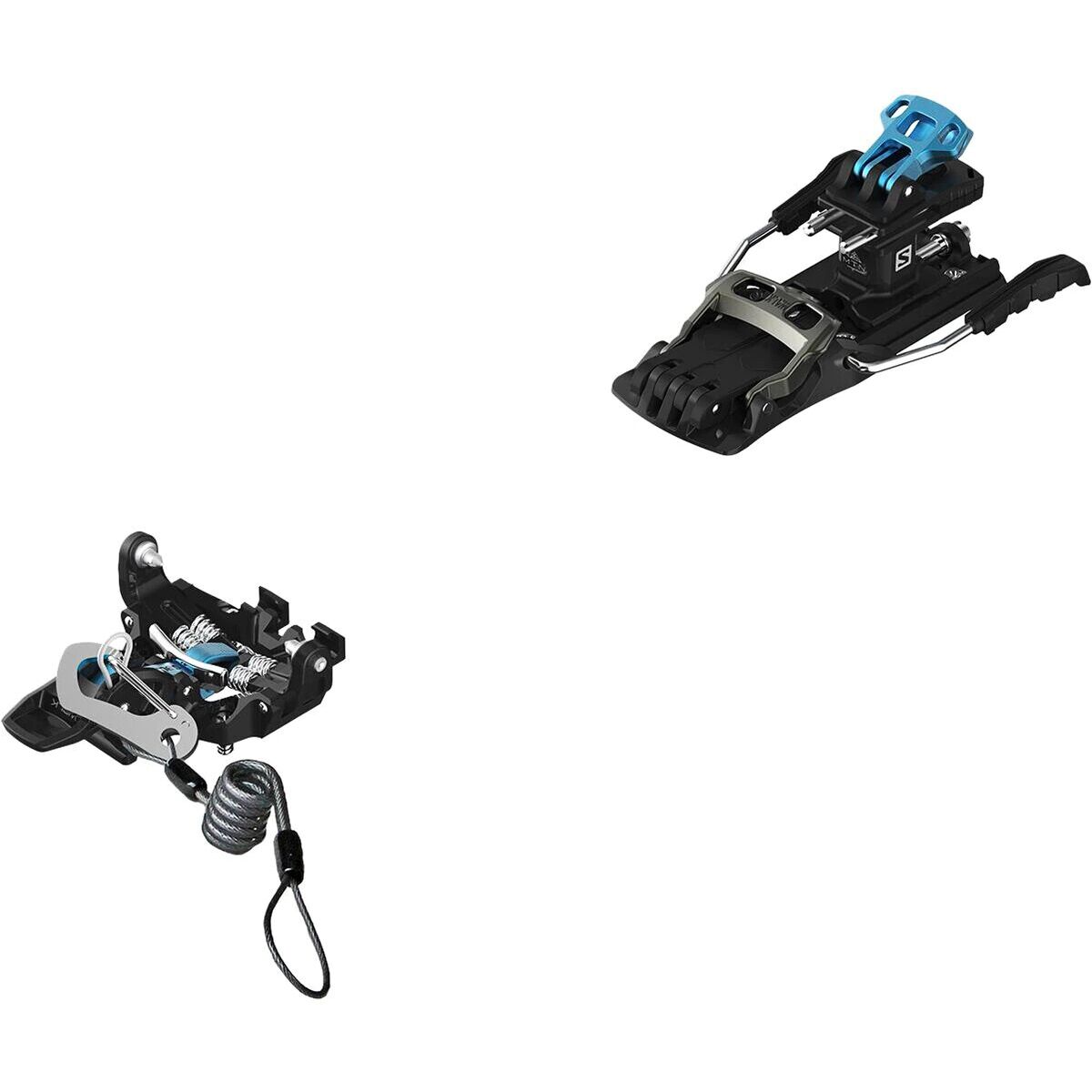 One of my personal favorites (check out the review here), the Salomon MTN tech binding embraces simplicity. Note: the Atomic Backland is the same binding but with different graphics. It's ultra reliable thanks to its almost all metal construction but is still quite light, especially if you ditch the brakes. The MTN has a true flat mode when using leashes as well as mid-level and high risers. The high riser is nice and high, so steep skin tracks are no big deal.
One thing to note is that the release is only somewhat adjustable. The MTN uses 3 different U-springs to determine release values, so really light or really heavy riders may want to look elsewhere. For reference, I run a 9-10 DIN on alpine bindings, and the 'men' spring in the MTN is perfect for me. It is also a very 'traditional' tech binding meaning that there is no elasticity and a somewhat harsh ride on hard snow. In soft snow they ski fantastic, but if ripping hard-pack on pin bindings is your thing (opinion: it shouldn't be) the MTN wouldn't be my first choice.
Specs
MSRP: $449/$499 USD (leashes/brakes)
Weight: 296 grams (no brakes), 392 grams (with brakes)
Brake sizes: 80, 90, 100, 110, 120 mm
Brake weight: 96 grams
Release range: 'women', 'men', 'expert' (aka light, medium, stiff)
Risers: flat/low (leash/brake), mid, high (+0/16, +44, +63 source)
Pin height delta (ramp delta): ~9.5 mm
BSL adjustment range: 30 mm
Crampon compatible: yes
Buy now: Backcountry.com, evo.com, REI, Cripple Creek Backcountry
---
ATK Raider 12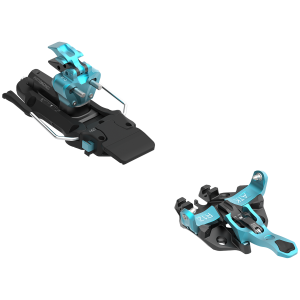 Some of the most exciting binding development in recent years has come from ATK, an Italian company. The binding line that appeals to me as someone who typically rides larger skis pretty hard is the Raider line of bindings. Free-touring bindings is the label given to them by ATK and they comprise the Raider 10, 12, C-Raider 12 and the Freeraider 14 and 16. For the purposes of this article I'll focus on the Raider 12. Stay tuned for a future review of the C-Raider 12, a slightly lighter version of the Raider 12.
The ATK Raider 12 first showed up on the market as a strange looking contraption with the brake attached to the toe piece. Functionally it worked well, but they've revised it to be more traditional and renamed the original the 'Front 12'. The current Raider 12 is impressively light with fully independent vertical and lateral release adjustment. And if you love risers, this is the binding for you! You'll find 5 different riser levels, 3 of which require you to spin the heel 180°. Functionally you can get 3 levels including flat without ever bending down to spin the heel (assuming you've already spun it pins-backwards at the beginning of your tour). Excellent. If you don't need flat mode you can flip down the mid-riser flap over the pins and leave the heel with pins facing forward. In this configuration you also have a high riser.
For hard chargers (or anyone wanting to improve the feel of the heel) there is an optional adjustable Freeride Spacer that supports the boot sole under the heel pins for a better connection with your ski. The Freeride Spacer is included by default with the Freeraider 14 and 16 and weighs 29 grams. The ATK Raider also has 12 mm of elasticity built into the heel to compensate for ski flex and provide a bit of dampness. The brakes are removable and a cover is now available for the space they leave when removed.
In North America, you may see these branded as Hagan bindings and Black Diamond's Helio line has some ATK bindings rebranded as BD as well. I'm not sure exactly which ATK corresponds to which BD Helio but there is some overlap. The Helio 350 looks an awful lot like the Raider 12 and so does the Hagan Core 12. The Moment Voyager is also a version of the Raider but with a flatter ramp. ATK can be hard to find on this side of the Atlantic, but they're out there.
On the downside ATK Raiders haven't been on the market all that long so it's hard to say they're 100% bombproof. Early versions had some issues with the toe, but that has been addressed in more recent versions. Also, they are often more expensive than others in this list.
Specs
MSRP: $699.95
Weight: 335 grams (with brakes)
Brake sizes: 75, 86, 91, 97 , 102, 108, 120 mm
Brake weight: ~45 grams
Release range: 5-12
Risers: flat, +27,5 ,+ 40, + 44, +49 mm
Pin height delta (ramp delta): ~10.8 mm
BSL adjustment range: 25 mm
Crampon compatible: yes
Buy now: Backcountry.com, evo.com, Cripple Creek Backcountry
---
Marker Alpinist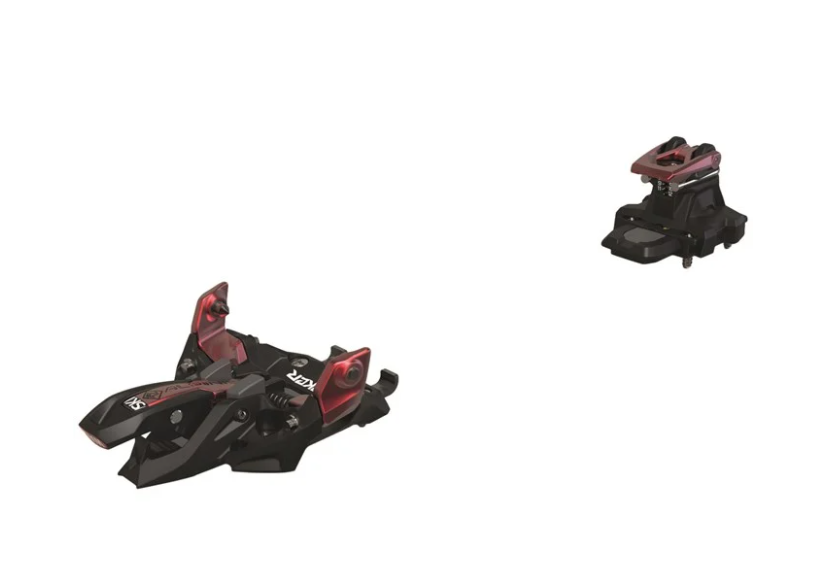 Marker. The brand that everyone seems to love to hate, with the most recent debacle being the issues with the Marker Kingpin toe pins. But it looks like they've taken a step towards redemption with the Marker Alpinist line of tech bindings. Met with some skepticism when they were first released a few years ago, the Alpinist has now proven to be a contender in the light touring binding arena. Durability hasn't been an issue, they ski better than most (if not all) comparable tech bindings, and the price point is right. The heel has 4 mm of elastic travel to compensate for ski flex and help smooth the ride.
The Alpinist is available with an 8, 10, and 12 max release value with adjustable lateral release so it will suit a wide variety of riders. Note that the vertical release is fixed based on a u-spring in the heel. Apparently the stiffness of this spring varies depending on which model you have (as in the Alpinist 8 has a lighter vertical release than the 12).
One quirky thing about the Alpinist is that you have to spin the heel 180° to get from flat/high risers to the 'mid' riser (pins forward). When touring, you can access flat mode and high risers with the heel pins facing backwards and apparently the 'high' riser is pretty versatile. Assuming your boots have good cuff range of motion, you can likely get away with just flat and high. The high isn't particularly high, either. It's more like a medium-high riser, so if steep skin-tracks are your thing the Alpinist might not be ideal. The ramp delta on the Alpinist is almost flat at 2 mm. This is a big plus for some skiers but too flat for others.
Specs
MSRP: $449.99 – $499.99
Weight: 335 grams (with brakes)
Brake sizes: 90, 105, 115 mm
Brake weight: ~100 grams
Release range: 6-12 lateral (Alpinist 12), fixed vertical release
Risers: flat, mid, mid-high (0, +34.5, +42.5 source)
Pin height delta (ramp delta): 2 mm
BSL adjustment range: 15 mm
Crampon compatible: yes
Buy now: Backcountry.com, evo.com, Cripple Creek Backcountry
---
G3 Zed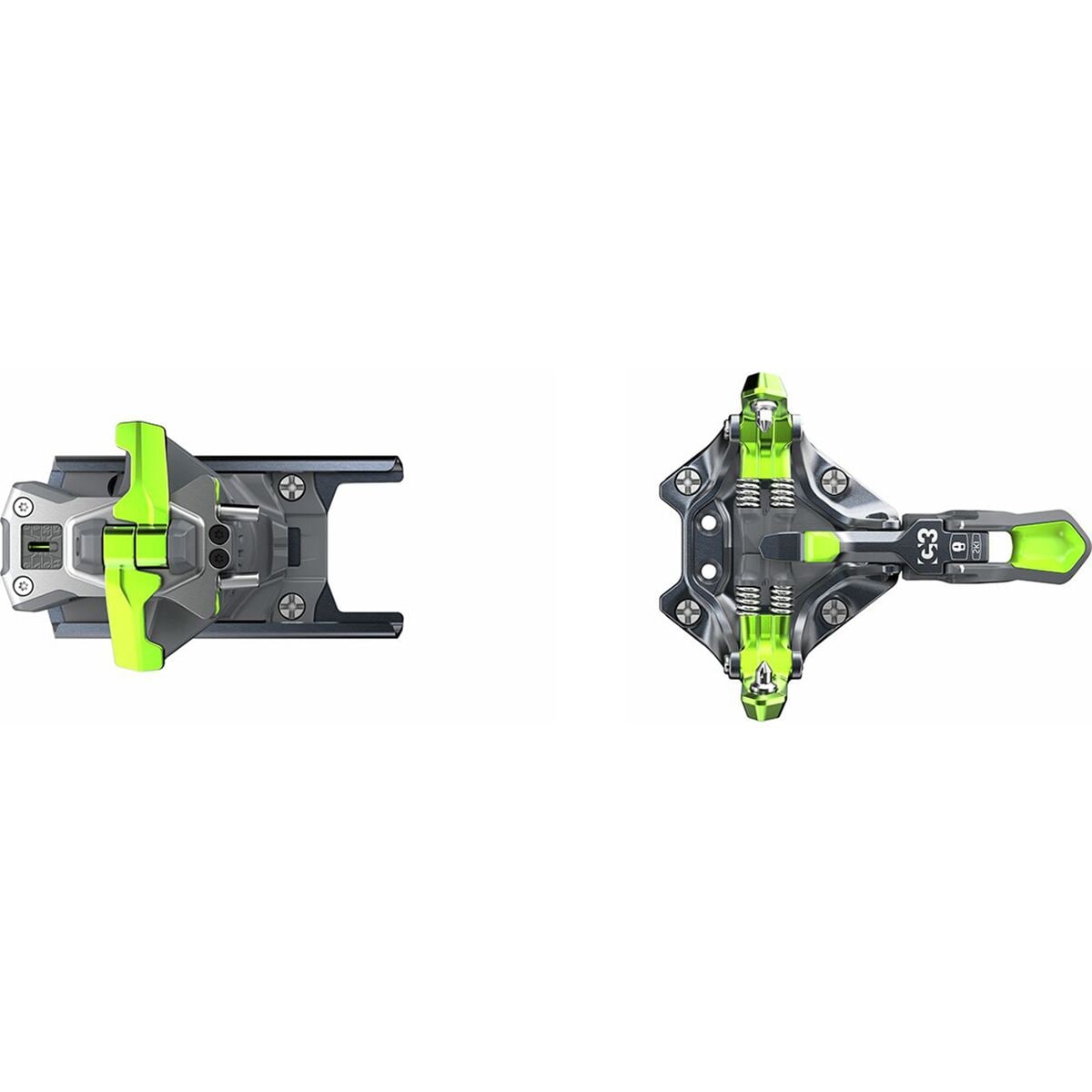 The Zed is G3's lightest binding and incorporates the best parts of the G3 Ion while shaving some weight to create a lighter binding for bigger days in the backcountry. The Zed comes with a max release value of 9 or 12 and vertical and lateral release are both adjustable but not independently. One screw changes them both at the same time. G3 claims there is a bit of elasticity in the toe to help minimize pre-releases and there don't seem to be any pre-release issues with these bindings. The Zed also has 10 mm of forward elastic travel to compensate for ski flex.
From what I've read and heard, the G3 Zed skis very well and is among the best in this binding category. The risers are also easy to use and you have 3 options without having to spin the heel while skinning. You can mount the Zed with or without brakes, and there is a stomp pad to enhance the connection with the ski if you go brakeless. The leash that comes with the bindings is quite short, but it works. The Zed is also on the heavier side compared to its competitors in this list so if weight is your primary concern this isn't the binding for you. It's still a lightweight tech binding…just not the lightest and the tradeoff is slightly better downhill performance.
Specs
MSRP: $531 (with leash)
Weight: 354 grams (no brakes), 447 grams (with brakes)
Brake sizes: 85, 100, 115, 130 mm
Brake weight: ~96 grams
Release range: 5-12 (Zed 12), 3-9 (Zed 9)
Risers: flatish, mid, high (+6, +38, +54 mm source)
Pin height delta (ramp delta): 4 mm
BSL adjustment range: 30 mm
Crampon compatible: yes
Buy now: Backcountry.com, evo.com, Cripple Creek Backcountry, G3
---
Final Thoughts
This is by no means a comprehensive list of all of the best light touring bindings on the market in 2022. You may be surprised that there are no Dynafit bindings on this list, but if you love Dynafits I would look at the Dynafit Speed Turn for a proven, reliable binding or the Superlite Z12 or Z10 if you're looking for newer tech and a lighter binding, but it's in a slightly different category than the bindings above. Super lightweight. If you think I've missed any great bindings, let me know in the comments!