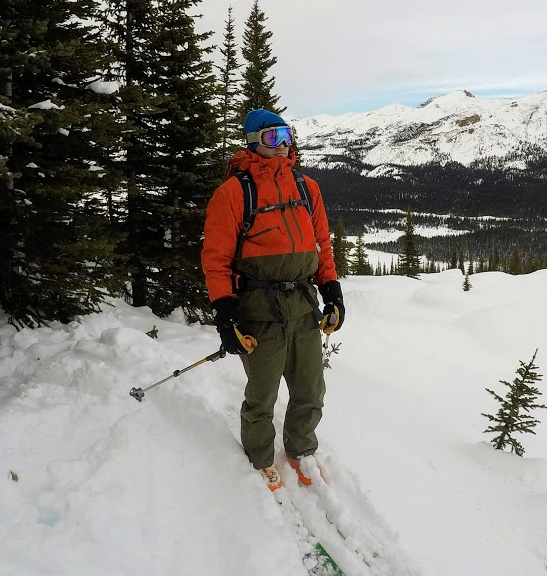 Flylow Cooper Jacket and Smythe Bib Pants Review
Flylow Cooper Jacket and Smythe Bib Pants Review
This past season I had the pleasure of testing the Cooper Jacket and the Smythe Bib Pants from Flylow. After hearing rave reviews of Flylow from friends (the Baker bibs seemed to be the most talked about) I knew I had to get my hands on something from this small company in the Pacific Northwest. These were my first pieces of Flylow gear but they definitely won't be the last.
Both the Cooper jacket and the Smythe pants are part of Flylow's Z-Line, which is their top-of-the-line gear designed for touring that is ultra-durable and waterproof (to quote Flylow).
The Materials
Both the Cooper Jacket and Smythe Bib use a fabric called 'The Perm', by Intuitive which is highly breathable, stretchy and waterproof. It's also super lightweight which is great for touring gear. The Perm is rated for 20k waterproof and air permeable breathability, has fully taped seams and has waterproof YKK zippers. To top it off, the material is treated with a high performance DWR (durable water repellent).
In theory, this type of air-permeable material is more breathable than classic Gore-Tex type layers and after putting this gear to the test for a season I would say that is accurate. More on this below, but to summarize this material is as waterproof as Flylow claims, it breathes extremely well and has held up to the stresses of backcountry and resort skiing without issue.
Cooper Jacket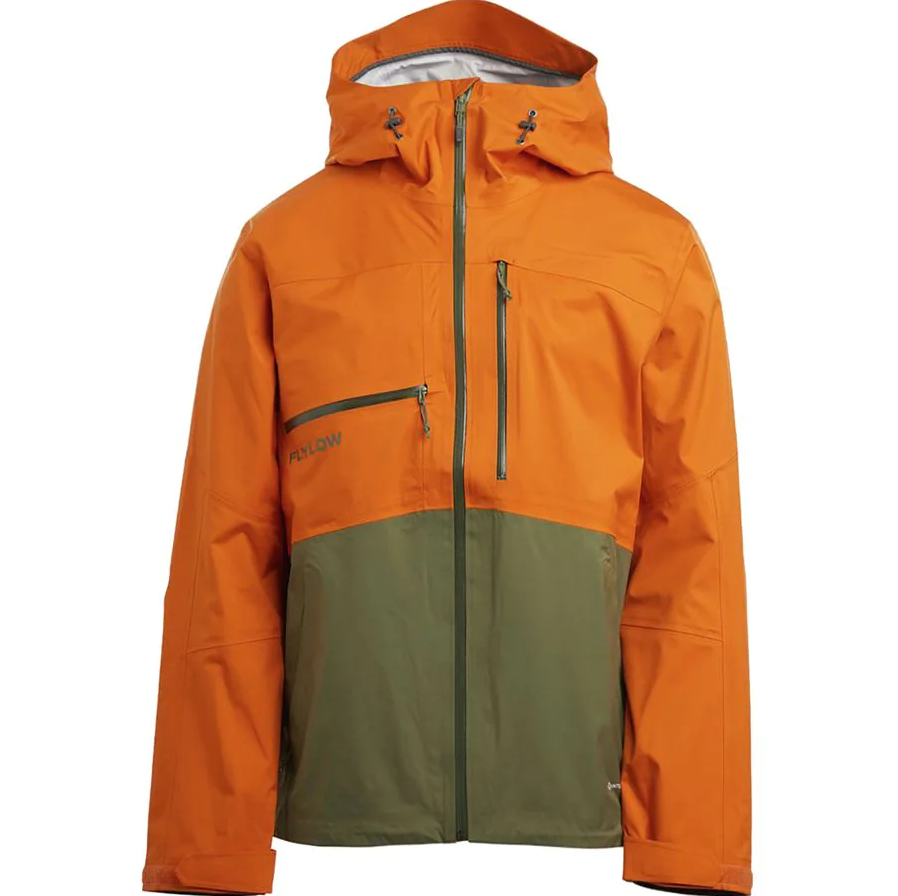 Features
This is Flylow's lightest jacket yet but that doesn't mean they compromised on durability. It uses the Perm material that is one of, if not the most breathable and waterproof fabrics on the market. The Cooper combines the durability of a 3-layer jacket but doesn't have any unnecessary extras. It's a simple, well-designed jacket with a ton of sandwich compartments (aka pockets).
Speaking of sandwich compartments, the pockets are strategically placed – you can get into them even when you have a pack on. At first the two side pockets feel oddly high on the jacket (to stay above your pack's hip belt), but you get used to it. The massive pit vents help keep you cool when you need it and the hood is huge. It had no problems getting over my helmet on stormy days.
Fit
At 6 feet tall and 190 lbs (183 cm, 86 kg) I was sort of in between a medium and large. I ended up going with the large for a roomier fit but probably could have gotten away with a medium. The large is pretty roomy around the chest area, but that was great on cold days when I needed room for layers. Your best bet, as always, is to try it on before buying.
The sleeve length is good on the large for me. I have average to slightly long arms, and there is a bit of extra length in the Cooper arms which is great – when I strap them in over gloves, they stay there. The arm holes are huge too, so you can pull the cuffs over most gloves if that's your style. They have velcro to cinch them up tight.
---
Smythe Bib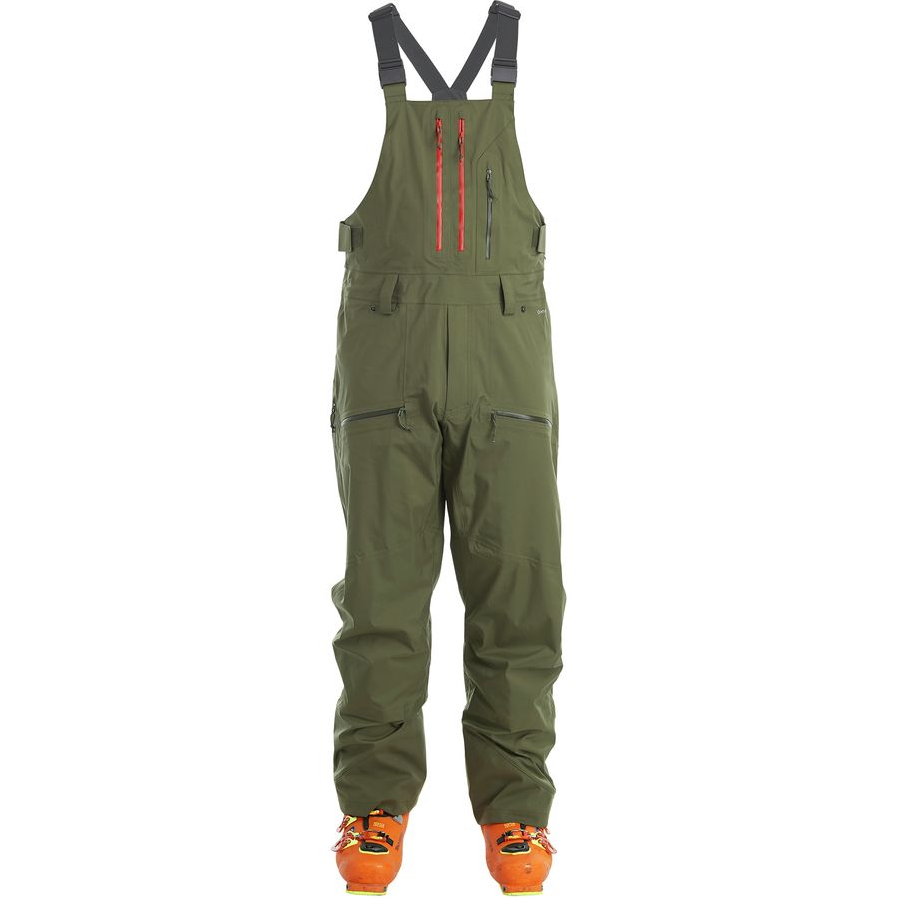 Features
The Smythe Bib pants are also made of the same excellent materials as the Cooper Jacket, The Perm which is super breathable and waterproof. They have huge vents on both sides to help keep you cool and all of the zippers are waterproof. They have reinforced cuffs, fully taped seams, and well-designed pockets that are very accessible. There are two thigh pockets, one back pocket, and 2 vertical chest pockets that sit nicely above a backpack hip belt. There is also one smaller chest pocket off to the side…small snack sized.
The bib buckles are super easy to use and I never had any issues getting the straps in the right position, despite these being my first bib pants in about 10 years. The straps are stretchy (of course), very comfortable, and I can only recall one or 2 instances where they slipped off my shoulders. The material is quite grippy, so they do a good job of staying in one spot. The cuffs have elastic powder skirts integrated in them, and did a great job of keeping snow out, even when boot packing in deep snow.
Fit
I went with a large in the Smythe Bib pants and they fit pretty much perfectly. I think a medium could have worked, but it would have been a very 'athletic' fit if you know what I mean (read: snug). The length of the large was perfect for me. Not too short, not too long.
There is a bit of range of adjustment in the waist of these pants – there are velcro fasteners that you can loosen/tighten to customize the fit a bit. There are also belt loops if you like to ride with a belt. I tend to leave the waist a bit loose and rely mainly on the shoulder straps to hold my pants up.
---
Verdict
Breathability
I've had mixed experiences with companies claiming that their permeable membrane is the latest and greatest, so I was a bit skeptical before trying Flylow's gear using The Perm. I'm happy to report that the breathability of the Cooper jacket and the Smythe bibs much live up to the hype almost entirely!
I run pretty hot when touring, so I'm a good candidate for testing permeable membranes. I tested this pants/jacket combo in everything from bitter cold to spring tours that were well above freezing and was never disappointed. On cold, windy days I toured with a base layer and the shell and my temperature was perfect. I didn't get too sweaty thanks to the breath-ability of the pants and jacket, and when I got a bit too warm, opening the massive pit vents cooled me right down.
On spring days, I typically toured with just the Smythe bibs over my underwear with the vents wide open and was able to stay reasonably cool even with the sun high in the sky.
The only part of the gear that didn't breathe super well was the bib. This is partially due to my backpack hip belt pressing it into my stomach and I suspect partially due to the multiple layers of fabric from the pockets. One solution I found was to leave the chest pockets on the bibs wide open. This provided a bit more ventilation, but on warmer days my stomach still got a bit hot. Far from a deal breaker, just making a note.
Weather Resistance
Over the winter I wore this gear in everything from temperatures waaaay below freezing right up to sunny spring ski days and the Cooper Jacket and Smythe Bibs performed very well. Although the material is pretty thin, the wind resistance is excellent, so on cold days I was still plenty warm as long as I layered appropriately. The Perm definitely runs a bit cooler than a full on 3 layer shell material, but it also breathes better. Worth the tradeoff.
In the spring I had the opportunity to brave a few suuuuper wet snowfalls in the Flylow gear and never soaked through. The only time I got wet was when I was sitting outside a hut enjoying a beverage while it was raining fairly steadily. Water leaked in through a small gap in one pit zip, so it wasn't even a membrane issue. In regular use this would be very, very unlikely to happen. I let myself get more saturated than I normally would in order to see how the jacket held up to serious moisture. The small gap shouldn't really be there in the first place, but in a low impact area like a pit zip it isn't a big deal.
Durability
Let me preface this by saying that I'm kind of hard on my gear. I hit a lot of branches and small trees when I'm bushwhacking, so I like my shell pants and jackets to be able to withstand a bit of abuse. I'm also not the kind of person that folds or hangs their gear up neatly after every day out. Sometimes that happens, but it often spends time in a ski bag or wherever it ends up when I get back from a trip.
That said, I have zero complaints about Flylow's Smythe and Cooper jackets. All the basic stuff still works like new – zippers/buttons/velcro is all good as gold. There are a couple of scuffs from aforementioned branches, but there is no real damage anywhere.
The only damage I was able to do was during a high speed thought-I-was-going-to-die-in-a-mogul-field incident where one of my edges slammed into the cuff of my pant-leg. I don't blame the pants for this. I wouldn't expect a lightweight pair of bib pants to have any heavier protection than it does. There is already a substantial extra layer on the inside of the Smythe Bib cuffs that did a great job of protecting them from day-to-day impacts.
---
Closing Thoughts
Flylow's new material, The Perm by Intuitive is good. Damn good. Light, breathable, waterproof and durable, it ticks all the boxes that make up a good shell material for backcountry skiing. I've been raving about this gear to my friends and I'll continue to enjoy using it this upcoming season.
For the price, the Cooper jacket and Smythe bibs are really good value. It's priced slightly lower than premium brands, but still has a premium feel. Flylow warranties their gear for the lifetime of the product (wear and tear excluded of course). They're confident in their workmanship, as they should be.
If you like supporting companies that are smaller than the average conglomerate, Flylow is definitely worth checking out. If you backcountry ski and like light gear, the Flylow Cooper jacket and Smythe bib pants might be right up your alley.