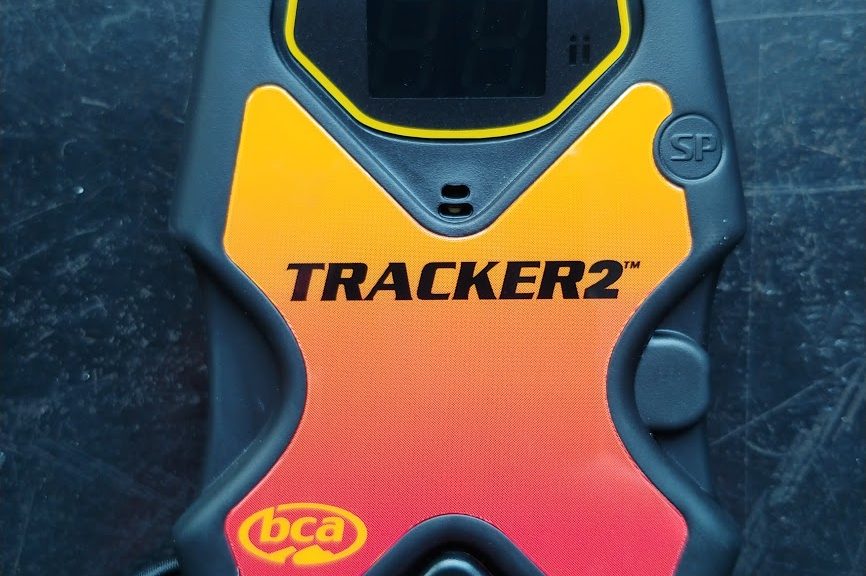 Backcountry Access (BCA) Tracker2 Avalanche Transceiver Review
Backcountry Access (BCA) Tracker2 Avalanche Transceiver Review
The BCA Tracker DTS was one of the most popular avalanche transceivers in its day, and the Tracker2 is the next evolution of this device. Now with 3 antennae vs. the DTS Tracker's 2 antennae contained in a lighter physical package, it's easy to see the appeal of the Tracker2. BCA did a great job of keeping the desirable aspects of the old transceiver and improving upon its weaknesses in the Tracker2.
BCA describes this transceiver as the 'industry workhorse used by ski patrols and guiding operations everywhere.' According to BCA, this is North America's best selling avalanche transceiver so read the rest of our BCA Tracker2 review to find out why.
---
Related: The Absolute Best Avalanche Beacon in 2018
---
Tracker2: Overview
Pros: super simple to use, easy to read display, quick and accurate directional indicator LEDs, price
Cons: no 'marking' function, multi-burials can be challenging, average speed and range
As I mentioned above, the Backcountry Access Tracker2 transceiver is one of the most popular units on the market. One of the biggest reasons for this is that it's incredibly user-friendly for beginners and experts alike.
Switching from transmit to search and vice-versa is handled by a big switch at the bottom of the transceiver. There are no confusing marking/suppressing functions to worry about in the case of a multiple burial, but there is a Special Mode that helps in this situation (more on that below).
User-friendly features that have been carried over from the Tracker DTS are the intuitive directional lights, easy to read display and super simple operation. Another thing to note is that the Tracker2 is typically a bit less expensive than beacons with more features like the Barryvox S or the Ortovox S1+.
---
Related: Mammut Barryvox S Review
---
Specifications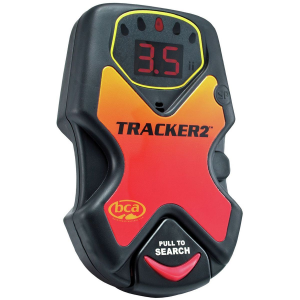 MSRP: $284.95
Weight: 255 grams (9 oz)
Range: 55m (digital)
Number of Antennae: 3
Revert-to-send: Yes
Flagging/Suppressing: No
Multi-burial Indicator: Yes
Battery Life: 250 hours
Warranty: 5 years limited
User Manual: Download link
Buy Now: Backcountry.com, evo.com, Amazon
---
The Review
Buttons and Device Design
Simple but effective is how I would describe the overall design of the BCA Tracker2. If you're coming from the Tracker DTS, the Tracker2 will seem familiar with some slight differences.
The biggest change is how you enter search mode. The DTS had a big red button that you pressed and held which got the job done. With the Tracker2, you pull a large, well-marked button/switch toward the bottom of the unit to enter search mode. It doesn't get any easier than this.
BCA has also managed to reduce the overall weight by around 18%, most of this coming from a lighter harness. Speaking of the harness, I can't find anything to fault BCA on here. The clip to attach/detach the transceiver from the harness is nice and big and the buckle that holds the beacon in place is easy to operate with gloves on.
The only other button on the Tracker2 is used to enter Special Mode, which narrows the search 'window' to only the middle three lights. I'll talk more about this below, but in short it helps in multiple burial situations. The button is well designed in that it's impossible to hit it accidentally but easy to press it when you want to enter Special Mode.
To the right of the digital display, you'll see a smaller light that looks like two lower case i's. This is the multiple burial indicator. If this lights up, you know that the Tracker2 has detected at least 2 signals.
This is a good reminder of why it's important to know your transceiver before heading out. It might not be obvious to you what this light means just by looking at it, but knowing that it's a multi-signal indicator could be very helpful in the field.
The body of the Tracker2 has a slightly stronger rubberized case and BCA claims it is around 12% smaller than the DTS. Overall it feels like a high quality piece of electronics and its durability has been proven over the years with massive amounts of field testing.
Interface and Display
Unlike some higher-end (read: more expensive) transceivers, the Tracker2 doesn't have an LCD display. Instead it relies on 5 directional LEDs (more on those later) and a simple 2 character digital display to show the distance to your target.
This digital display also shows 'SE' when you enter search mode, the battery % remaining when you turn it on, and a couple of other useful items. One advantage of this digital display vs. an LCD is that it won't become sluggish in extremely cold temperatures.
There isn't much of an interface to speak of, and that's one of the Tracker2's strengths. You pull a switch to enter search mode and push it back in to enter transmit mode. Done. So easy a caveman could do it (probably).
Speed
Given that the Tracker2 is priced as a more budget-friendly transceiver, I wasn't expecting stellar performance, but I was pleasantly surprised. The Tracker2 is quick to pick up a signal and the directional LEDs update rapidly and are quite accurate.
Even in fine search I didn't find myself having to slow down at all to allow the transceiver to catch up. If you're doing a fine search correctly and moving back and forth at a steady pace, the Tracker2 will have no problem keeping up. With multiple burials, the transceiver was just as quick to pick up additional signals.
Range
BCA states the range of the Tracker2 to be 50 meters, and in my testing I had no issues picking up a signal at that distance. As with all transceivers, the further you are from the target the more 'finicky' signal acquisition is, but this steadies as you get closer to the burial. What I mean by this is that the signal can get 'lost' for a short time if you miss the flux line when you're near the end of the range of the Tracker2, but it quickly picks it back up.
Ease of Use – Single Burial
Being easy to use for both beginners and professionals is the BCA Tracker2's bread and butter. Entering Search mode is super simple – pull the large, well-labeled switch at the bottom of the transceiver. Done.
The distance numbers are nice and big so they're easy to read and the directional LEDs are very intuitive to follow. Even if you haven't used this transceiver before, I'm confident you could pick up the Tracker2 and almost immediately be able to perform a single burial rescue.
One thing to note is that this transceiver doesn't tell you if you're heading in the wrong direction (this is true for most transceivers). If you're following a signal and the numbers are getting larger, it's time to turn around.
Ease of Use – Multiple Burials
Thankfully, multi-burial situations are rare and this is why BCA has chosen not to include a flagging/marking feature (also known as signal suppression) in the Tracker2. That said, due to popular demand BCA has included a form of signal suppression in the Tracker3.
In any case the lack of signal suppression in the Tracker2 makes it slightly more challenging to use than transceivers with a flagging feature. But in some ways it is simpler. Adding complexity (like flagging or marking signals) to a transceiver increases the risk that a searcher will get confused in a high-stress situation. For example, if you suppress a signal accidentally, do you know how to quickly un-suppress it? I sure hope so…
The BCA Tracker2 stays true to its philosophy of K.I.S.S. (keep it simple, stupid) but it does have a Special Mode that assists in multi-burial situations. Special Mode narrows the search field to a 75 degree window in front and behind the transceiver, which is basically the width of the 3 center directional LEDs. Any signals outside of this window will be ignored.
In practice, this works quite well. With the narrower search window it's easier to lose a signal when you're following it. However, it can be quickly picked back up by stopping and rotating the transceiver until the signal is found. The Tracker2 user manual has a really good write-up of how to perform multi-burial searches in general as well as a detailed guide for Special Mode.
Another helpful feature is a small indicator that illuminates when multiple signals are detected.
The bottom line is this: practice, practice, practice. Regardless of which transceiver you choose to use, know it inside and out. Be confident that in a high-stress situation you know exactly how to use the most important tool in your pack.
Fine Search and Bracketing
The Tracker2 performed admirably in a Fine Search when trying to find the lowest distance reading. The directional LEDs are disabled when the signal is less than 2 meters which is perfect. You should only be paying attention to the distance readings at this point. In my testing, fluctuations around the strongest signal were pretty minimal. To be fair I haven't done much testing with deeply buried subjects so take that with a grain of salt.
Additional Features
In addition to the basic functions of an avalanche transceiver, the Tracker2 has a few advanced features that are useful in certain scenarios. BCA has done a great job of ensuring these are complementary to the Tracker2's ease of use without over-complicating it.
Auto Revert Mode (Revert-to-Send)
The Auto Revert feature automatically switches the Tracker2 back to Transmit mode after 5 minutes in Send mode. After 4 minutes and 30 seconds, the transceiver warns the searcher by sounding an alarm for 30 seconds.
If you press the SP button or toggle Search on/off during this 30 second period, the 5 minute timer resets. Otherwise, it will revert to transmit mode but will beep at regular intervals to let you know that it has auto-reverted to transmit.
Auto revert is useful in scenarios where a secondary avalanche is possible. If you're searching and get buried by a secondary avalanche while your beacon is in search mode, the odds of you being rescued are quite low unless your transceiver goes back to transmit mode.
Special Mode
I've described this in a bit of detail above, but it's worth mentioning again. Special Mode can be used in close proximity multi-burial scenarios and effectively narrows the search window of the Tracker2 to 75 degrees (in front and behind). This is roughly the width of the 3 center directional LEDs and is useful for isolating transceiver signals when searching.
Mute Mode
Mute mode is useful for training purposes – it mutes the beeping that usually occurs during search mode.
---
Conclusion
The Backcountry Access Tracker2 is a well designed and very functional avalanche transceiver. It's a worthy successor to the hugely popular Tracker DTS. It maintains the ease of use of the DTS but adds a few design tweaks to make it even better. The Search Mode switch is more intuitive, the SP button is way harder to push accidentally, and the addition of a multi-signal indicator is much appreciated.
Whether you're an expert avalanche searcher or just getting into backcountry skiing or boarding, you can be confident that the BCA Tracker2 will not let you down in a burial situation.