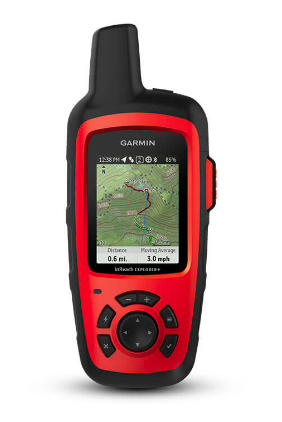 The Best Satellite Messengers and Personal Locator Beacons of 2018
The Best Satellite Messengers and Personal Locator Beacons of 2018
If you are someone that spends time in the backcountry, you should definitely consider getting a PLB (personal locator beacon) or a satellite messenger. The nature of backcountry travel means that you are often out of the range of cell towers. Having a device that communicates via satellite can literally be a life saver if things go awry. Read on for an overview of the best personal locator beacons (PLBs) and best satellite messengers that are available today. Whether your budget is big or small, there is an option out there for you.
Background Info: PLBs and Satellite Messengers
As the number of people heading to the backcountry keeps increasing, the availability and variety of PLBs (personal locator beacons) and Satellite Messengers is increasing too. First let's chat a bit about how they differ.
Personal Locator Beacons (PLBs)
Historically, PLBs have mainly been used by aircraft as well as Coast Guards around the world for marine rescue. Now they are very commonly used by hikers, skiers, snowboarders and hunters that spend time in the wilderness. They've been available in the U.S. since 2003. When activated, they send an emergency signal to rescue services via satellite.
Personal locator beacons use an intergovernmental satellite network called Cospas-Sarsat that provides coverage anywhere on earth. This network is highly reliable. When you activate your PLB, a signal is picked up by a satellite and relayed to the appropriate local Search and Rescue authorities. Cospas-Sarsat monitors for signals on a dedicated 406 MHz frequency.
Most PLBs are sealed units with a battery that is meant to last 5 years or more and are very easy to activate in an emergency situation. You deploy an antenna and push a button (more or less) to activate the beacon. Many personal locator beacons are one time use, but some companies will replace the unit if you end up using it in an emergency (very cool).
With a PLB, once you buy the device, there are no additional fees going forward. On the flip side, satellite messengers, as of now at least, require an annual subscription. Note that PLBs are ready to go out of the box, but will have to be registered in your country. This is to let rescue services know who is using the personal locator beacon and what it's being used for and to give them some kind of idea of what type of emergency they could be facing. This is the downside of a PLB – no matter the severity of your situation, you cannot give any further details to Search and Rescue.
Satellite Messengers
These devices are a slightly newer innovation, and offer more features than a PLB but typically at a significantly higher cost. As I mentioned above, you have to pay a subscription fee to use a satellite messenger. The cost varies depending on which device you own, but they are in the neighborhood of $100-$200 per year. The cost of this subscription fee alone is almost the same cost as some personal locator beacons! But that cost gives you the ability to send messages in real time, track your route, drop waypoints on a digital map and more. If you have the budget, this is almost certainly the way to go, but more on that below.
Satellite messengers, along with providing real-time messaging, can initiate an emergency signal to rescue services via satellite. The subscription fee covers the cost of accessing the satellite network.
The big advantage of having a satellite messenger with 2-way messaging comes in an emergency situation. When you activate the SOS, you can then communicate directly with Search and Rescue to give them details about your situation. If it's really bad, they can be properly prepared and send the cavalry. With a PLB, once you activate it, Search and Rescue receives no further information, so preparing for the situation is a bit more challenging.
Special Note: DeLorme
You might be familiar with the company DeLorme and their satellite messenger devices. If so, you may notice they are missing from this list. There is a good reason for this – I didn't forget about them. Garmin acquired DeLorme in early 2016, but they are continuing to make excellent products along the same lines. Note the Garmin InReach is the same product name as the DeLorme InReach. Click here for more information on the acquisition of DeLorme.
---
The Best Personal Locator Beacons of 2018
ACR ResQLink+
MSRP: $325
Weight: 153 grams (5.4 oz)
Length: 11.4 cm (4.5 inches)
Battery Replacement: 6 years
Battery Operational Life: >24 hours @ -20°C (-4°F)
Waterproof: Yes (5m / 16.4 feet)
Buy Now: Backcountry.com, Amazon
The ACR ResQLink+ has been around for many years, and has a great reputation. Like all PLBs in this list, it does not require a subscription. It is very simple to use – you extend the antenna and turn it on. Done. It floats and is waterproof, so if you're using it on the water you won't have to be too careful with it. One nice bonus with this model is that if you use it, ACR will replace it free of charge.
ACR claims that the ResQLink will guide searchers to within 100 meters of your location. This is on par with other devices and has proved true in real world testing. There is also a built-in test mode to ensure that your device is working properly.
There is also the ACR ResQLink model (no '+'), which is a bit more compact and lighter but is NOT buoyant. It's probably a better option than the ResQLink+ if you don't intend on doing any water related activities. It has an optional buoyant pouch that solves the buoyancy problem if you change your mind about water activities.
One downfall of this unit is that it's a bit more expensive than its competitors while providing pretty much the same functions.
McMurdo FastFind Ranger
MSRP: $299
Weight: 164 grams (5.8 oz)
Length: 11.2 cm (4.4 inches)
Battery Replacement: 6 years
Battery Operational Life: >24 hours @ -20°C (-4°F)
Waterproof: Yes (10 m / 32.8 feet)
Buy Now: Amazon
The McMurdo FastFind Ranger is very similar in terms of functionality to the ResQLink above, but comes in at a slightly lower price point (often ~$100 less). It's a few grams heavier and around the same size. It comes with a buoyant pouch, and is also waterproof to 10 meters (30 feet). It has a self test function and a 6 year battery life, so in terms of specs it doesn't give up much at all to the ResQLink.
Operation is simple – you pull the tab off the top, extend the antenna and turn the unit on. To use the device again, you have to order a new cap, as it's tamper-proof and must be replaced after each use.
Ocean Signal rescueME PLB1 MSRP: $259.95
Weight: 116 grams (4.1 oz)
Length: 0.77 cm (3.0 inches)
Battery Replacement: 7 years
Battery Operational Life: >24 hours @ -20°C (-4°F)
Waterproof: Yes (15 m / 49 feet)
Buy Now: Backcountry.com, Amazon
As you probably guessed from the specs above, this is the smallest PLB that I'm going to talk about today. The rescueME PLB1 is super compact, but still has all of the lifesaving features of the other 2 PLBs described above. It weighs just over 100 grams, and is small enough to fit in your pocket. It doesn't float on its own, but it comes with a flotation pouch so no worries there. No subscription is required and it is easily deployed in an emergency situation.
If all you're looking for is an "Oh sh!t!" device to be used in emergencies, you won't find a more compact PLB. The cost is similar to the McMurdo, but it is much more compact and the transmitting specs are quite comparable. The Ocean Signal rescueME PLB1 is the best buy in this roundup. It doesn't have fancy communication capabilities like a satellite messenger, but it could save your life.
---
The Best Satellite Messengers of 2018
Garmin InReach Explorer+, InReach Explorer SE, and InReach Mini
MSRP: $589.99Weight: 213 grams (7.5 oz)
Length: 16.4 cm (6.5 inches)
Battery Life: 100 hours at 10-minute tracking mode
Waterproof: No (water resistant – splashes, rain showers)
Buy Now: Backcountry.com, Amazon
Garmin has been making GPS enabled navigation devices since the dawn of time…okay, not really but they've been around for a long time and are known to make high quality devices. Their handheld navigation devices, on which the InReach Explorer+ is based, are top of the class.
The InReach Explorer+, at the most basic level, works as an emergency broadcast device, just like the PLBs above. But it does oh so much more. It has two-way texting via the Iridium satellite network. You can track your location and share it with friends. It has pre-loaded topographic maps with on-screen GPS routing. It has a built-in digital compass, barometric altimeter, and accelerometer.
You can also pair it to your phone to access a huge wealth of maps. It can access your phone's contact list for easier messaging so you don't have to look up your friends' phone numbers. There is an optional weather report service and the body of the device is rugged.
The device is fairly pricey up front, but there are a variety of subscription options to get you rolling from $12/month to $100/month. If your budget isn't a problem, this is the device you want. It can do it all, and do it all very well, and the InReach Explorer+ is the device of choice for backcountry professionals and enthusiasts alike.

InReach Explorer SE
Buy Now: Backcountry.com
If you don't need the built-in TOPO maps and GPS navigation, check out the Explorer+'s little brother, the InReach Explorer SE. It has pretty much all of the same features in terms of satellite messaging, same great device construction, but doesn't have the navigation capabilities.
You can, however, pair it with your smartphone and use Garmin's free app Earthmate. You can then use maps on your phone using the InReach's GPS capabilities. This isn't quite as reliable for long trips to the backcountry with no access to power, but is a really good compromise.


InReach Mini
An even less expensive option is the InReach Mini. This powerful little unit fits in the palm of your hand, and weighs just 100 grams (3.5 oz). It allows for two-way satellite messaging just like it's larger siblings and acts as an emergency SOS device too.
It can also be paired with the Earthmate app to show you where in the world you are on a map. The smaller screen isn't quite as useful as the larger models, but if you're looking for a compact satellite messaging device, this is a great option. The only downside is that for 2 way communication, pairing it with a phone is pretty much required. There is a virtual keyboard, but it's not terribly useful.


---
SPOT 3 Satellite GPS Messenger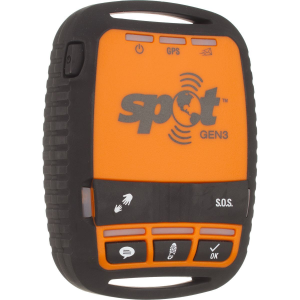 MSRP: $189.99
Weight: 114 grams (4.0 oz)
Length: 8.7 cm (3.4 inches)
Battery Life: 150 hours
Waterproof: No (water resistant – splashes, rain showers)
Buy Now: Amazon
SPOT was one of the first companies in the business of backcountry emergency response, and has proven reliability. While the Gen3 SPOT device is an improvement on the previous iterations, it still doesn't come anywhere close to the capabilities of the Garmin InReach Explorer+ or Explorer SE. It doesn't have two-way communication and it's GPS tracking functions are a bit limited.
You can program the SPOT with predefined messages that can be sent out at the push of a button. This is useful to let a loved one know that you are safe. Activating the emergency activation is very simple as well – you push and hold the SOS button. This alerts SPOT headquarters, who then notifies emergency services in your area.
The device cost up front is quite reasonable, but the annual subscription quickly eats into any savings you may have been hoping for. It does have GPS route tracking, and you can change the frequency that signals are sent to conserve battery life.
One interesting thing that SPOT does is provide a rental service. You can have a SPOT device shipped to you, use it for a few days, and ship it back to SPOT. This brings the cost way down if you are just a casual backcountry user.
All in all, the SPOT, which used to be a leader in this arena, is in a bit of a middle ground now. It doesn't match the high-end functions of the Garmin, but it's much more expensive than a simple PLB without offering much more in the way of features. It's definitely a good choice for an emergency device, but the cost over time makes it a bit of a tough sell.
Buying a Used or Older Device
You can still get DeLorme devices new, and there is certainly nothing wrong with these if you can get a good deal. Used PLBs often pop up, but be aware of the region they are programmed for. Some are US/Rest of World specific. If you buy a used PLB, you will also have to re-register it with the appropriate authorities in your country of use. Used SPOTs are quite prevalent as well, but these aren't much of a bargain. If you can get your hands on a Garmin InReach that hasn't been mistreated, snap it up!