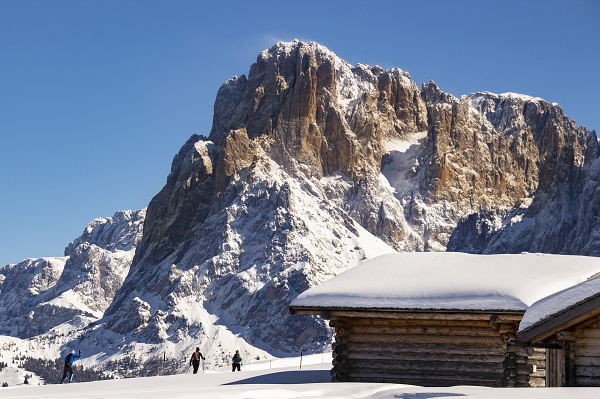 22 Things to Bring on a Backcountry Hut Trip
22 Things to Bring on a Backcountry Hut Trip
Whether it's your first hut trip or your 1000th, it's always a good idea to make a list and check it twice. You might find a few items here that will make your next backcountry hut trip the best one yet.
It's easy enough to remember the basics like your skis, skins, beacon, shovel, and probe (hopefully), but what about hut booties? Have you ever forgotten the oh-so-valuable toilet paper on a hut trip? Not fun. Read on to discover some killer items to add to your hut trip packing list.
If you're new to backcountry skiing, I suggest reading my beginner's guide to the backcountry as well as my beginner's gear guide. That will give you an idea of the basics before getting into the backcountry hut trip specific stuff in the list below.
Maybe this is your first hut trip and you have NO idea what to bring. Well we have you covered. Use this list as your guide and you'll be as comfy as you can be. A hut trip can seem a little intimidating, but don't be scared. It could be the most fun you've ever had!
Prepare to be cozy with your pals and (almost always) friendly strangers. Huts are often out of the range of mobile phone service, so be prepared for some isolation. This can be a great mental refresher. Not checking your buzzing phone every minute is good for your brain, believe it or not.
And remember – if you're venturing into the backcountry, that likely means there will be avalanche danger. Make sure you are well prepared, ideally with some avalanche safety training. At the very least, do some reading before you go – this avalanche safety guide will get you started, but it really only scrapes the surface. If you can, do a practice beacon search (or 5 or 10) before entering avalanche terrain. Friends don't let friends ride unprepared (or something like that).
A Backcountry Hut Trip – It's Not Your Grandma's Cottage
Disclaimer: neither of my Grandmas had a cottage, but if they did, I (hopefully) wouldn't have to bring things like hut booties and toilet paper. Depending on where you are in the world, what you'll find in a backcountry hut will vary. One thing remains pretty constant – they're basic. You'll be roughing it, but in the best way possible. There won't be any electricity. The lights will likely be propane powered and the kitchen stove will either be a woodstove or propane.
Many huts have fully equipped kitchen areas with dishes, cutlery, mugs/glasses, etc., so you just have to bring the food. Sleeping areas generally have pads, but you'll need a sleeping bag and a pillow if you aren't keen to have a rolled up pair of long underwear under your head.
The List
Let's start with the most basic essentials you'll need for a ski trip to a backcountry hut. Most of this is gear that you would bring on a shorter tour, so it shouldn't take much time to gather up. I'm not listing a pack on this list, because…well you clearly need a pack. If you're looking for the best of the best airbag packs, check out the Black Diamond Saga 40 Jetforce. It's one of the only airbag packs that's big enough for a hut trip. In fact it might be the only one big enough that is currently available. *Update* The Backcountry Access Float 42 is another good option for hut trips.
Skis, boots, poles, skins
Layers – shell jacket and pants, wool base layers (stay away from cotton – it makes you cold), some kind of mid-layer if needed, and don't forget a hat and/or toque and gloves!
Shades and Goggles
Helmet – I don't always carry a helmet when ski touring, but it's a good idea. Protect your melon.
Now we'll get into some things that you may not typically bring on a day trip, but will probably need in a hut.
Sleeping bag and inflatable camp pillow (to save space) – huts are typically pretty warm, so you don't need a winter sleeping bag, but be sure to check beforehand
Comfy clothes for in the hut
Hut booties/slippers and extra socks
Earplugs (and eye mask if you need total darkness to sleep like Mrs. HikeForPow)
Headlamp
Repair Kit – duct tape, multi tool, spare screws, some wire, etc.
First Aid/Emergency Kit – mole skin, lighter, emergency blanket, pain killers (just in case you have too much whisky)
Topographical maps or a GPS Device – apps like Gaia or Backcountry Navigator Pro are good, but what if your battery dies?
Cell phone – there won't be any power, so a solar charger would be handy if you have one
Hygiene items – toilet paper, toothbrush, toothpaste, sunscreen if it's spring or you're at high altitude, lip balm, lady supplies, meds, etc.
Camera
Plastic trash bags
Food – plan your meals ahead, and try to bring relatively lightweight but filling meals like pasta, rice, etc. Also bring some spices/salt & pepper to make your food suck less!
Water Bottle and some drink powder if you're into that (powdered energy drink, crystal light, or something like that for some flavor and electrolytes)
Fireball/whisky/vodka – beer is heavy!
Playing cards – unless you know the hut has some cards or games…some huts have all kinds of stuff
Closing Thoughts
If you follow this guide, you will at least have the basics covered and won't be missing anything critical. If you find your pack has gotten really heavy, cut out the fun stuff first. This is painful for me to say, but do you really need 2 bottles of vodka for a weekend hut trip? Try not to cut down on food – you'll be hungry after skinning to the hut.
Let me know your favorite hut trip gear tips in the comments below!