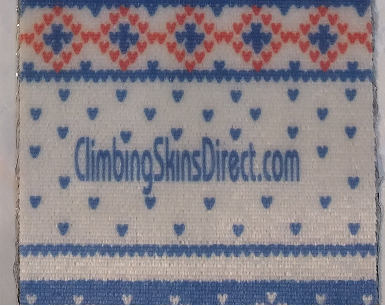 Climbing Skins Direct Review – Climbing Skins Are Their Specialty
Climbing Skins Direct Review – Climbing Skins Are Their Specialty
***Note: In the last 6 months I've heard many reports of slow or no delivery and poor communication from CSD. At this point, unless you're willing to gamble a bit, I wouldn't recommend ordering from them. I would also use a credit card with good buyer protection or PayPal in the event that you need to reverse the charges. See the comments below for more info. If you're looking for a similar alternative, check out Big Sky Mountain Products climbing skins. I've spent a few days on these and they're quite similar (with better connector options too).
When you think of climbing skins, the first brands to pop into your mind might be Black Diamond or G3. There is another name you should be aware of. Based out of Jackson Hole, Wyoming, there is a small company that has quietly been making top-notch climbing skins for the last 12 years: Climbing Skins Direct. In this article, I give a comprehensive Climbing Skins Direct review based on my experience with them over many days in the backcountry.
To clarify, I have no affiliation with the company, but have used and liked their product enough to warrant a review. In fact, I'm on my second pair of CSD skins.
If you're looking for other options for skins, check out our 'Best Skins of 2018' article where we take a look at other skins that are currently available.
---
Climbing Skins Direct – Company Information
Climbing Skins Direct (CSD) is a bit different from their competition in that they are a 'direct-to-consumer' business model (hence the 'Direct' in the company name). This means they cut out the middle man (the ski shop in this case) which helps to reduce prices, and it seems to be working. CSD skins are close to half the price of some competitors suggested retail prices. The cost is a bit higher if you have to ship outside the US, but they're still at a much lower price point.
Their prices might be the best out there for skins, but are they good value? That's what we'll get to the bottom of in this review.
The company was founded in 2006 by Rick Liu, who, according to their website, worked on the development of the adhesive for the original Ascension skins. He also spent 9 years as the Director of Product Development for LikeLink. While there, he directed the development of Life-Link's adjustable ski poles, shovels, probes, and soft goods. After helping develop the adhesive for the original Ascension skins, he eventually became a partner in that company (Black Diamond I assume?).
Mr. Liu then used all of this knowledge and experience spent 3 years developing his line of skins for his current company, Climbing Skins Direct.
Their current website is fairly simple, but it's easy to navigate and has all of the information you'll need to buy the right skins and trim them for your skis or board.
What Climbing Skins Direct Says About Their Skins
The first thing you will see when you hit the Store page is the statement 'Our climbing skins are light, strong, sticky in all conditions, and 40% less expensive than other skins.' These all sound like good things, and we'll find out how accurate that statement is a little later.
There is a great section called Technical Data on their website. Here they go into great detail about the adhesion characteristics of their glue as well as how they have balanced grip versus glide when designing their skins.
Adhesion (or How Well the Skins Stick to Your Skis)
One issue you might face when backcountry skiing is having the glue on your skins fail. What this means is that the skins will no longer stick to your skis. Very bad news. I always carry a roll of hockey or a bit of duct tape with me just in case this happens. In short, the glue or adhesive is a critical part of a climbing skin.
Climbing Skins Direct claims that their skins will stay stuck to your skis down to -40°F (which, conveniently, is -40°C). Note that this is the temperature of the glue, not necessarily the air temperature and -40 is extremely cold. You won't catch me touring at -40 because I want my toes and fingers to stay attached to my body.
Note that I said 'will stay stuck' to your skis. There is a big difference between staying glued to skis and applying skins to your skis. If your skins are warm when you stick them to your skis, they will stay stuck at much cool temperatures.
The next data point is the lowest temperature at which you can apply skins to skis. For CSD skins, the lowest application temperature is +5°F (-15°C). This means that as long as your skins are warmer than +5°F when you try and apply them to your skis, they will stick.
Climbing Skins Direct also claims that their skins are easy to peel apart when stuck to each other. They don't ship with cheat sheets (plastic sheets you put between skins to prevent them from becoming glued together), so this is important. We'll test that claim later.
Climbing Grip vs Glide
In the world of climbing skins, the holy grail is a skin that glides smoothly along the snow but at the same time provides ample amounts of grip. In reality, there are always trade-offs: the skins with the best grip never have the best glide and vice versa.
This technical data article gives great background info on how not only the material but also the angle of the fibers determine grip and glide. They use a synthetic material that is similar to the original Ascension skins. CSD claims their material has high durability, and due to the angle of exit from the skin, it has excellent grip and glide characteristics. Apparently the glide is similar to mohair, which is the benchmark in that regard.
Trim and Use Directions
The Climbing Skins Direct website also has a very thorough how-to section. Here you will find detailed instructions on how to properly trim the skins to fit your skis as well as how to attach the tip and tail attachments. In this section there is also a bit of info on the debate around whether you should use tip and tail attachments or not.
Climbing Skins Available from CSD
There isn't an enormous product selection in the CSD store, but there doesn't need to be. They carry 'Universal Skins' which have a metal loop on both tip and tail. If you have a notched tail on your ski, the 'Tip & Tail Skins' are what you'll be looking for – they have a traditional tail hook. For those looking to minimize weight there is the 'Simple Skin', which has a loop on the tip but no attachment for the tail. You'll be relying solely on the glue to keep the skin attached to your ski in this case.
CSD also carries a set of climbing skins for split boards, which have loops for the tip and tail. All of the skins include a trimming tool and instructions, and there is a variety of tip/tail attachments for sale separately should you need a replacement.
Currently you can get CSD skins in a choice of two patterns: Nordic Knit and Chipmunk. Nordic Knit looks like an old school ski sweater (love it) while Chipmunk…well it looks like there are a couple of chipmunk hides stretched the length of the skin. I'll let you judge that one for yourself. They used to come in a solid light blue color, but that doesn't appear to be available any longer.
Along with the pattern, when ordering a set of skins you specify the length and width of the skins (100 mm to 145 mm) as well as the pattern and size of tip/tail loop.
The Climbing Skins Direct Review
Background Info
To give you a frame of reference, I've used the following skins for at least a few days each: Black Diamond Mohair Mix, BD Ascension Nylon (a couple different versions), G3 Alpinist, and Climbing Skins Direct skins. My go-to skins for the past few years has been a pair of CSD skins.
First Impressions
CSD skins come nicely packed in a standard postage box with sort of plastic/paper sheets covering the glue of the skins. The skins come untrimmed in the length and width you specify. The connectors are packaged separately. Also included are a trimming tool, some skin wax, and instructions that are nice and easy to follow. They appear to be the same instructions that are on the website.
Trimming
Following the instructions in the Trim and Use Directions section on the website, trimming these skins to your skis is a breeze. The one comment on this is that there seemed to be an excessive amount of fibers flying around during trimming, but maybe that was just my technique.
If it's your first time trimming skins be sure to take your time. You want full edge to edge coverage, so make sure you line up the skin properly. Double check the tip-tail orientation so you don't end up trimming them backwards – you'll end up with the wrong shape for your skis.
Part of the trimming process involves trimming the tip and tail to attach the connectors to the skin. This process is fairly straightforward (the instructions provided are clear and easy to follow). If you leave a bit of extra material when attaching them, you can potentially use the skins on different sets of skis that are different lengths with minimal fuss.
Connectors
The tip and tail connectors provided with CSD skins are somewhat unique. One connector is a standard metal loop, and the other is a stretchy rubber with loops on either end – one to connect to the skin, and one loop to go around the tip or tail. CSD recommends to use the stretchy connector on the tip if your tail is rounded.
I've used the tail connector with both a rounded tail (on a heavily rockered ski) and on a flat tail, and have never had it come loose. I've had the tip connector move around a bit, but it's an easy fix to reach down and move it back into place. I wouldn't say this happens every tour, either. It only occurs if your tip connector hits something solid like a tree or root.
Grip & Glide
I'm happy to say that Climbing Skins Direct's claim that their skins have excellent grip & glide characteristics is, for the most part, true. The grip provided by these skins is on par with the BD STS Nylon skins, which is to say really, really good. With edge to edge coverage and even on fairly heavily rockered skis, I'm able to set much steeper skin tracks than I would want to climb for any duration. On set skin tracks that are a bit icy these skins do as well as can be expected – there is some slippage, but that's the case with any skin.
I'm less impressed with the glide, but that isn't to say I'm not impressed. The glide is good, it just isn't as stellar as the grip. I wouldn't say it quite meets the benchmark set by mohair skins, but they're on par with or better than other synthetic skins.
Durability
I've put somewhere between 40 and 50 days on my first set of CSD skins, and they're still going strong. They certainly don't look like new anymore, but the glue still sticks and there isn't a noticeable loss of grip. This is pretty notable, as I'm not particularly careful with my skins aside from never pulling them apart at warm temperatures (don't do this – it can wreck your skin glue). I don't usually use cheat sheets, and my skins spend a fair amount of time rolled up in my pack. They've spent the summers in a somewhat cool basement (slightly below room temperature – not properly cool) and not in a freezer or anything like that.
In colder temperatures (around -20°C/-4°F and below ) I'm starting to see the glue performance decrease a bit when applying skins to skis, but warming skins up in my jacket has solved this problem so far. This is pretty impressive for how many applications these skins have seen.
Pricing
The pricing of Climbing Skins Direct skins ranges from $89 for 100mm wide Simple Skins with no tail attachment loop to $120 for splitboard skins. This is quite reasonable. Many competitors' skins retail for over $150. Shipping is free anywhere in the US including Hawaii and Alaska and is quite reasonable to Canada or Europe.
Closing Thoughts
There are a few other things about these climbing skins I would like to note that I didn't cover above. They're fairly supple and easy to manage even in cold temperatures. In warmer temperatures (around the freezing point) I've experienced a bit of 'glopping' (snow sticking to the skins), but this was easily remedied with a quick application of some skin wax. Side note, get some of this and carry it with you. It's light.
The glue is also quite strong – if you choose not to use cheat sheets, you might have some difficulty pulling the skins apart. I'm a moderately strong human and it isn't easy for me, so a smaller person would struggle. My technique when they're particularly tough to separate is to trap one end of the skin under my boot and pull up on the other end of the skin. There is a glue-less channel down the center of the skin, and without this they'd be impossible to separate in warmish temperatures. Good design decision.
A couple of downsides to note: these skins are a bit bulkier than typical skins and take up a fair bit of space in my bag when folded up. In the spring, they also have a tendency to retain a bit of moisture and get a bit heavier.
After many adventures using Climbing Skins Direct skins I can happily say that they've lived up my expectations. In fact considering the price, the value they offer is pretty unreal. I'm on my second pair, and I'm confident they'll last as long as my first set, which is still very usable and is my backup. Definitely give these skins some consideration next time you're shopping for a new pair.