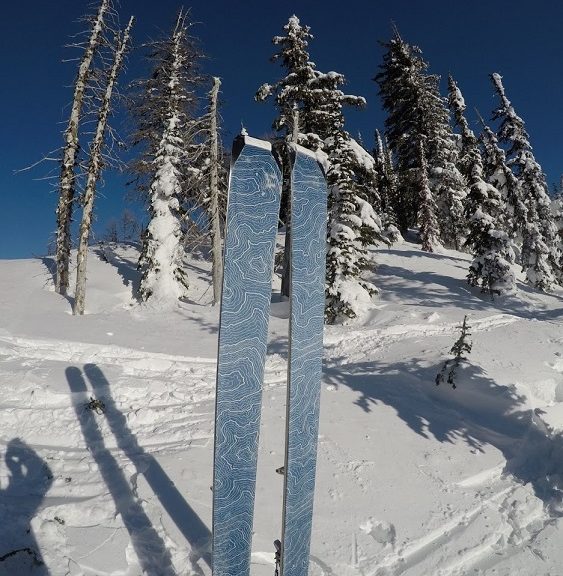 Contour Hybrid Mix Climbing Skins Review
Contour Hybrid Mix Climbing Skins Review
Earlier this season I posted a first look at Contour's Hybrid Mix climbing skins and mentioned that I would be doing a long term test this winter. Well, winter is over and it's time to give you readers some feedback on these topographic map patterned skins.
Long story short, the Hybrid Mix skins from Contour are pretty damn sweet. They check all the boxes – good grip, good glide, easy to fold up and store, and the glue has been excellent in a variety of conditions. The best aspect of them might be how easy they are to pull apart when stored glue-to-glue.
Read on to find out more about what should make you consider these skins when you're ready for a new pair.
---
What Makes a Good Climbing Skin?
There are quite a few variables that determine whether a skin is something you'll trust in the backcountry. Grip, glide, and how well the glue works are three of the most important aspects of climbing skins, but there are a few other things that matter.
How easy they are to pack in your bag, the durability of the skin and the glue and how easy the connectors are to use combined with their durability matters as well. Read on to find out how the Contour Hybrid Mix skins stack up.
---
The Glue
Contour uses a very different type of glue compared to other manufacturers. Their 2-layer glue system allows the skin to stick really well to a ski but at the same time not stick really well to itself. That means you can store them glue to glue without cheat sheets and not tear a muscle trying to get them apart.
The verdict: both of these statements are absolutely true. It's almost effortless to pull these apart at pretty much any temperature and I haven't seen any glue transfer whatsoever. It kind of blew my mind the first time I pulled them apart at the trailhead. This definitely isn't the most important aspect of a climbing skin, but it sure is convenient.
I've used these skins in conditions ranging from -25°C (-13°F) to +5°C (41°F) I have had zero issues with skins sticking to my skis. On the -25 days, it almost didn't seem like the glue was sticky enough, but once it was on the ski and I gave it a final rub to set the skin they didn't move. Very good stuff.
The only question remaining in my mind is how long the glue will last. After around 20 days on these I haven't noticed any deterioration which is great, but that's hopefully a long way from the end of the life of these skins. I'll update this once I get more days on these skins next season.
Over time, skin glue can start to lose its tackiness/stickiness due to wax residue and dirt. When this happens you aren't able to re-glue these skins, but according to Contour you won't have to. Using their Hybrid Cleaning Spray you can clean off any residue and the glue will be restored to its former glory. I haven't been able to test this personally, but I'll update this when I do. It looks super easy and reportedly works well to restore the glue.
---
Grip
Developing skins is always a bit of a balancing act. The holy grail is a skin that is super grippy but still glides like a pure mohair skin. Unfortunately that secret hasn't been unlocked yet, but Contour is getting really close.
In an absolute sense, the grip on these skins isn't as quite as high as some others I've used (the pure nylon BD Ascensions for example) but relative to their glide and pliability, the Hybrid Mix skins grip is excellent. I skinned up some steep, icy skin tracks with a skiff of fresh snow on them (usually a nightmare grip situation) and these skins had plenty of grip. I slipped a few times, but a lot less than I expected. Very impressive.
---
Glide
A high-grip skin often means a skin that doesn't glide very well, but again Contour has balanced this really well. The grip is excellent and the glide is excellent as well. They don't glide quite as well as a pure mohair skin, but much better than a full nylon skin. No complaints at all in this area.
---
Packability and Pliability
A stiffer skin helps it stay on the ski better, but Contour has been able to create skins that are still nice and pliable (easy to fold) but that don't have any issues separating from the ski thanks to their glue. Even on really cold days where some skins stiffen up the Contour skins remained easy to fold and pack.
The Hybrid Mix skins are super easy to fold up and stuff in the included stuff sack. The stuff sack is slightly oversized which is a nice little feature. I've had my fair share of trying to stuff skins into a skin bag that is barely big enough to fit a pair of skins, so having some extra room is great.
---
Tip and Tail Connectors
As I mentioned in my First Look at the Hybrid Mix skins, the tip and tail connectors are a great bit of engineering.
The tail connector comes attached to the skin from the factory – trimming the skin for length is done at the tip. The tail connector is a sturdy nylon strap combined with a plastic clip and has 10-15 cm of adjustment room. During testing I had no issues with the tail clip coming detached and it's quite easy to adjust for tension.
The tip connector is the real clever bit. It has a pair of tabs you push down to separate two pieces of plastic to remove the connector. You then trim your skin for length and reattach the tip connector to the freshly trimmed skin by placing the tip loop in between the two plastic pieces, clipping them together, and then pushing the plastic tabs closed.
In use in the field, the tip loop works just like any other metal tip loop. I had no issues with durability or it slipping out of place.
---
Snow and Ice Buildup
In a variety of conditions I didn't have any instances of snow or ice buildup on the skins. I do tend to keep my skins waxed with a rub on wax when it's warmer, so I'm sure this helped, but there was no glopping at all in melting spring conditions. The skins did get quite saturated when skinning in really warm weather, but that is pretty typical of any skin and the glue was just fine in this situation.
---
Trimming
Trimming the Hybrid Mix skins was a breeze thanks to the 3 piece plastic sheets on the glue side of the skins. Check out my in-depth article on this here for all the details.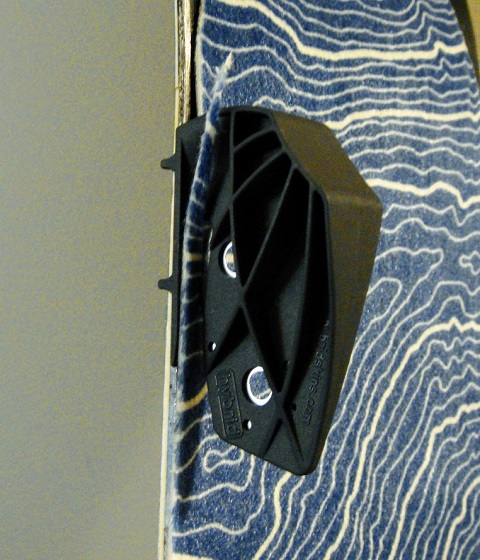 In short, after trimming for length, you remove the center strip of plastic and stick the skin to your ski. Then using the included trim tool you trim the edges. Having the plastic covering the edge pieces means the trim tool slides really easily down the skin and makes the whole process a breeze.
---
Other Goodies
The trim tool that Contour includes in the package is a high quality offset trim tool. It's easy to grip and I've used it on 3 sets of skins now and it is still sharp enough to get the job done.
I mentioned the stuff sack earlier and aside from the fact that it's oversized, I should mention that it also has a microfiber cloth sewed into the inside. This is used to wipe down your bases before applying skins to skis to prevent contamination of the glue. It's nice not having to keep track of a separate cloth since it's attached to your skin sack.
---
Closing Thoughts
The Hybrid Mix skins are a bit more expensive than some other skins on the market, but for many people that slight extra cost will be worth the investment (update from 2019: they now retail between $180 and $200 – much more competitive) . They're becoming more widely available in North America and aren't as expensive as they used to be. Let's hope that trend continues.
To put it simply, Contour has designed and created an excellent climbing skin. The balance of above average grip and glide is tough to achieve, and add on the fact that you don't need skin-savers (cheat sheets) and these skins are hard to beat. They will be a mainstay in my pack for the foreseeable future.