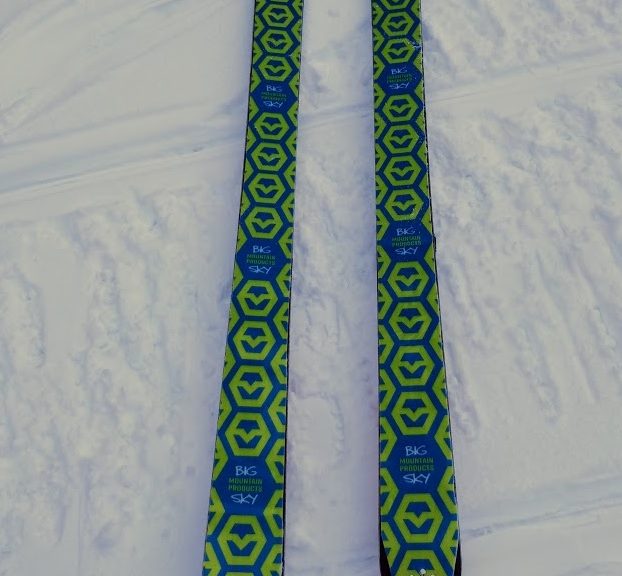 Big Sky Mountain Products Climbing Skins: Quick Review
Big Sky Mountain Products Climbing Skins: Quick Review
Last year I posted a review of Climbing Skins Direct skins and had mostly positive things to say about the skins. Unfortunately, since then I've gotten a lot of feedback from readers that the company is hard to get in touch with, takes a long time to ship products (even not shipping them in some cases), etc.
The good news is that I think I've found a viable alternative to CSD for anyone looking for budget friendly but high quality skins. Big Sky Mountain Products is a little company based in Montana that has started producing climbing skins in the last couple of years. Started by ex pro-skier Tom Jungst, he's applying his lifetime of big mountain skiing experience into a product that he can trust in the backcountry. More about the company here if you're interested (the pineapple story is a good read).
Long story short, they're making nylon skins that are easy on the wallet but are still high quality and (as far as I can tell) long lasting. Read the rest of the BSMP Climbing Skins review for my initial impressions after a couple of spring tours on their skins.
---
Background Info
BSMP Skins come in two varieties – Standard and Expert. They range in price from $99.99 to $134.99 depending on which connectors and accessories you want in the package as well as which width you need. They come in 115 mm or 130 mm widths.
The skins are a trademark nylon plush in a funky yellow and blue pattern (with a pineapple on top). They've taken what they call a balanced approach in terms of materials with the intention of creating a good trade-off between grip and glide (spoiler alert: they've succeeded).
The Standard package comes with a metal tail loop and rubber stretcher for the tip as well as a trim tool and instructions. You can also add cheat sheets and/or a hooked razor blade to make trimming easier.
The Expert package adds the same tail connector that contour uses (which is awesome), a metal tip loop, skin wax (lifesaver in the spring) and a trim tool and trimming instructions.
---
Grip
Being a full nylon skin, I would expect these climbing skins to have excellent grip and I was not disappointed. These easily compete for some of the grippiest skins that I've ever used. I was out on a fairly chilly spring day (about 5 degrees below freezing) and was able to try BSMP skins on some fairly steep slopes that were essentially frozen hard pack, and they didn't let me down once.
Absolutely zero complaints in this department and I would put these head to head with the Black Diamond Ascension skins for the grippiest on the market.
---
Glide
Designing a skin is always a balancing act between grip, glide, and stiffness of the backing material (I'm simplifying a bit) and typically a skin with amazing grip will have less amazing glide. That rule of thumb seems to hold true with these, with the glide being good but not amazing. Again, these are on par with or even slightly better than other (more expensive) nylon skins.
I would somewhat like to reserve judgment on the glide, at least for now. It was difficult to get a true impression, as my days on these skins were variable. One day was pretty warm and sticky where no skin would have great glide and the other day was chilly but the snow conditions were oddly sticky.
All that aside, even in these variable conditions the glide seemed to be quite good, especially when you consider how good the grip is.
---
Glue
Sticky. Damn sticky. These skins didn't budge while I was skinning and when peeling them off my skis they were definitely holding on tight. I've only used these for a couple of days, so I can't yet make a call on how long the glue lasts. It hasn't noticeably deteriorated in any way yet and there is very little (if any) transfer from skin to skin. I'll update this next season once I get more time on them.
BSMP states that the working temperature range for their glue is from -40°F to + 70°F (-40°C to 21°C). Huge range, although I doubt you'll ever be skinning in weather that warm. Good news for cold climates though!
The recommendation from Big Sky Mountain Products was to not use cheat sheets. I was happy to hear this because I'm not a big fan of cheat sheets (I find crud/dust somehow works its way onto the glue when using them). At first I was concerned that the skins would be tough to pull apart, but was assured that they get easier with time.
The first couple of pulls were tough, but they aren't too bad at all to separate. Definitely a personal preference, but if you're like me you'll be just fine with no cheat sheets. Side note, these don't come with a storage bag, so you might want one if using skin savers.
---
Connectors
As I mentioned above there are some options available for the connectors. In the standard package you get a metal loop for the tail connector and a rubber stretcher for the tip connector. I used a setup like this for a few seasons with CSD skins and had no complaints at all.
The expert package has a standard metal tip loop available in a variety of widths to accommodate different tip profiles. The advantage of the expert package is the Contour-style tail connector. I've been using this all season on my Contour Hybrid Mix skins and love it. It never loses tension and I've had zero issues with it coming loose.
---
Closing Thoughts
Overall I'm quite impressed with the skins that BSMP have put together, especially considering the price. You have the option of shelling out a bit extra for cheat sheets or a hooked razor blade (as a trim tool) and you can even order them without tip/tail connectors to save another $10.
These aren't the most packable or pliable skins on the market, but they're very similar to other nylon skins in that regard. On the bright side, the stiffness of the skins does make them easy to fold up in windy conditions.
They also have a ton of great resources on their site, so be sure to check it out when you have some free time. From trimming skins to backcountry basics, I'm sure you'll find something to keep you busy.
Bottom line, if you're looking for some grippy skins that are easy on the wallet, definitely give Big Sky Mountain Products some serious consideration.