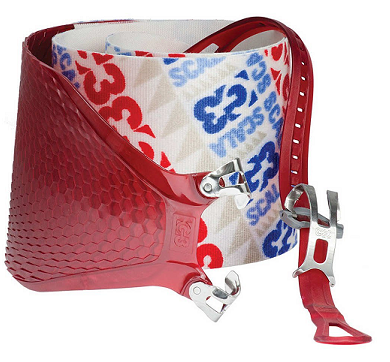 The Best Climbing Skins for Backcountry Skiing in 2018
The Best Climbing Skins for Backcountry Skiing in 2018
Update: check out our Best Climbing Skins in 2019 article for updated recommendations.
After doing a thorough review of Climbing Skins Direct skins last week I thought it would be a good idea to look at what other skins are available. Compared to as little as 10 years ago, there are many more options available today. In this article, we look at the best climbing skins in 2018 and discuss the pros and cons of each.
We've also taken a first look at the Contour Hybrid Mix climbing skins here and are planning to do some long term testing of those this winter. Stay tuned for more.
If you're searching for other gear like avalanche probes, a transceiver or an airbag pack, we have you covered. Check out the links for more info.
What the Heck are Climbing Skins?
If you're relatively new to backcountry skiing, you should read my  article and maybe check out the Beginner's Gear Guide to give you some background info on skins and everything else you need to go backcountry skiing.
If you're hiking for powder, climbing skins are what you attach to the bottom of your skis to allow you to climb uphill. They're made of either synthetic or natural fibers, and due to the directional nature of the fibers they provide grip when moving in one direction and glide easily in the other direction. They are called 'skins' because in the good old days, they were made from animal hides. Generally they have loops or hooks that attach to your tips and tails and sticky glue to keep them on the bottom of your ski while you're hiking.
What Makes a Good Climbing Skin – Criteria to Consider
There are three main factors to consider when you're evaluating climbing skins: grip, glide, and weight. The pattern on the skins varies as well, but that's personal preference, and you don't really see the bottom of your skis while skinning. I wouldn't put too much importance on the pattern, but that's up to you. If you need the coolest pattern for your staged Instagram posts, go for it.
You could add 'cost' as another factor, but that consideration should come after the first three. Cost isn't related to the performance of the skins, but could be a determining factor after you have narrowed down your selection.
Grip
Grip refers to how much traction the skin provides when you are climbing uphill. First and foremost you will want to think about how much grip you will need from your skins. If you are expecting to climb steep, icy skin tracks most of the time, you'll want the skins with the most grip. On the other hand if you'll be skiing a lot of rolling terrain with few steeps and a fair amount of flats, grip won't be as important as glide.
The amount of grip is determined by the density, direction, and type of fibers used in a climbing skin. If you're new to skinning, more grip will make your life easier until you hone your skinning technique.
Glide
If you have ever been cross-country skiing, you have experienced glide. After you push off with one ski, you briefly glide along the snow with no effort whatsoever. On alpine touring skis and skins, you don't get nearly as much glide as you do on cross-country skis. But some skins do glide more than others. Mohair skins are typically the benchmark, but synthetic skins are getting pretty close to the same level of glide. There is often a trade-off between grip and glide – the best gripping skins won't have the best glide and vice-versa.
Weight
Always a factor when you're hiking uphill, you want to take into account how much your skins weigh. Even though the differences might be very slight, a few grams over thousands of steps can really add up.
Other Factors
Other things to consider are the adhesion (strength) and temperature range of the glue used on the skins, how supple the skins are (which translates to how packable they are), and long-term durability. Durability is tough to judge on new products, but past performance is often a good indicator here.
Whether the skins are pre-trimmed for your skis is something to think about as well. More companies are selling skins specifically for certain models of skis, and often have very convenient attachment systems as well. This does mean that you can't transfer them to other skis very easily, but not having to trim them before use is a bonus.
Many skins also include cheat sheets/skin savers and/or a carry case. It's personal preference whether you want and use these, but they are a benefit for some users and shouldn't be dismissed.
---
The Best Climbing Skins in 2018
And now we're going to look at some of the best climbing skins that are currently available, from perennial favorites from companies like G3 and Black Diamond to relative newcomers like Contour and Fischer. These are listed in no particular order, as the 'best' skin will vary from skier to skier depending on his or her intended use. This will simply serve as a guide to make an informed decision.
---
G3 Scala Climbing Skins
MSRP: $213.95
Material: Mohair Nylon blend
Tip Attachment: Self-aligning steel hooks
Tail Attachment: Camming tail clip and strap
Skin Savers: yes
Carry Case: yes
Claimed Weight: (short, 115mm) 11 oz / 312 g
Buy now: Backcountry.com, Amazon
Overview
The Scala is the latest innovation from G3, and is quite interesting. What they have done is create a unique 'Hybrid Tip Connector' that is said to provide better glide and efficiency on the skin track. They have incorporated a long bit of scale-textured material between the tip connectors and the actual fabric of the skin. The idea is that there is less glue and fabric, so some weight is saved, and they are said to reduce snow buildup under the skin when setting a skin track in powder.
This is one of the lighter skins on the market, so the Scala hit the nail on the head there, and user reports indicate that snow buildup under the Scala material is not an issue.
There is also a slightly more minimalist version, the G3 Scala LT Climbing Skins that have the same new tip connector but are a bit lighter (you'll save a couple of ounces/60 grams on a short 100mm pair). Having less surface area means less grip, however, so keep that in mind.
Downsides
Due to the stiffness of the Hybrid Tip Connector, packing these skins can at times be a huge pain. In cold weather, the material gets quite stiff, so figuring out a folding technique that works for you and your pack will be key to enjoying these skins. Storing these in your jacket isn't ideal either due to the length of the HTC, so if you're typically skinning in cold temperatures you should probably look elsewhere.
---
G3 Alpinist Climbing Skins
MSRP: $179.99
Material: Supple Synthetic Plush
Tip Attachment: Self-aligning steel hooks
Tail Attachment: Camming tail clip and strap
Skin Savers: yes
Carry Case: yes
Claimed Weight: (100mm) 7.8 oz / 221 g, (115mm) 9.8 oz / 278 g
Buy now: Backcountry.com, Amazon
Overview
The G3 Alpinist climbing skins have been around and used widely for years and years. They're kind of like old faithful – you know exactly what you're going to get. They have some of the strongest glue on the market and the grip from the fully synthetic (translation: nylon) fibers is great. They're also surprisingly light and the tail attachment has a whopping 16 cm of adjustment.
Over the years they have refined the tip and tail attachments and they are now a bit lower profile than the older versions. This reduces the frequency of your tips catching in the snow when skinning. Personally I quite like the G3 tip attachment system. The 2 little hooks provide great hold on all the skis I've used them on. The tail attachment is quite long, and this can save some weight (but at the sacrifice of a bit of grip) if you get the correct length of skin.
If you're looking for even more traction to set the steepest skin tracks known to humans, check out the G3 Alpinist High Traction Climbing Skins. G3 claims these have 10-20% more grip achieved by packing more fibers into the base of the skin.
Downsides
Being a fully synthetic skin, the G3 Alpinist doesn't have the smooth glide that a full mohair or a mohair mix skin has. I have also heard reports recently of the glue getting 'goopy' and while I suspect this is due to the skins being pulled apart at room temperature or warmer, but it is a bit concerning. It's possible that G3 has had a bad batch of glue, but there really isn't any way to tell. That said, a few reports here and there isn't much to worry about considering how many hundreds (thousands maybe?) of pairs of these skins are out there.
---
Black Diamond Ultralite Mix STS Climbing Skins
MSRP: $179.95
Material: 65% Mohair / 35% Nylon
Tip Attachment: Field-replaceable Dynex™ and aluminum tip loops
Tail Attachment: Patented STS Tail attachment
Skin Savers: yes
Carry Case: yes
Claimed Weight: (110mm) 10 oz / 283 g
Buy now: Backcountry.com, Amazon
Overview
On paper, these skins have a lot going for them. The mix of mohair and nylon should be a great balance between grip and glide, they are nice and light, and field-replaceable tip loops is an  interesting feature. I've never been in a situation where this would have been useful, but I could see it happening. These skins are also very supple, and so are extremely easy to pack. The STS tail attachment provides a solid hold on your ski tail and has 10 cm of adjustment.
Downsides
Unfortunately, there are widespread reports of issues of all kinds with these skins, from glue failing to the skins themselves developing small tears to the tip connector ripping off. Check out the reviews on the Black Diamond website for more details.
There is good news – the next model we're going to look at has almost all of the same benefits but none of the quality issues that the Ultralite skins have.
---
Black Diamond Glidelite Mix STS Climbing Skins
Material: 65% Mohair / 35% Nylon
Tip Attachment: Adjustable tip loop
Tail Attachment: Patented STS Tail attachment
Skin Savers: yes
Carry Case: yes
Claimed Weight: (110mm) 12 oz / 348 g
Buy now: Amazon
Overview
Like the Ultralite STS, the Black Diamond Glidelite STS is a 65/35 mohair and nylon mix that provides great grip and glide while saving a bit of weight over pure nylon skins. These will save you a couple of ounces per pair when compared to Black Diamond's standard STS nylon skins. Due to the nature of the materials used, these skins are supple and packable and has tried, tested, and true tip loops and STS tail attachments with up to 10 cm of adjustment.
Downsides
Many users have reported issues with the screws that are used to attach the tip loops. They are designed so that after you screw the tip loop to the skin, you then break off the pointy tip of the screw. What seems to be happening is that the screws are breaking as they're being screwed in. This would set you back a while, so use caution when installing the tip attachments.
There haven't been any reports of the quality issues that seem to be plaguing the Ultralite STS, so that's some good news for Black Diamond.
---
---
Fischer Profoil Multifit
MSRP: $234.95
Material: 65% Mohair / 35% Nylon
Tip Attachment: Cobra
Tail Attachment: Patented STS Tail attachment
Skin Savers: yes
Carry Case: yes
Claimed Weight: (110mm) 12 oz / 348 g
Buy now: Backcountry.com, Amazon
Overview
The Fischer Profoil line of skins is possibly the most interesting skin design to ever hit the market. In fact calling them skins feels slightly wrong – they don't have fibers or hair of any kind. Instead, they use a pattern on the snow side of the skin to provide grip that Fischer calls Crown Grip. Weird. In real life testing, users have found the grip to be fairly comparable to traditional skins in most conditions. In powder, there isn't much difference, but as a skin track gets icier, the Profoil starts to become inadequate and start to slip.
One huge upside is that these skins don't absorb any moisture whatsoever. Traditional skins soak up a bit of water throughout the day and require drying overnight, but these skins will dry in a matter of minutes. The glide on these skins is also close to the glide of a mohair skin, but not quite there. I'd say they're similar to a mohair mix.
Downsides
You absolutely canNOT store these skins glue to glue. The glue is so strong that they'll essentially be ruined forever. In fact Fischer warns that you shouldn't stick these skins to dry bases either, as they'll become really stuck to them and likely leave some glue behind.
Grip on icy skin tracks and side slopes in not great. In fact it's inadequate. If you expect to be in ideal skinning terrain, these will do just fine, but if you hit a worn skin track you're going to have a bad time.
---
Climbing Skins Direct
In a previous article I did an in-depth Climbing Skins Direct review which covers the company and their skins, so check that out for more details.
The bottom line is that these skins provide excellent grip and durability, adequate glide, and great value because of their direct-to-consumer business model. They also have funky patterns that you can't get anywhere else (check out the reindeer in the pic above…amazing).
The tip and tail connectors are somewhat unique and work well for both rounded and flat tails (they have 2 different tail connector options) and the glue is excellent.
---
Contour – Hybrid Mix MSRP: $249.95
Material: Mohair (70%) Nylon (30%) blend
Tip Attachment: Vario front clip
Tail Attachment: Easy-adjust tail clips
Skin Savers: no
Carry Case: yes
Claimed Weight: n/a
Buy now: Backcountry.com, Amazon
Overview
Contour skins have been around for a few years, but they aren't as well known as others due to their limited availability. They're also a bit pricier than competitors' skins, but read on to find out if they are worth it.
What Contour has done is come up with a much improved type of glue on these skins. They claim it is more stable, meaning that it is less temperature sensitive – it doesn't get all gooey when it's warm or lose its adhesive properties when it's cold. The glue can also easily be revitalized – you can wash it with goo-gone or something similar and your glue will be clean and as good as new.
On a functional note, the 70/30 mohair mix provides a good balance between grip and glide. They'll handle all but the steepest and iciest skin tracks and glide with the best of them.
Downsides
Although the glue is less sensitive to temperature variation, it is quite sensitive to moisture. These skins won't stick to a wet ski, so if you live in a warmer climate these may not be the best choice for you. They're also kind of pricey, as I mentioned. I've heard reports that the glue isn't amazing at low low temperatures, so keep that in mind if you live in an exceptionally cold climate. We have a pair that's going through testing this winter (check out the first look), and will report back with our findings.
---
Ski specific: Volkl, K2, Dynafit
A trend has been emerging among ski manufacturers. Many skis that are designed for touring now have pre-cut, ski-specific skins available for them. If you are lucky enough to own a pair of skis that fits this description, you'll save yourself some headaches trimming skins by buying the pre-cut models. Note that you won't be able to re-use these skins on other skis without some customization. Most have proprietary tip and/or tail connectors that are brand-specific.
Some examples of skins designed specifically for skis are:
---
Closing Thoughts
There are more options than ever for climbing skins, and we didn't cover them all here but the recommendations above should give you some good options. Hopefully we'll get to test the Pomoca skins and the Kohla vacuum skins (although we haven't heard good things about these) at some point and update this guide. La Sportiva also has a few models and there are many other G3 models that we didn't have time to look at.
The bottom line is that you should consider the terrain you'll be skinning and at what temperatures to help you decide which set of climbing skins is best for you.
Stay safe out there.