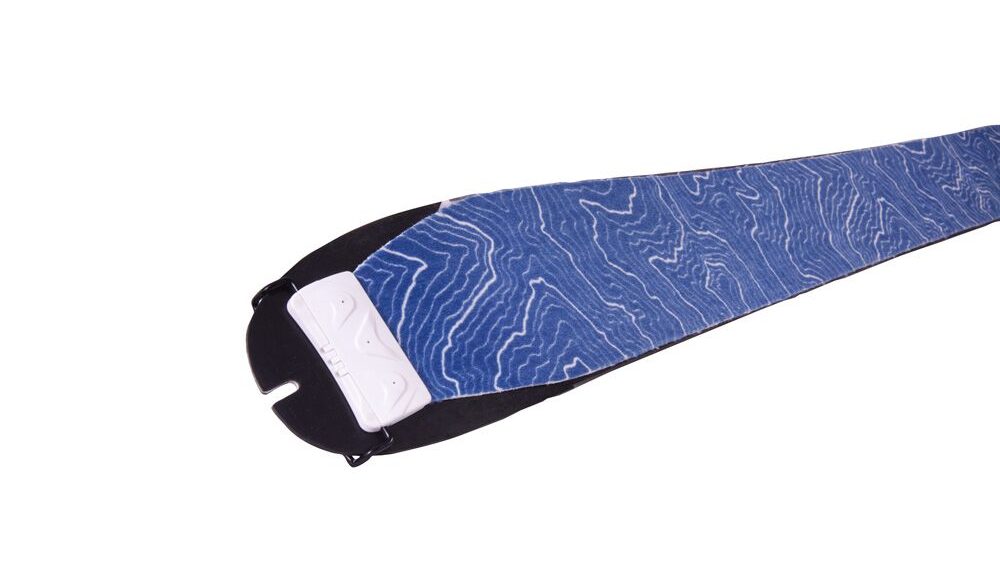 First Look: Contour Hybrid Mix Climbing Skins
First Look: Contour Hybrid Mix Climbing Skins
The other day I got a nice surprise on my doorstep when I got home – a box from Camp USA with my new Contour Hybrid Mix climbing skins! There were also some sweet stickers in there, but that's probably not why you're here.
Update: check out our Full Review of these skins
I'm going to do a long-term test of these this winter, but in the meantime I thought I would snap a few photos of the skins themselves and the other stuff that comes in the box so you have an idea of what to expect. There are more goodies in there than I expected, so hats off to Contour for putting the extra effort into creating a complete package.
If you're looking for other options for climbing skins, check out our roundup of the best climbing skins currently available.
What's in the Box?
Once I got the box open I found myself looking at the protective cover on the glue side of the skins. Interestingly it's divided into 3 vertical strips to help with trimming. More on this later. The skins were folded nicely to prevent creases and the rest of the goodies were hidden inside them.
Along with the skins themselves (which have the tip and tail connectors already attached), the box contained a stuff sack, trim tool, and some instructions in German and English…I might have to start referring to my skins as Steigfelle because it sounds cooler. Wo sind meine Steigfelle??? Moving on…
The Skins
Contour's Hybrid Mix climbing skins are said to use a somewhat revolutionary glue. You may have noticed that the box doesn't include cheat sheets and there is a good reason for this. I haven't tested this yet (I still have to trim the skins to fit my Nunataqs), but apparently you can stick these skins glue to glue (no cheat sheets) and they're easy to pull apart. I can't wait to test how true this is, because pulling apart any other skins without cheat sheets is a feat of strength.
Contour also claims that the glue gets better when it's cold (amazing) and will not deteriorate. They do, however, caution that although the glue will not deteriorate over time, it will become less sticky if you get dust/dirt/debris on the glue. That's fair and true of any set of skins, but maybe these skins are more susceptible to getting less sticky due to contamination than others. Long-term testing will tell us if this is the case.
Contour sells their skins in 2 widths and a number of lengths. The Hybrid Mix, which is a mohair mix, comes in 115 mm or 135 mm widths – fat enough for most big touring skis. In terms of length you can get as short as an XS (145 – 152 cm) all the way up to an XXL (185 – 195 cm). They also offer a Hybrid Pure (pure mohair plush), a Guide Pure (ultra lightweight), and a couple of other varieties including a split skin for superb glide as well as Hybrid split-board skins. Something for every purpose. Only the Hybrids have the snazzy topographic pattern – the rest are solid colors.
Tip and Tail Connectors
The tip and tail connectors are interesting bordering on ingenious. Lets start with the tail.
Tail Connector
When you buy these Contour skins, the tail connector comes already attached to the skin. If you need to make length adjustments that require trimming the skins, you do so at the tip. The tail connector has around 10-15 cm of length adjustment, so as long as you ordered the right length range, you shouldn't have to trim for length.
One interesting thing to note is that it's plastic. It is fairly robust so I'm not too concerned with it being fragile, but it's something I'll be aware of. Many other skin companies use metal tail connectors. The strap is also different from what you might be used to – it doesn't really stretch like G3 or Black Diamond skin connectors. I'll have more on this when I trim my skins.
Tip Connector
I mentioned the word ingenious above, and the tip connector is where it applies. See the picture below – one set of red tabs is pushed down while the other set is pushed up. This is how you remove the tip connector, and it's pretty damn easy.
After sliding the tabs down with your fingertips (or a screwdriver or something, but I was able to get it with my fingernail) you can simply pop open the two halves. You end up with what's pictured below.
You simply pull the two plastic halves to separate them. The metal tip loop sits in between them. Once it's apart, you'll notice three sharp pins – don't stab yourself. These punch through the skin to keep the tip connector firmly attached. Getting it back together is slightly tricky, but pretty straightforward. Take your time and it won't be an issue.
Other Goodies
The kit also contains an offset trim tool, which makes trimming way easier. No need to adjust side to side when trimming and you get perfect coverage. I'll have a Contour Hybrid Mix trimming post up soon with more feedback on the tool. It looks beefy with a lot of surface area for grip too.
Last but not least we have the stuff sack. Why am I giving this more than a passing mention? Because it has an integrated microfiber cloth inside, that's why. As I mentioned above, Contour cautions against getting dust/dirt/debris on the skin glue, so they recommend that you wipe down your bases before applying the skins. That's the purpose of the microfiber cloth. Very convenient.
Closing Thoughts
At first glance, these skins look to be really high quality, but time will tell us how well the glue and the tip/tail connectors hold up. I also haven't weighed these yet, but once I get them trimmed up for my touring skins I'll weigh them and post that info.
Have you used these skins or have any thoughts on them? Let me know in the comments below.