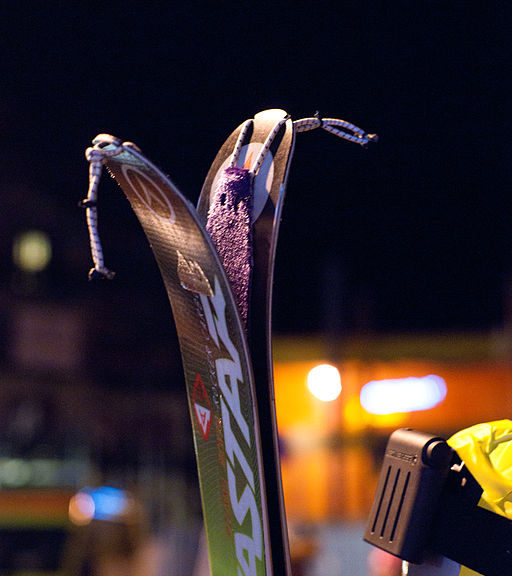 Best Climbing Skins for Backcountry Skiing in 2019
Best Climbing Skins for Backcountry Skiing in 2019
Looking for some new carpets to get you up the skin track? Well you're in the right place. There are more options than ever for climbing skins in 2019, and this guide will help you separate the good from the bad and choose the right skins for your adventures. Skins are a critical piece of gear for backcountry skiing and having them fail can really ruin your day so get a good pair and take care of them.
---
What Makes a Good Pair of Skins?
Grip
Climbing skins with good grip will allow you to climb steeper slopes and they will stick better when the snow isn't optimal for climbing. It's always a balancing act for manufacturers between grip and glide, and the holy grail is a skin with excellent grip and excellent glide. Nylon skins usually have the best grip, but their glide isn't great and they're often bulky.
If you often climb steep and/or icy skin tracks, get some super grippy skins. If rolling terrain, mellower skin tracks or long flat approaches are common where you ski, grip isn't as critical as glide.
Glide
Glide is how well a skin slides forward – kind of the opposite of glide. A skin with poor glide saps your energy with every step, as it requires effort to push forward and doesn't carry any momentum. The glide on pure Mohair skins is the benchmark, as they slip and slide very well, but synthetics and blended materials are getting pretty damn good.
Glue
The glue on skins are what keeps them attached to your ski bases. There are a variety of glue types out there and there are even glue-less skins, but the key consideration is reliability. Some skins stick well for a while and then slowly get worse and worse as they age. Others have a really hard time in colder temperatures. Some glue make skins almost impossible to pull apart when they're stored glue to glue and require skin savers.
Most glue is now quite good, but pay attention to the recommended temperature range and storage. The best thing you can do to keep your glue sticky is to keep it clean and dry. Follow the manufacturer's recommendations for cleaning, as it's different from skin to skin.
Other Factors
Weight is another important factor – you're moving your skins with every step, and heavy skins will burn energy. Some skins are more supple than others (making them much easier to fold and pack) – some skins are quite stiff and don't pack very well. The tip and tail attachment system is another thing to look at – most work with almost all skis, but if you have square tips for example, some tip loops won't work well.
---
The Best Climbing Skins of 2019
Okay, on to the good stuff. Many of these we have used personally and for the rest we've chatted with people that have used them to get their thoughts. Note that there isn't one well-defined 'best' climbing skin – some are better than others of course, but the best skins for you depends on the types of skin tracks you set or follow, temperatures you ski in and of course, your budget.
In no particular order, here we go…
Contour Hybrid Mix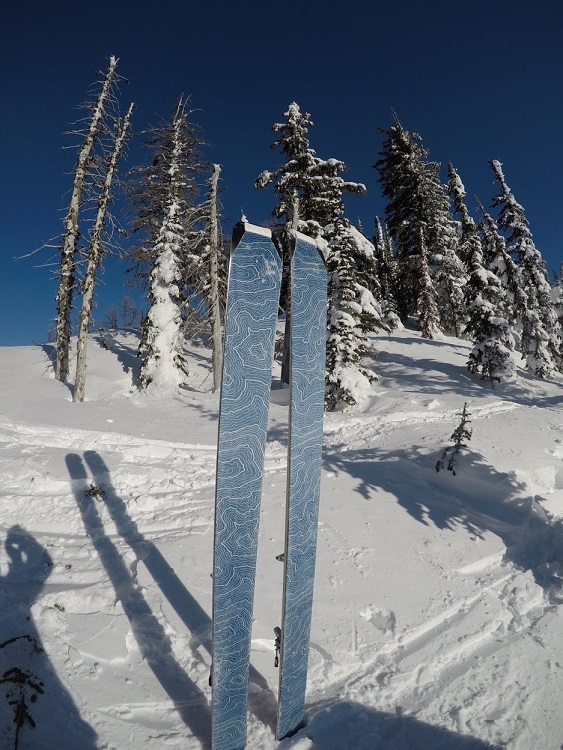 Weight: 272 g/skin (115mm)
MSRP: $179-199
Buy Now: Backcountry.com, Camp-USA.com, Amazon
I had the chance to test these last season and had nothing but good things to say about them. Read the full review here for more info. Long story short is that Contour's 'hybrid' glue makes it really easy to pull the skins apart when they're stored glue to glue. In fact that's what they recommend, but keep them in the included stuff sack so they stay clean.
Contour's skins are also really supple (easy to fold), have a great balance of grip and glide and work in a wide range of temperatures. If the glue loses its tackiness, it can be restored to its former glory with their cleaning solution. The only trick with these skins is that they're sensitive to contamination. The inside of the stuff sack is a microfiber cloth – they recommend using this to give your bases a quick wipe to remove contamination before applying the skins. It takes about 5 seconds per ski, so not a big deal at all.
The tip connector is a fairly standard loop that comes in a variety of sizes, but may not work great with square tips. G3's swiveling 'hands' are better for those. The tail connector is excellent – it's a strap through a buckle that clips over the tail and is super secure.
Bonus: the topographic pattern on the skins is really cool and the included trimmer is top-notch. They've also managed to substantially lower their price in North America this season.
---
Pomoca Climb Pro S-GLide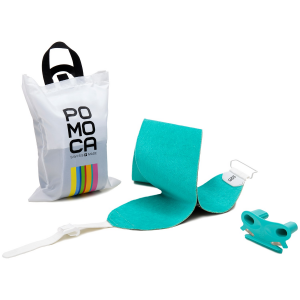 Weight: 252 g/skin (110mm x 170cm)
MSRP: $210
Buy Now: Backcountry.com, evo.com, Amazon
Pomoca may not be a name you've heard of, but they've been making skins for a loooong time and selling them primarily in Europe. Apparently Pomocas are the skins of choice for many rando racers and those guys know their stuff. I haven't tried these personally (I hope to soon) but they have been getting rave reviews.
Reports are that the glue is among the best out there and is super reliable. One trick they employ is a waterproof layer between the plush and the glue, preventing water from soaking through and causing the glue to fail. These skins stick well in a wide range of temperatures and even fare well when things get a bit wet.
The glide on these skins isn't quite as good as old school pure mohair, but it's close. Definitely well above average and good enough for anyone but the serious rando racer. The grip is good, but not amazing – which makes sense given how good the glide is. The tip and tail are similar to the Contours – a loop at the tip in a variety of sizes and a top-notch strap through a clip at the tail. Pomocas are a bit pricier than most other skins, but seem to be well worth it.
---
Black Diamond Glidelite Mix STS Weight: 348 g/skin (110mm)
MSRP: $180
Buy Now: Backcountry.com, evo.com, REI.com, Amazon
Like both the Contour and the Pomoca above, the Black Diamond Glidelite Mix STS skins are a mix of mohair and nylon plush. The goal is to get the glide of mohair combined with the grip of nylon. Black Diamond has been making skins for quite some time, and this is one of their more popular models. The balance of grip and glide is excellent, although they don't glide quite as well as the Contours or the Pomocas. They're almost as light and supple as the Pomoca's, which is a high bar to reach.
Some skiers have reported that the material is a bit too supple and allows snow to get in between the glue and the ski when skinning. The tip loops also aren't as widely compatible as others, especially larger skis, unless you spend extra $ for larger tip loops.
Another good thing about the Glidelite Mix STS skins is the price – they're often quite a bit cheaper than either the Contour or the Pomoca. And if you take care of these skins, they'll last you season after season judging by Black Diamond's excellent reputation for reliability in climbing skins.
---
G3 Alpinist + Universal MSRP: $179
Weight: 279 g/skin (medium size)
Buy Now: Backcountry.com, evo.com, REI.com, Amazon
The G3 Alpinist has recently gotten a facelift, and the new version combines the best features of the classic Alpinist and the love-it-or-hate-it Scala climbing skins. The tip connector uses G3's genius self-aligning stainless steel 'hands' so they are widely compatible with different ski tips. Like the Scala, it features an elongated section of flexible plastic, but it's shorter and a bit slimmer than its predecessor. The tail connector is a tried and true flexible strap strap and adjustable camming metal clip setup.
There are now four versions of the Alpinist+: universal, grip, glide, speed. The version that will be the best option for most people is the Universal. If you prefer to have more glide or grip, get the appropriate model for you, but the Alpinist+ Universal is a good balance of grip and glide. It's also designed to work in a variety of climates – the glue should stick well in cold weather (G3 claims down to -30°C) and the plush has a water resistance treatment applied – excellent for warmer climates and spring skiing.
Some skiers find G3's TPU tip a bit harder to pack away than other skins and I'm curious to see if the new tip is better than the Scala for snow creep. Being nylon, the grip on these skins should be top-notch and they usually can be found for a pretty reasonable price.
---
Kohla Vacuum Base Zero
Weight: 265 g/skin (95mm)
MSRP: $200
Buy Now: Backcountry.com, Amazon
Vacuum Base? Glueless skins?? Yup, they exist, and the newest skin to accept the glueless challenge is the Kohla Vacuum Base Zero. First off, the plush of the Zero is excellent. Grip and glide are both quite good – not the best, but above average. Not surprising as they are another blend of mohair and nylon. They're fairly supple and weigh around the same as the rest of the skins in this list.
Where things get interesting is on the glue side of the skin, or in this case the silicon side. Instead of glue, the Kohla Vacuum Base Zero uses a silicone adhesive to stick to your skis. The upside is that this adhesive should last forever. The downside is that in the field they're quite fiddly – most skiers report that they require some kind of adjustment during the day. Apparently you'll have to get used to taking off your skins, giving them a bit of a clean and reapplying. For some people, this is happening almost every tour.
If you like new technology, want your skins to last a long time and don't mind fiddling around a bit in the field, these are the skins for you. This is the best implementation of glueless skins that we've seen so far, and they're close to an excellent skin, especially if you don't mind a little extra maintenance.
---
Best Budget Skins – Big Sky Mountain Products
Weight: 237 g/skin (98mm x 180cm)*
MSRP: $129.99 – $149.99
*this is trimmed weight – not directly comparable to the weights above
Buy Now: skiskinsonline.com
If you're on a budget and looking for super simple, durable, and reliable skins, check out Big Sky Mountain Products Climbing Skins (click for the review). I spent a couple of days on these last year, and they're just a bomber nylon skin at a really reasonable price. They come with a variety of connectors (the Contour style tail is an option which is great), cheat sheets if you want them, a trim tool and instructions. Great bit of kit for the money!