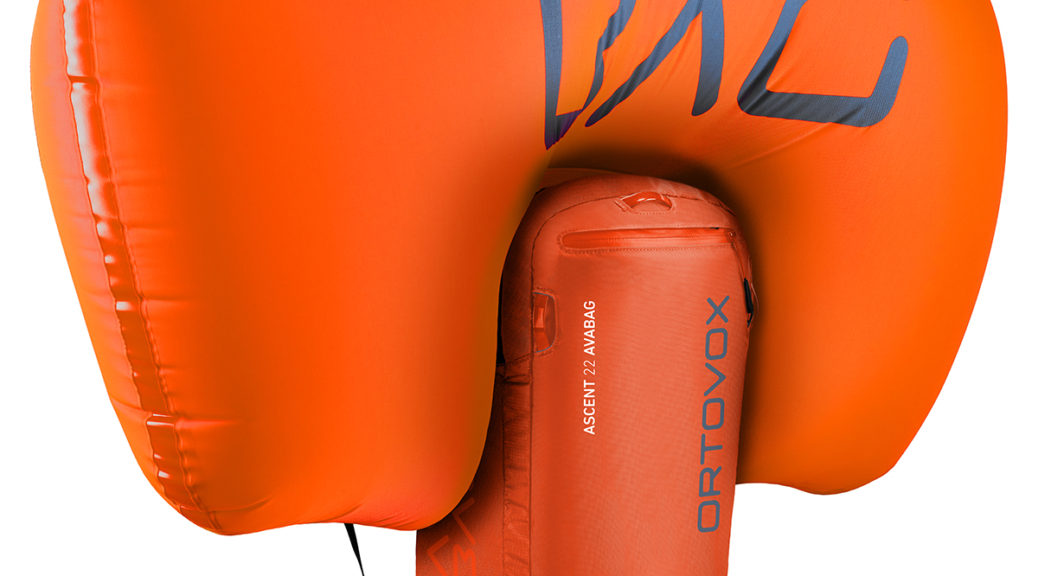 The Best Avalanche Airbag Packs in 2019
The Best Avalanche Airbag Packs in 2019
Avalanche Airbags are all the rage these days and with good reason. The chances of surviving a slide with an airbag is way higher than without. This article will give readers a bit of background on avalanche airbag packs and then look at the best avalanche airbag packs in 2019. There are options for many different uses, so read on to find out which one makes sense for you.
---
What is an Avalanche Airbag?
We'll go over the basics here, but for more in-depth information check out our article about how avalanche airbags work. An avalanche airbag is a backpack that contains a deployable airbag (which is basically a big, tough balloon). On one of the shoulder straps you'll find a handle (the trigger). When you pull this handle, the airbag deploys and provides more flotation and a bit of protection if you get caught in a slide. Simple enough, right?
There are two main deployment systems in avalanche airbags: compressed gas (air or nitrogen) and a high-speed fan. Each of these inflates an airbag in a matter of seconds, but there are advantages to each system.
Compressed Gas vs. High-Powered Fans
Compressed gas canisters used to be the only option, but in the last few years high-powered fans have become more popular. Gas canisters have two major limitations: they can only be used for one deployment and usually can't be taken on airplanes. In some cases you can empty the cylinder, detach the head and bring it on a plane, but check with your airline. Getting canisters refilled can also be a pain depending on where you live. Some can only be refilled in shops.
High-powered fan airbag systems can be used for multiple deployments, relying on a battery pack to provide power. There are also no issues with traveling with far systems. The downside is that they are typically more expensive than their compressed gas brethren.
---
Mammut Pro Protection Airbags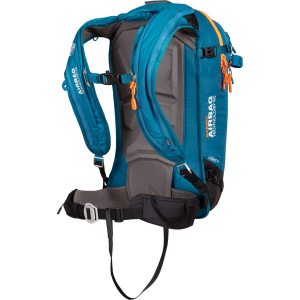 Pack MSRP: $519.95 – $799.95
Canister MSRP: $199.95
Inflation System: Compressed Air
Pack Sizes: 15L – 45L
Buy Now: Backcountry.com, evo.com, Amazon, Cripplecreekbc.com
Mammut has two varieties of airbag systems: the Protection Airbag System 3.0 (PAS 3.0) and the Removable Airbag System 3.0 (RAS 3.0). While the RAS can be removed and transferred between packs, the PAS offers superior protection. When inflated, the balloon has two sections that contour around your head and upper body. This, in theory, provides additional impact protection for your head and vitals.
The PAS 3.0 weighs around 1.2 kg with the cartridge and the RAS 3.0 is around 1.0 kg with a cartridge. There's around a 200 gram weight penalty for the additional protection, but for most people this would be well worth it. If you need the ability to remove the airbag or transfer between packs, the RAS system would be the better option.
Mammut offers a variety of packs using the Protection Airbag System, from the Light Protection Airbag 3.0 30L to the Pro Protection Airbag 3.0 45L for when you need more storage space for longer trips. If you're looking for a smaller pack for heli or cat skiing, the RAS is available down to a 15 liter version: the Rocker RAS 3.0 15L.
Mammut packs are super high quality and pretty rich with features. We've used a couple of their non-airbag packs and they've been great. Mammut offers a lifetime warranty for all of their products, so even if you have an issue you'll be covered.
---
Ortovox Ascent Avabag
Pack MSRP: $590 – $750
Canister MSRP: $190
Inflation System: Compressed Air
Pack Sizes: 18L – 40L
Pack Weights (no airbag): 940 g – 1290 g
Airbag Weight: 690 g
Buy Now: Backcountry.com, evo.com, Amazon, Ortovox.com
The Ortovox Avabag system is one of the lightest on the market at just 690 grams for the airbag unit. It is quite compact as well, and takes up very little space in the pack. One other neat feature is that you can disconnect the cartridge and practice activating the airbag. Research has shown that this practice greatly increases your chances of successfully deploying your airbag in an emergency situation.
Ortovox Avabags are available in a variety of sizes from the 18L Cross Rider 18 Avabag (weighing 940 g) up to the 40L Ascent 40 Avabag (weighing in at 1290 g). One of their more popular models is the Ascent 30 Avabag (pictured above), which offers 30 liters of storage and weighs a very reasonable 1170 grams. It's hydration system compatible, has a removable helmet net and ski/snowboard attachments. It also has a separate safety gear compartment to help keep you organized.
There are also Ortovox Avabag models designed specifically for women: the Ascent 28 S and the Ascent 38 S. These models have shorter backs and the hip and shoulder straps have been ergonomically designed to fit women better.
---
---
Arc-teryx Voltair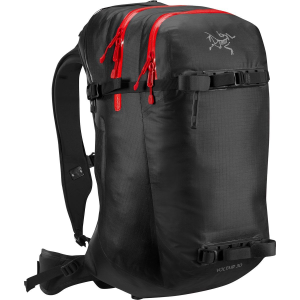 Pack MSRP: $1250 – $1300
Battery/Charger MSRP: $320/$60
Inflation System: High-powered fan
Pack Sizes: 20L, 30L
Pack Weights (with airbag): 3.2 kg, 3.5 kg
Buy Now: Backcountry.com, REI.com, Amazon
One of the best avalanche airbag packs to use a high-powered fan system, the Arc'teryx Voltair is available in a 20L and 30L size. The upsides of the fan system are multiple deployments on one charge (they say up to 20 times!) and no hassles when you travel. The downsides are the price ($$$) and they're heavier than some competitors that use compressed air.
That said, the Voltair is a fantastic all around pack (we would expect nothing less from Arc'teryx). Coupled with the excellent airbag deployment system, the pack itself is extremely water resistant and has a ton of features. The avy gear pocket is big enough to fit larger than average shovels and the Voltair is said to be one of the more comfortable avy packs on the market.
Like the Mammut Protection system above, the airbag is designed to wrap around your head. This provides a bit of additional trauma protection in a slide. As with everything Arc'teryx, the Voltair has their fantastic lifetime warranty, so rest assured this avalanche airbag pack will last for many years.
---
Black Diamond JetForce Pro
Pack MSRP: $849.95 – $1399.95
Battery/Charger MSRP: included
Inflation System: High-powered fan; Capacitor; Compressed gas
Pack Sizes: 10L, 25L, 35L
Pack Weights (with airbag): 1.88 kg (UL); 3.06 kg (35L Pro)
Buy Now: Backcountry.com, REI.com, Blackdiamond.com, Amazon
Black Diamond's JetForce packs have evolved for the 2019/2020 season. First we'll talk about the fan-powered system. Their new JetForce Pro airbag system is more compact and lighter than the previous version. Like it's predecessors, JetForce Pro airbags use a high-powered fan deployment system that can be used multiple times before requiring a recharge. Interestingly, the device has Bluetooth capabilities, allowing users to update the software via their phone.
There is now a super compact 10L JetForce Pro version, and the largest size available is the 35L JetForce Pro avalanche airbag. The largest JetForce Pro pack is 5 liters smaller than the previous Saga 40 Jetforce pack. You can also purchase a 'booster' pack that changes the overall storage space. Booster packs come in 10, 25, and 35 liter sizes and start at $69.95 and zip to the main JetForce unit. Interesting concept, making the packs somewhat modular.
One unique feature of the JetForce system is that it automatically deflates after 3 minutes – the idea is that this will create an air pocket if you end up caught and buried in a slide. The JetForce Pro packs themselves are fully featured with a dedicated avy tools pocket, side-to-side swappable deployment trigger and stowable diagonal ski-carry. They also feature a helmet holder and a hip-belt pocket for high levels of snack accessibility.
Other Black Diamond Airbag Models
Another new BD airbag model this year is the 26L JetForce UL Avalanche Airbag Pack. This is one of the lightest airbag packs on the market at just under 2 kg for M/L size and 1.88 kg for the S/M. This is on par with the lightest compressed air deployment airbags. Impressive. Important Note: although this is called a JetForce pack, it actually uses an Alpride compressed gas canister. Not a high-powered fan. It's also much more affordable than the fan-powered units with an MSRP of $849.95.
The third new JetForce model is the JetForce Tour 26L airbag pack. The Tour 26 uses a third different deployment technology, the Alpride E1 airbag system. The E1 is powered by 'cutting edge' super capacitors (their words). Don't worry about what a capacitor is, exactly. Just know that it's super easy to recharge either with a USB or AA batteries and that it can discharge a lot of energy quickly. Perfect for deploying an avalanche airbag. The 26 liter Tour model weighs in at 2.6 kg (not bad!) with an MSRP of $1199.95.