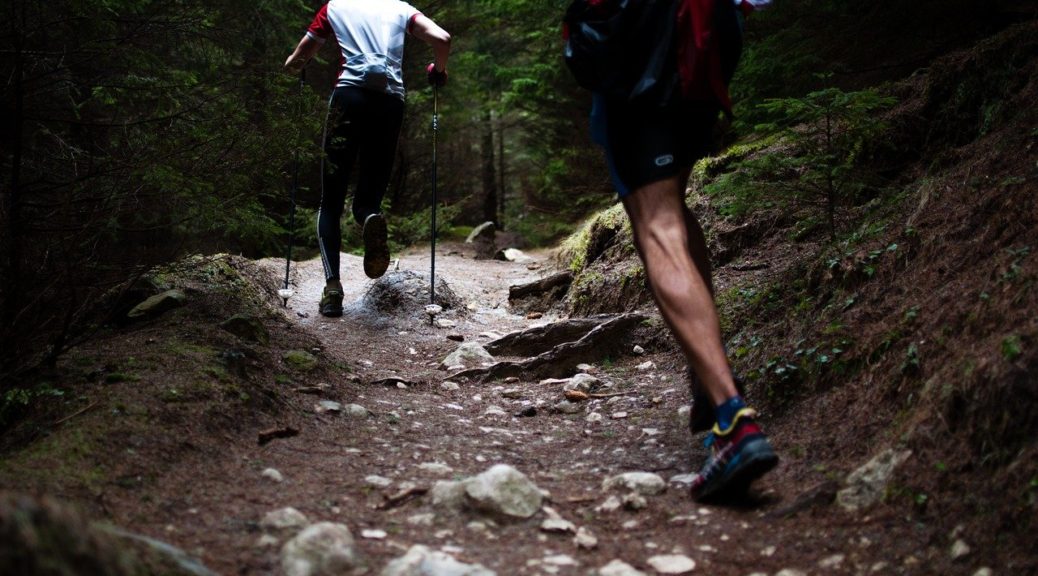 Book Review: Training for the Uphill Athlete
Book Review: Training for the Uphill Athlete
This is a book that I had on my Amazon wishlist for quite some time…too long. But I finally got my hands on a copy. And once I opened it I had a hard time putting it down, despite some of the content being a bit scientific. In fact that was some of what I found most interesting, but I'm a bit of a geek for that kind of stuff. I read Training for the Uphill Athlete in a few days and immediately incorporated some endurance training into my regimen. The authors do a great job of making the material useful but engaging.
Two of the authors, Steve House and Scott Johnston, have another successful book: Training for the New Alpinism, which is a training guide for climbers. What they found was that ultra runners and ski mountaineers were taking the principles from that book for climbers and applying them to their respective sports. But they were making mistakes. So Steve and Scott teamed up with Kilian Jornet, a very successful ultra runner, to write a new book to fill in the gaps. Training for the Uphill Athlete was the end result.
You can read more about the authors and find a bunch of great resources on their site: uphillathlete.com. You can buy the book there or find it on Amazon.
---
Intro
Let's clarify a few things. I'm not an elite endurance athlete. I'm not really even a regular, non-elite endurance athlete. Sure I mountain bike, hike, run occasionally and backcountry ski but my actual endurance training has been sparse. I've done a lot of strength and power/speed training over the years, but how to train for endurance is a little outside my wheelhouse. So keep that in mind when I'm describing my takeaways from Training for the Uphill Athlete. If you're looking for other less-specific ways to get in shape for backcountry skiing, check out this article.
I'm sure there is value for anyone wanting to learn more about endurance training, especially for mountain activities, but the plethora of background knowledge in the book may seem excessive if you already have a solid grounding in endurance training. But if that's you, just skip those sections. Guaranteed you'll find something in here worthwhile given the collective experience of the three authors.
Overview of the Book
Training for the Uphill Athlete (or TFTUA…try pronouncing that acronym) is divided into four major sections (and I'm paraphrasing a bit with the titles here): Physiology of Endurance, Methodology of Endurance Training, Strength Training for Uphill Athletes, and How to Train.
I found the physiology section really interesting ('cause I'm a bit of a nerd). Even if this sounds super boring to you it's worth a read: it explains a lot of the why that comes later in the book (in the How to Train section). And that's really the point of this book. It isn't just a bunch of predetermined programs that you can choose from. It's more of set of guiding principles that will help you to find a training methodology that works for YOU. Not for Steve down the street or Becky next door. Everyone is different, responds better to different stimulus or levels of stimulus, and TFTUA guides you through the process of figuring out how to train yourself.
The second section goes through the concepts that form the basis of endurance training. It also speaks to monitoring your own training (which can be very tricky) and really emphasizes the importance of 'base' aerobic training…something I have definitely neglected.
The strength training section gives a good overview of why a bit of strength training is useful if not essential for a well-rounded endurance athlete. The best part of this section is the self-assessments. There are a bunch of tests you do and exercises are recommended based on your results, so this section applies to absolute beginners and elite athletes alike.
Finally the How to Train section. The section that most readers will skip to immediately (or was that just me?). Here you will find general training guidelines, how to choose a program, how to transition to a different program, etc. There are also specific sections for mountain runners and skimo/ski mountaineering. Although similar, these sports have slightly different training requirements with some excellent examples for each discipline.
---
Other Goodies in TFTUA
In addition to the excellent content described above, there are other aspects of the book that should be mentioned.
The 'Athlete Stories' that are scattered throughout are a nice way to break up the writing. Each story puts a different athlete in the spotlight and is a quick one or two page tale of an adventure or race. They vary from ski mountaineering trips to Barkley Marathon athlete experiences (if you haven't seen the Barkley Marathons documentary, check it out) and are all very interesting.
The photographs in the book are top-notch! Tons of mountain scenes really set the mood for training for epic adventures. There are a lot of useful diagrams/drawings as well, especially in the strength training section. They help to show how to do the described exercises and interpret the results of your strength tests. There are charts and graphs aplenty and the sample programs are clearly laid out and easy to interpret.
One thing that really stands out is how the authors are able to relate many of the topics to their own personal experiences. You can really tell that these guys are experts.
How TFTUA Changed My Life
Saying that this book changed my life is a bit of an exaggeration. But I now include 2-3 days of endurance specific training every week. Less if I have a long ski tour planned, but now I generally try and get out for a couple of easy runs every week. That's a huge increase from the approximately zero running I was doing before. For context, I mountain bike in the summer and ski in the winter…that was my endurance 'training'.
In a nutshell: I have a new appreciation for the importance of long, slow, relatively low heart-rate training. I used to run much closer to my limit every time I went out, but after reading the section on base training I realized the error of my ways. Base aerobic training shouldn't be overly taxing on the body and you should be able to do it day after day without too much trouble. Keeping a 'conversational' pace, one where you can chat with your partner (or yourself) almost continuously is the goal here.
---
Closing Thoughts
After around a month of easy runs I'm really liking it! Aside from some minor injuries from doing too much too soon (my fault), I'm enjoying running much more than I have in the past. I've already noticed a bit of improvement and I'll definitely be sticking with it. I'll drop an update here if I ever move on from 'base' training and let you all know how that goes.
Whether you're a beginner or somewhat advanced mountain endurance athlete (or aspiring to be one), you'll get some benefits from the knowledge contained in this book. It's easy to find specific material thanks to the thorough index but I recommend reading it cover to cover for the most benefit. Best of luck in your endurance training journey!