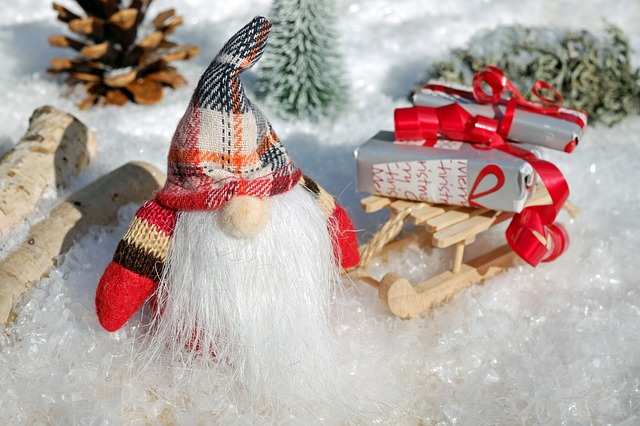 7 Great Low-Cost Gifts for Backcountry Skiers
7 Great Low-Cost Gifts for Backcountry Skiers
The holiday season is almost here and if you're anything like me, you still have to get gifts for at least a few people. This article should give you some ideas for the backcountry skiers on your list…or for yourself. I won't judge.
---
1. Buff Neck & Head Warmer
These things are like neck warmers on steroids. You can wear a Buff around 10 different ways and keep everything from your neck to your entire head and face warm. I like to keep one of these in my touring pack and I sometimes use one on really cold winter days around town.
The company has expanded beyond the original Buff and now has quite a few more options. They make lightweight running headwear, insulated neck and headwear, winter hats and more. Their designs are top-notch too.
Buy Now: Amazon, Backcountry.com
---
2. Quality Ski Socks
The socks you wear can make or break a day out in the backcountry. Poor fitting or poorly designed socks can cause blisters in a hurry, and that's not enjoyable for anyone. Do yourself (and your feet) a favor and get some decent ski socks.
I've been trying out some Lorpen Ski Superlight socks this season and they've definitely lived up to expectations. I have a pretty tight shell fit in my boots, so typically use pretty thin socks. The Lorpen Superlights are a merino and synthetic blend, have padding on the shin and are a nice snug fit. If you have giant calves these might not be for you though – the elastic around the top is pretty snug. Lorpen has quite a selection of sock thicknesses and styles – at the other end of the spectrum is the highly insulated Polartec Ski Sock.
My other go-to socks for touring are Smartwool PhD Backcountry X socks. These are an all merino sock, nice and light, and also have padding in key areas. Smartwool makes a wide variety of ski socks, so if you're looking for a thicker or warmer sock you should be able to find something that works.
Buy Lorpen Socks: Amazon
Buy Smartwool Ski Socks: Backcountry.com, Amazon, REI.com
---
3. Light Gloves for Touring
On the uptrack, a nice light pair of gloves is crucial for preventing sweaty hands. Sweaty hands inevitably leads to cold hands. Finding the right glove can be tricky. It should be warm but not too warm and breathe well but still be somewhat weatherproof. Something like the Black Diamond Skintrack Glove is pretty much perfect.
The Skintrack Glove is a breathable softshell material so your hands won't overheat. It's water resistant so it will shed snow and they're even touch screen compatible so using your phone or camera is super easy.
Buy now: Backcountry.com
---
4. Avalanche Safety books
Safety is priority number one in the backcountry and learning more about interpreting avalanche terrain is a great way to stay safe. One of the most comprehensive books out there is Staying Alive in Avalanche Terrain by long time industry expert Bruce Tremper.
If the backcountry skier on your gift list is more of a beginner, Snow Sense is a great introductory read. We wrote an article here that goes over some of the best avalanche safety books if you want to know more.
Shop Avalanche Safety Books: Amazon
---
5. Merino Wool Base Layers
Merino Wool is an excellent material to have next to your skin while ski touring (unless you're one of the unfortunate few that's allergic to wool). It's warm, breathes really well, wicks moisture away from you and it doesn't hold smells like some synthetic materials.
Icebreaker is a great brand, but can be somewhat expensive. You're getting a high quality product, but there are great value brands out there as well. Smartwool makes some nice base layers and even Backcountry.com's house brand Stoic is very decent quality. In fact I have a Stoic base layer that's over 5 years old and still going strong.
Shop Base Layers: Backcountry.com, evo.com, REI.com, Amazon
6. Skin Wax
After reading 'skin wax' you might be wondering how body hair affects ski touring…well, it doesn't. We're talking about climbing skins. This won't come in handy until the spring when the sun starts melting the skin track and snow starts glopping onto skins. But when that time comes you'll definitely want to have some skin wax handy. The G3 Skin Wax kit below even comes with a handy storage bag:
If you're heading out on a warm day, take 2 minutes to rub your skins down with some wax before heading out. You'll save time and frustration with huge and heavy chunks of snow sticking to your skins. I've been there and it sucks. Skin wax is small so would be a great stocking stuffer!
Shop Skin Wax: Backcountry.com, evo.com, Amazon
---
7. Snow Saw
A backcountry skier's snow analysis toolkit isn't complete without a good snow saw. I like and carry the G3 Bonesaw myself. Its sharp teeth cut through snow and ice with ease and can even cut through wood. It comes with a beefy carrying case and comes with 2 ski straps. Using these straps, you can attach the saw to pretty much anything to extend its length. As a bonus it has a built in grid for analyzing the size of snow crystals.
BCA and Black Diamond also have solid snow saws. The BCA is pretty similar to the G3 Bonesaw, while Black Diamond's saw is a folding model. It's also a bit more expensive than the Bonesaw or the BCA snow saw but can be attached to Black Diamond poles to extend its length.
Shop snow saws: Backcountry.com, evo.com, REI.com, Amazon
---
Hopefully this list gives you some ideas for low cost gifts to get your favorite backcountry skier. If you have any other gift tips feel free to leave them in the comments. Happy shopping!